President Joe Biden will deliver his State of the Union address at the U.S. Capitol on Feb. 7. The speech will take place at a pivotal time in his presidency as he is facing multiple challenges and speculation mounts about his plans for seeking a second term in 2024.
During the speech, Biden is expected to tout the low unemployment rate, slowing inflation numbers, and the January jobs report that produced better-than-expected numbers.
A jobs report released by the Department of Labor on Feb. 3 indicated the lowest unemployment rate since May 1969 at 3.4 percent. On Jan. 26, the Department of Commerce published a report showing that Gross Domestic Product increased by 2.9 percent in the fourth quarter of 2022.
Despite GDP increasing 3.2 percent during the previous quarter, according to the Bureau of Economic Analysis, Biden said that evidence suggests "the Biden economic plan" is working.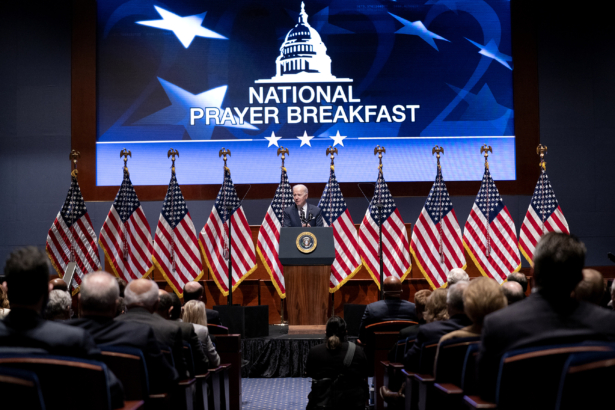 Department of Labor data shows that companies added 6.74 million employees to nonfarm payrolls in 2021 and hired 4.50 million more workers last year.
"For the past two years, we've heard a chorus of critics write off my economic plan," Biden said on Feb. 3. "Today's data makes crystal clear what I've always known in my gut: These critics and cynics are wrong."
The White House indicated that Biden will also highlight legislation that he championed in his first two years that support his "promise to build an economy from the bottom up and the middle out," including the American Rescue Plan, the bipartisan Infrastructure Investment and Jobs Act, the CHIPS and Science Act, and the Inflation Reduction Act.
"President Biden will highlight the historic progress we have made to bring the economy back from the pandemic and create more jobs in a two-year period than under any other president on record," a White House statement previewing Biden's State of the Union address reported.
"He will discuss progress lowering costs and providing more breathing room for families, including cutting prescription drug costs, health insurance premiums, and energy bills, while driving the uninsured rate to historic lows. He will outline the manufacturing boom across the country—in infrastructure, semi-conductors, and clean energy—that is strengthening parts of the country left behind and creating good jobs, including for workers without college degrees."
Former President Donald Trump, described in the statement as "President Biden's predecessor" passed a "nearly $2 trillion unpaid for tax cut with benefits skewed to the wealthy and large corporations, and the deficit went up every single year under his watch," the White House statement explained.
"Under President Biden, the deficit has fallen by $1.7 trillion, and his reforms to take on Big Pharma, lower prescription drug costs, and make the wealthy and large corporations pay their fair share will reduce the deficit by hundreds of billions more," the statement read.
During the address, Biden will "preview the budget he will send to Congress on March 9, which will build on the historic economic progress of the past two years by continuing to invest in America and its people, continuing to lower costs for families—from child care to housing to college to health care—protecting and strengthening Social Security and Medicare, and reducing the deficit through additional reforms to ensure the wealthy and largest corporations pay their fair share," according to the White House.
Job Growth Inevitable Post-Pandemic
While Biden and the White House paint a cheerful portrait of the economy, some Americans do not share that view.
Last weekend, New Hampshire Republican Gov. Chris Sununu told a TV reporter that job growth was inevitable after the coronavirus pandemic and inflation was expected to fall because "it couldn't have gotten any higher."
"Go into a grocery store and just talk to people in the cereal aisle: What are they feeling? Do they feel confident about this leadership?" Sununu said, noting that the answer from experience has been overwhelmingly "no."
Inflation remains at a four-decade high. The Federal Reserve has increased rates eight times in the last year as it strives to avoid a recession.
When Biden delivered his State of the Union address in 2022, the rate was essentially zero. Last week, the target range was elevated to 4.5 to 4.75 percent—the highest figure since October 2007.
Federal Reserve Chairman Jerome Powell has indicated that he is not done with rate hikes, citing a goal to keep decreasing inflation.
Donna Jackson, a spokesperson for the Project 21 Black Leadership Network, told The Epoch Times, "He [Biden] keeps talking about inflation going down, but I don't know anyone who isn't paying a lot more than they were before he took office. The black community helped him win, yet much of what he has done disproportionately harms our community.
"Gas. Groceries. Electric bills. Clothes. Many people can't afford to buy basic necessities and pay their bills. Many people can't even afford eggs anymore," Jackson added.
Almost 70 percent of black households are headed by a single parent, Jackson notes.
"If there are two parents in a household and both have jobs, that is at least easier to make ends meet. But a majority of minorities have a single-parent household," Jackson said. "When one expense increases—like gas, for example—that is more manageable. But right now, expenses are high in every area, and monthly costs pile up."
The narrative from Biden and the White House does not represent the "reality that many minorities are dealing with right now," Jackson said.
"The State of the Union should be called the state of two unions," Jackson said. "One union is pushing a positive story, and the other union is not seeing those results."
Unlike Biden's first two years, when Democrats controlled both Congressional chambers, Republicans now hold the House majority. Speaker of the House Kevin McCarthy and House Republicans are battling the Biden administration over raising the debt ceiling.
Republicans insist they are willing to force a default on the national debt if the Biden administration does not compromise with significant spending cuts in return.
The White House has said it is unwilling to negotiate on the issue.
Biden has also seen turnover at the White House in the new year. Ron Klain, who was Biden's chief of staff when he was vice president and was named to that role when Biden was elected, announced in late January that was stepping down on Feb. 8. Jeff Zients, who was Biden's COVID-19 response coordinator, is Klain's replacement.
A day after a ceremony where he praised Klain and welcomed Zients, Biden confirmed on Feb. 2 that National Economic Council Director Brian Deese will also be stepping down from his post.
Klain is leaving at a challenging time for Biden, who is under investigation by a special counsel for his handling of classified documents after his tenure as vice president. Also, he and some members of his family are facing scrutiny from the GOP-controlled U.S. House of Representatives.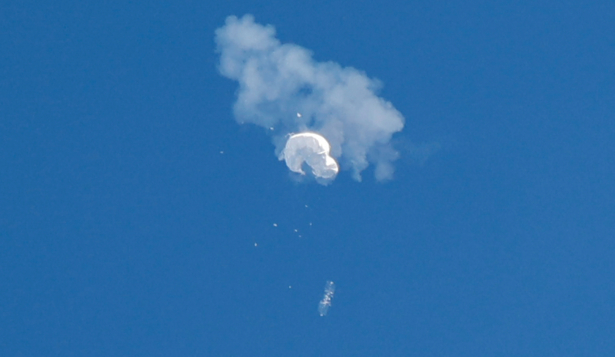 Biden is under scrutiny to explain the U.S. reaction to the suspected Chinese surveillance balloon that entered American air space in Montana last week and was not shot down until it crossed the country and passed over the Atlantic Ocean off the coast of South Carolina.
The full U.S. Senate on Feb. 15 will hear a classified briefing about the Chinese balloon, Senate Majority Leader Chuck Schumer (D-N.Y.) said on Feb. 4.
Former Republican Speaker of the House Newt Gingrich said on Feb. 5 that Biden's address will be a "collection of untruths" backed by the news media about his first two years in office.
"This is a very weak administration, whose primary strength is the news media, and who keeps telling us things that simply aren't true," Gingrich said. "So, I'm assuming that the State of the Union will be a collection of untruths, bound together by Democrats desperately cheering in the House and Senate membership.
"[He'll] say, 'You're really better off. I've really defeated inflation. The deficit's really down dramatically. We're really controlling the border.' Nobody's going to believe any of that stuff," Gingrich added. "He's going to proudly announce that [after] having allowed the Chinese spy balloon to go all the way across the country and complete its mission, they finally shot it down off South Carolina."
David Carlucci is a Democratic strategist and a former New York state senator. He believes that "right now, the best thing President Biden can do is keep driving his policy vision for the rest of his term."
"Giving attention to political controversies like unreturned documents or Hunter Biden's laptop would only be damaging for the President's reputation going into the new session and completely unproductive," Carlucci told The Epoch Times.
"I think we will see the President use his platform to pressure Congress into acting on time-sensitive issues like the debt ceiling, immigration, and the war in Ukraine," Carlucci added. "These actions will not go resolved without Congressional action and Biden needs to hold them accountable for their inaction so far."
From The Epoch Times