President Joe Biden on Thursday released a national COVID-19 strategy and signed more executive orders, including one requiring people traveling to the United States to test negative before departure.
Biden's strategy includes working to get Americans vaccinated against COVID-19, increasing the number of tests, requiring masks in more places, reopening schools, rejoining the World Health Organization, and utilizing the Defense Production Act to manufacture vaccines, tests, and personal protective equipment.
Biden has vowed to vaccinate 100 million Americans in his first 100 days in office against COVID-19, the disease caused by the CCP (Chinese Communist Party) virus. In the month or so since the first vaccine was authorized, 14.2 million people have received at least one shot.
When asked at the White House if the goal is ambitious enough, Biden shot back: "When I announced it you all said it's not possible. Come on, give me a break, man."
He took no further questions as aides directed reporters to leave.
Some states have struggled to quickly inject doses they've received from the federal government, which has passed out some 35 million doses. One way the Biden administration hopes to clear the logjam is by creating more venues where people can get vaccinated, including stadiums, conference centers, and retail stores.
Along with more vaccinations, the strategy calls for an increase in testing, calling it part of "a comprehensive national public health effort to control the virus." The government is aiming to up the number of tests manufactured in America, with the hope of doubling test supplies.
The Defense Production Act will be utilized to force companies to manufacture faster vaccines, tests, and equipment. Former President Donald Trump used it last year to compel businesses to manufacture ventilators and other items.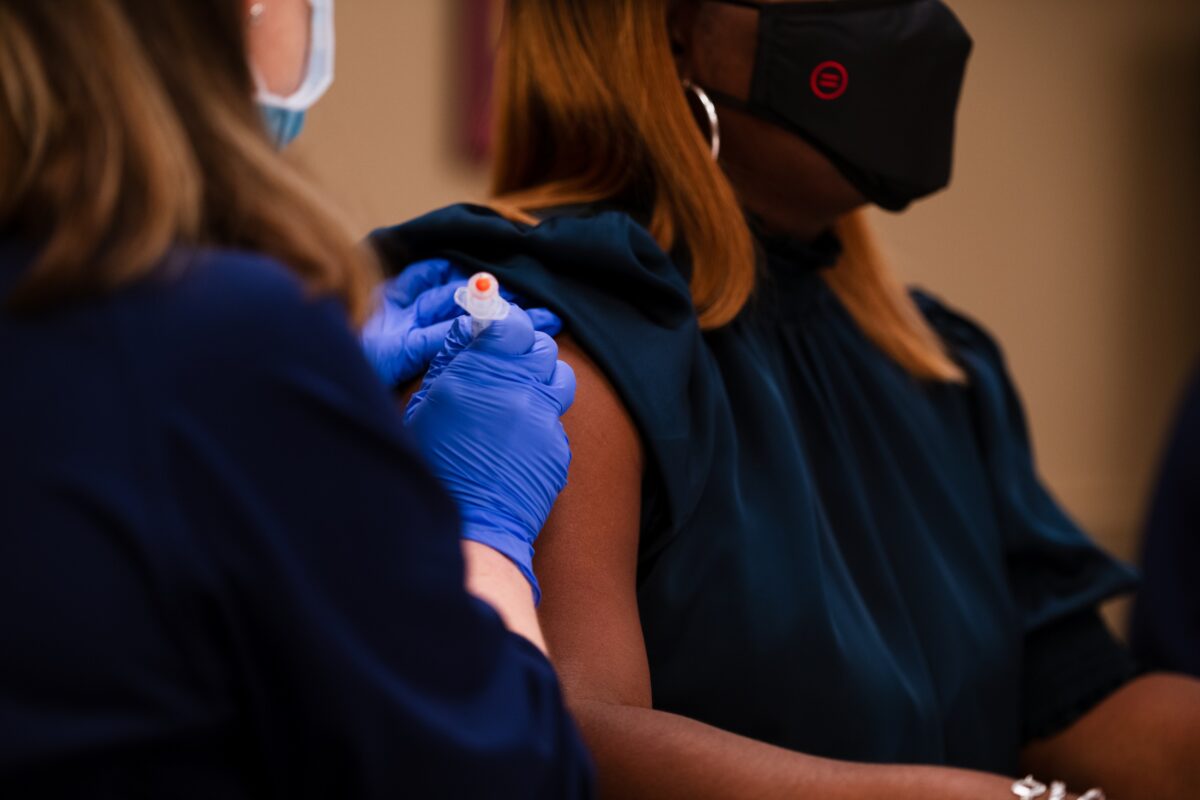 Other components of the plan include supporting the safe reopening of schools, requiring masks on federal property and on some modes of transportation, and rejoining the United Nations' World Health Organization, which Trump left because of their close ties to the CCP and failure to be transparent about the COVID-19 pandemic, particularly in the early days.
In addition, overseas travelers will be required to test negative for COVID-19 before departure and quarantine upon arrival in the United States.
"Help is on the way," Biden said during an event at the White House before signing a new slate of executive orders. "This will be one of the greatest operational challenges our nation has ever undertaken. And I'm committed to getting it done, we're committed to getting it done."
He said Americans should wear a mask for the next 99 days. That would be even better than getting vaccinated, he alleged. Polls indicate high numbers of Americans have been wearing masks since the middle of 2020 when out in public.
"The honest truth is, we're still in a dark winter of this pandemic. It's going to get worse before it gets better," he said. "It's going to take many months to get where we need to be."
Biden is asking Congress for $1.9 trillion to implement his plan.
The plan was released after the Democrat took several executive actions on the pandemic in his first day in office.
One order created the position of White House coordinator of the COVID-19 response and created a directorate and the National Security Council dedicated to "global health security and biodefense." The president also signed an order mandating masks on federal property.
From The Epoch Times