OTTAWA, Canada—President Joe Biden on Friday praised his administration's management of the recent banking crisis, saying that the banks are in good shape but that it will take some time for markets to settle down.
"I think we've done a pretty … good job. People's savings are secure," Biden said during a press conference in Ottawa.
Speaking alongside Canadian Prime Minister Justin Trudeau, he stated that while the Federal Deposit Insurance Corporation (FDIC) insures deposits up to $250,000, the agency will be able to guarantee deposits in excess of this amount at no cost to American taxpayers.
Since the collapse of California-based Silicon Valley Bank (SVB), Biden has made only a few remarks about the banking crisis. The failure of SVB, along with Signature Bank, has raised serious concerns about the strength and stability of the U.S. and global banking system.
"The banks are in pretty good shape," Biden asserted. But he assured that if there was more instability, his administration would ask the FDIC to use its power to guarantee deposits over $250,000.
Biden made these remarks during his first official trip to Canada, where he held bilateral talks with Trudeau and addressed the Canadian Parliament.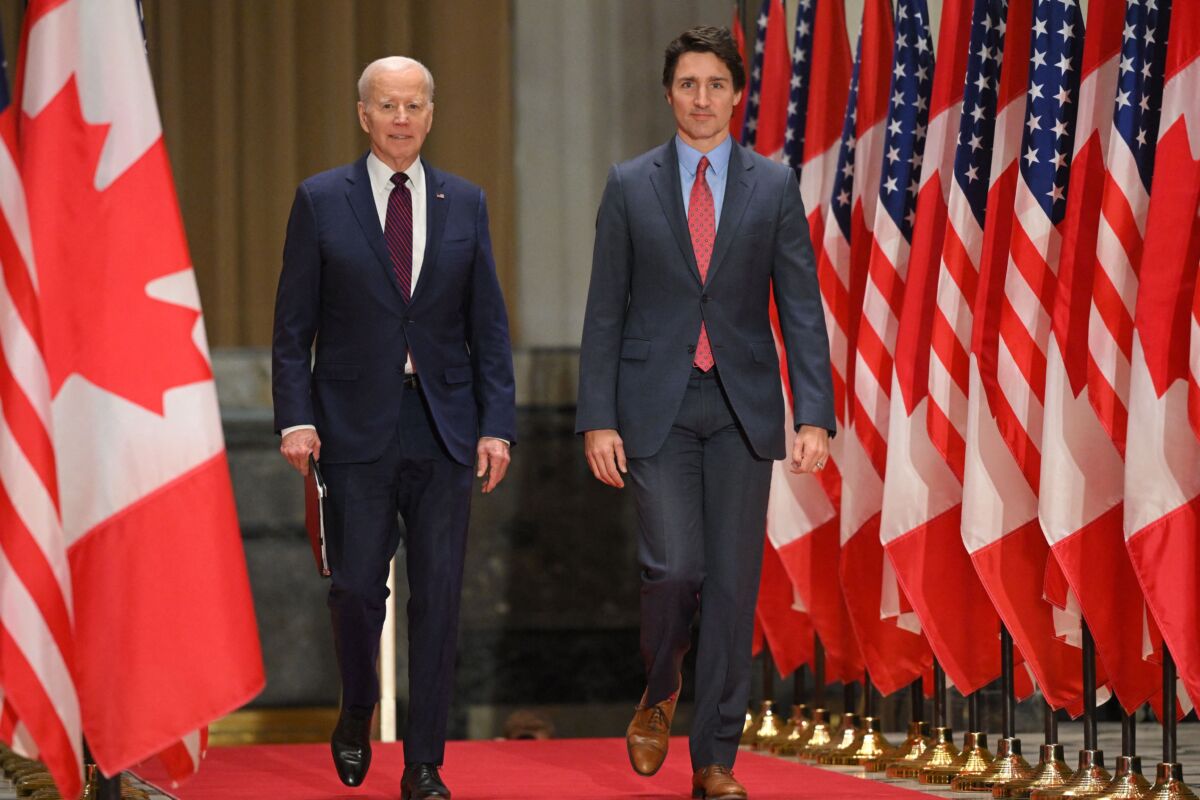 Biden said that the banking crisis in Europe also has a direct impact on the U.S. financial markets.
Deutsche Bank shares tumbled as much as 16 percent on Friday after the cost of insuring the financial institution's debt against default risks reached its highest level in nearly four years. Concerns about Deutsche Bank's financial health emerged just days after UBS agreed to purchase its rival Credit Suisse in a rushed deal brokered by the Swiss government to save the 167-year-old institution.
Concerns about contagion risks across the banking sector have been causing unease in stock markets on both sides of the Atlantic.
Biden joked, "You ever know a Wall Street not in consternation?" in response to a reporter's question about the banking crisis and the turmoil it's creating in the financial markets.
"I think it's going to take a little while for things to just calm down, but I don't see anything on the horizon that is about to explode," he said.
Biden acknowledged the market uncertainty but reassured that medium-sized banks will be able to survive.
Biden's remarks came after Treasury Secretary Janet Yellen called an emergency meeting with top financial regulators on Friday. Yellen chaired the closed-door Financial Stability Oversight Council (FSOC) meeting, according to a statement by the Treasury Department.
On March 22, the Treasury secretary told Senate lawmakers that she has not considered or talked about "blanket insurance" or guaranteed deposits.
While some critics claim that the administration picks winners and losers in the banking sector, Yellen asserted that regulators would intervene if a bank failure "is deemed to create systemic risk" and triggers "the risk of a contagious bank run." This would apply to large, mid-size, small, and community banks, she noted.
"The failure of a small bank, of a community bank, could likewise trigger a run on other banks," Yellen said.
From The Epoch Times