U.S. President Joe Biden on Wednesday said he'd seen "confirmed pictures" that beheaded children were among the many victims of the Hamas terrorists who murdered hundreds of civilians in Israeli border towns this weekend. The White House later issued a statement to clarify his remarks.
The reports of Hamas beheading infants came as the world was already grappling with the extent of the crimes being described in Israel's southern kibbutz communities, which bore the brunt of the wave of 1,500 terrorists who invaded Israel on Oct. 7.
During a roundtable with Jewish community leaders at the White House on Wednesday, President Biden emphasized the importance of Americans understanding the nature of the unfolding events.
"It matters that Americans see what's happening. I've been doing this [for] a long time. I never really thought that I would see … have confirmed pictures of terrorists beheading children," the president said.
White House national security aides have said that they have not had access to the images.
National Security Council spokesman John Kirby, who joined President Biden at the roundtable alongside other White House officials, told the Washington Examiner that while he hadn't personally seen the beheading photos, he trusted the president's assertion of their existence.
The White House later walked back President Biden's comments, telling the Washington Post that neither President Biden nor U.S. officials have seen photos nor independently verified the reports coming out of Israel. Instead, the president had based his confirmation of the atrocities on allegations put forward by Israeli Prime Minister Benjamin Netanyahu's spokesperson Tal Heinrich, The Post said.
The Epoch Times has contacted the White House for further comment.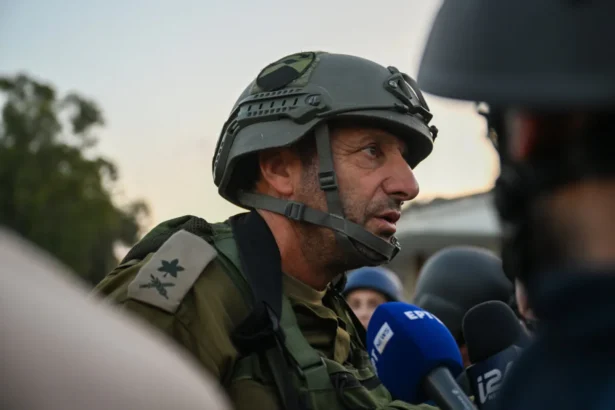 Origin of Reports
On Tuesday, Israeli Major General Itai Veruv told CNN that babies and toddlers had been found among the butchered in Kfar Aza kibbutz, a small community near Israeli's southern border with Gaza. Fighting in the kibbutz had only been brought under control by the Israel Defense Forces (IDF) that morning.
He described, "They cut head off the people," and that the IDF was going house to house to recover the dead in body bags, which were then loaded onto a truck.
"They kill babies in front of the parents, and then kill the parents; they kill parents and we found babies in between the dogs and the family they killed before him," he said.
However, there has been confusion regarding the statements whether babies were among those decapitated, with some media outlets reporting that they had been unable to independently verify whether babies were among those beheaded.
On Wednesday, the IDF showed on X, formerly Twitter, that they were allowing members of the international media to tour the Kfar Aza, which Major General Itai Veruv described as a site where Hamas terrorists carried out a "massacre" of women, children, toddlers and the elderly.
Davidi Ben Zion, deputy commander of Unit 71 who led the recovery of Kfar Aza, told the BBC that Hamas gunmen had killed families, including babies, and that some of the victims had been decapitated.
He called the terrorists "a jihad machine" that went in to "kill everybody, [people] without weapons, without nothing, just normal citizens that want to take their breakfast and that's all."
"They killed them and cut some of their heads, it's a dreadful thing to see… and we must remember who is the enemy, and what our mission is, [for] justice where there is a right side and all the world needs to be behind us."
As little photo evidence of the sensitive scenes unfolding in many of the kibbutzes has been publicly released, President Biden's comments are an official acknowledgment of Israeli accounts of infant beheadings by Hamas.
'Sheer Evil'
President Biden condemned the actions of terrorist groups, particularly Hamas, for bringing "sheer evil" into the world and causing immense suffering. He likened these events to some of the worst atrocities in history, suggesting it was the "deadliest day for Jews since the Holocaust."
Mr. Heinrich also repeated the assertion on Wednesday, while an IDF spokesperson reportedly was unable to confirm the reports, but said, "You can assume it happened and believe the report."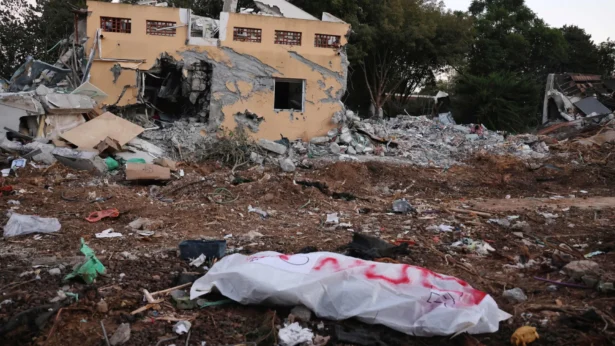 Hamas Denies Claims
On Wednesday, Hamas issued a statement denying the reports that its operatives beheaded children or attacked women during the raids, accusing Israel of spreading lies "with no evidence to support such claims and lies."
"We strongly condemn the fabricated and baseless allegations promoted by the occupation in an attempt to cover up for the massacres, crimes, and genocide committed in Gaza," said Izzat al-Risheq, a Hamas spokesman and senior official.
The IDF has said that women, the elderly, and children, including toddlers, were "brutally butchered in an ISIS way of action" by Hamas in towns like Kfar Aza, a kibbutz in southern Israel.
President Biden said that he'd spoken with Prime Minister Netanyahu on Wednesday and revealed that the United States would be sending additional ammunition to replenish Israel's Iron Dome defense system, a critical missile defense system that intercepts and destroys incoming rockets and mortar shells.
The United States is also positioning its carrier fleet in the eastern Mediterranean and dispatching fighter jets to the region to support Israel's defense.
"We're going to work closely with our partners in Israel and around the world to make sure Israel has what it needs to defend its citizens, its cities, and respond to the attack," President Biden added.
While not revealing specific details, President Biden also said the United States has deployed specialists to help recover hostages.
"There's a lot we're doing, a lot we're doing. Folks, I haven't given up hope of bringing these folks home," he said. "But the idea that I'm going to stand here before you and tell you what I'm doing is bizarre."
President Biden also said that some Arab nations are also "trying to help" Israel.
Earlier on Wednesday, President Biden spoke with President Mohamed bin Zayed of the United Arab Emirates about the situation in Israel and Gaza, to ensure that humanitarian aid reaches those in need, according to the White House. 
During their discussion, President Biden "stressed his condemnation of Hamas's terror and his warning against anyone who might seek to exploit the current situation," the White House said.
Melanie Sun contributed to this report.
Correction: A previous version of this article misstated that Israeli Major General Itai Veruv had directly told CNN that babies were among those decapitated. It is not clear which victims were among the beheaded. The Epoch Times regrets the error.
From The Epoch Times