The United States and South Korea have maintained an "ironclad alliance" for more than seven decades due to their shared beliefs in democracy and freedom, U.S. President Joe Biden said on Sunday.
His remarks came after South Korean President Yoon Suk-yeol's six-day visit to the United States ending Saturday. The two leaders met on April 26 and signed a Washington Declaration to reaffirm their countries' 70-year treaty.
Biden shared a video from his meeting with Yoon on Twitter, describing the event as a celebration of their shared vision and the "deep friendship that unites the Republic of Korea and the United States."
"The United States and Republic of Korea alliance wasn't born out of shared borders, but shared beliefs: democracy, liberty, security and above all—freedom," he said, referring to South Korea's official name.
Biden echoed Yoon's address to the U.S. Congress, in which the South Korean leader praised the U.S.-South Korea ties as a global alliance that strives to "safeguard freedom and peace around the world."
"But even as we walked in unison for freedom for 70 years, there is one regime determined to pursue the wrong path. That is North Korea," Yoon said. "North Korea has abandoned freedom and prosperity and dismissed peace."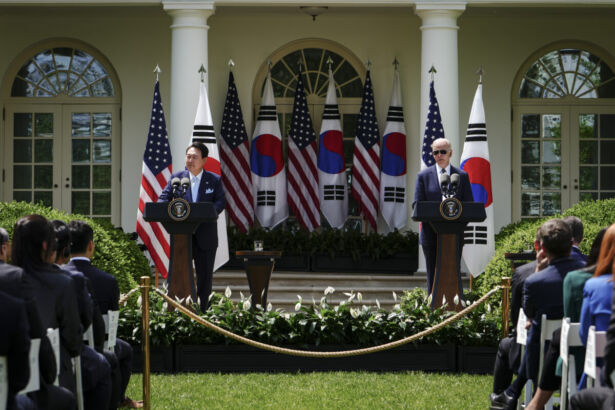 The Washington Declaration outlines a set of U.S. extended deterrence measures, which will involve deploying U.S. strategic assets—nuclear forces—on the Korean Peninsula.
In the declaration, South Korea expressed "full confidence" in U.S. extended deterrence commitments, while Washington pledged to make "every effort" to consult with South Korea on "any possible nuclear weapons employment" in the region.
Biden said at a joint press conference on April 26 that the United States will deploy nuclear-capable systems to the Korean Peninsula and warned that any nuclear attack by North Korea "will result in the end of whatever regime."
North Korea Vows to Bolster Military Deterrence
North Korea's Kim regime has condemned the Washington Declaration as the "product of heinous hostile policy" against it and vowed to bolster its military deterrence, the state-run Korean Central News Agency (KCNA) reported on Monday.
"Anyone can know well that they are making a nuclear war against the DPRK a fait accompli," KCNA stated in a commentary piece, referring to socialist North Korea's official name, the Democratic People's Republic of Korea.
North Korea is a single-party state under leader Kim Jong Un. The Kim regime is one of the most repressive in the world and is responsible for ongoing human rights atrocities, including arbitrary killings and torture, forced sterilizations and abortions, forced labor, and denying judicial independence. The country operates with a centrally-planned economy and systematically denies basic liberties, including freedom of expression, public assembly, association, property ownership, and religion.
KCNA criticized Biden for his "reckless remarks" that threatened the end of North Korea's regime, saying that it revealed the United States "inveterate hostility towards the DPRK that has reached its marrow."
It claimed that the U.S.-South Korea accord to strengthen extended deterrence and trilateral cooperation with Japan is equivalent to "a dangerous nuclear war plot putting up the signboard of security."
"Through this, the U.S. and the South Korean puppets have made their scheme for invasion against the DPRK more clear," the North's official mouthpiece stated.
"Under such situation, it is quite natural for the DPRK to bolster up its military deterrence corresponding to the grave security environment of the present and the future," it added.
Biden has said the United States would not be stationing nuclear weapons to the Korean Peninsula but there will be increased port visits of U.S. Navy 7th Fleet "boomers"—large submarines that carry nuclear submarine-launched ballistic missiles.
"We're not going to be stationing nuclear weapons on the [Korean] Peninsula, but we will have port visits of nuclear submarines and things like that," he told reporters on April 26.
Nuclear Sharing Not Included
Edgard Kagan, special assistant to the president and senior director for East Asia and Oceania of the National Security Council, said the accord does not amount to a "de facto nuclear sharing" between the two allies.
"I don't think that we see this as a de facto nuclear sharing," Kagan told reporters on April 28, Yonhap News Agency reported.
"I think we've also made clear that we are working as partners, that this is an area where, obviously, there are significant differences between the United States and the ROK, in terms of the U.S. being a nuclear state under the [Nuclear Nonproliferation Treaty]," he said.
"But we believe that there's tremendous room to do more together, and we look forward to doing that," the U.S. official added.
South Korea, which abandoned its nuclear weapons development program in the 1960s, joined the Nuclear Non-Proliferation Treaty in 1975. But increasingly, South Koreans prefer that the nation build its own nuclear arsenal. According to a 2022 poll, 71 percent of South Koreans backed the development of a domestic nuclear weapons program.
North Korea conducted a series of missile launches this year, including one involving a solid-fuel intercontinental ballistic missile (ICBM), the Hwasong-18, all of which are banned under U.N. Security Council resolutions on North Korea's missile program.
John Haughey contributed to this report.
From The Epoch Times