The Biden administration is weighing up probing Elon Musk's "relationships with other countries" after the businessman purchased Twitter.
President Joe Biden told reporters at a White House press conference on Nov. 9 that the industrialist's "cooperation and/or technical relationships with other countries is worthy of being looked at."
Biden's response came after he was asked by a reporter whether he believed Musk is a threat to U.S. national security and whether the administration should "investigate his joint acquisition of Twitter with foreign governments, which include the Saudis."
The president said the probe into Musk would include "whether or not he is doing anything inappropriate," but noted that he is "not suggesting" that Musk is indeed doing anything inappropriate but that it may be simply worth being looked into.
When asked how the administration would look into Musk's foreign ties, Biden said there are a "lot of ways" this could be done, but did not provide further details.
Tesla CEO Musk took over the social media platform Twitter in a $44 billion deal last month.
He has sold a number of Tesla shares to help fund the Twitter purchase, including just under $7 billion in August, and has also received financing from a string of major banks, including Morgan Stanley, the Bank of America, and Barclays.
Musk himself is currently the largest shareholder at Twitter, followed by Saudi Arabia's Prince Alwaleed Bin Talal Al Saud and the Kingdom Holding Company, who in October rolled over his 34.948 million shares of Twitter, valued at roughly $1.9 billion, according to a press release.
Twitter co-founder Jack Dorsey has retained more than 18 million shares in Twitter, valued at about $1 billion when the company became private, making him the third-largest shareholder.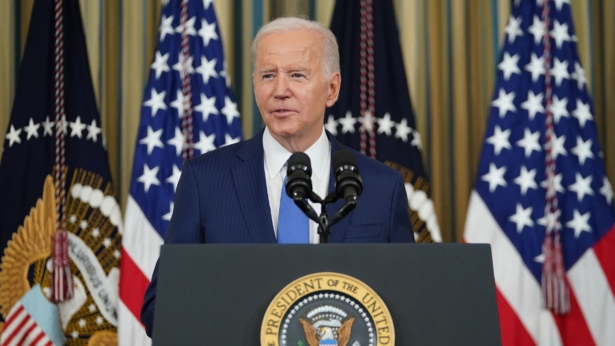 Musk Weighs in on Russia–Ukraine War
Musk, who pledged to make Twitter a place for free speech, has been outspoken on the social media platform regarding a number of political issues.
In October, Bloomberg reported that the Biden administration was considering looking into the billionaire's acquisition of Twitter, citing concerns over his "plans to buy Twitter with a group of foreign investors."
The administration was also reportedly weighing up probing Musk's other business dealings, such as his actions with SpaceX's Starlink satellite, to assess whether they should be subject to national security reviews.
The report stated that Musk's October Twitter post regarding Ukraine's access to Starlink's satellite Internet service also raised eyebrows. Musk had said that SpaceX couldn't keep funding Ukraine's Starlink "indefinitely" while sending "several thousand more terminals that have data usage up to 100 times greater than typical households."
He later said that SpaceX's Starlink service will continue serving Ukraine for free, despite it doing so at a loss to the company.
In that same month, Musk also denied claims that he spoke to Russian President Vladimir Putin before posting a Twitter poll on Oct. 3 with his suggestions for an end to the war in Ukraine, which included making Crimea formally part of Russia.
Ian Bremmer, president of the political risk research firm Eurasia Group, alleged that Musk had spoken with Putin and the Kremlin about Ukraine before he posted the poll.
"I have spoken to Putin only once, and that was about 18 months ago. The subject matter was space," Musk wrote in response to the allegations, before stating that they were not true.
Also in October, Musk drew controversy when he suggested Taiwan become "a special administrative zone" under the Chinese Communist Party's control that is "reasonably palatable," but that "probably won't make everyone happy."
From The Epoch Times