U.S. President Joe Biden will visit Papua New Guinea (PNG) later this month to discuss cooperation in advancing "inclusive economic growth" with the Pacific nation, the White House has confirmed.
Biden will stop in PNG while traveling from Japan—where he will attend the G7 Leaders' summit—to Australia for a Quad Leaders' meeting on May 24, the White House said in a statement on Tuesday.
The visit was first announced by PNG Foreign Minister Justin Tkatchenko, who stated that Biden would visit the Pacific nation's capital Port Moresby for three hours on his way to Australia on May 22.
Biden is expected to meet with PNG Prime Minister James Marape and other Pacific Island Forum leaders during his visit, making him the first-ever sitting U.S. president to visit Papua New Guinea.
"The leaders will discuss ways to deepen cooperation on challenges critical to the region and to the United States, such as combating climate change, protecting maritime resources, and advancing resilient and inclusive economic growth," the White House stated.
The United States has sought to enhance its engagement in the Indo-Pacific region to counter Beijing's growing influence. In February, PNG sent a delegation to Honolulu for security talks with U.S. officials.
The U.S. State Department said they discussed the foundational framework of the U.S.-PNG Defense Cooperation Agreement (DCA) to establish a "mutual understanding of core issues."
"When completed and signed, a U.S.-PNG DCA will be the foundational framework around which our two nations will enhance security cooperation and further strengthen our bilateral relationship, improve the capacity of the PNG Defense Force and increase stability and security in the region," it stated.
Americans Expect Worsening Economy
Biden's foreign trip comes as the United States faces a debt ceiling issue, with 75 percent of Americans believing that U.S. economic conditions are worsening under his administration, according to a Gallup survey.
Gallup polled 1,013 American adults aged 18 and over between April 3 and April 25. The survey has a margin of error of plus/minus 4 percentage points.
During a press briefing to announce Biden's trip to PNG, White House press secretary Karine Jean-Pierre was asked if Biden would postpone his foreign trip to deal with the country's debt ceiling issue.
Jean-Pierre responded by saying that Biden "could be a president anywhere. It doesn't matter if it's domestic or international. He is always president even when he travels."
"This is something that Congress can take care of today, if they choose [to] do their job, do their constitutional duty," she added. "The president is going to make it very clear to the congressional leaders that they must act and avoid default."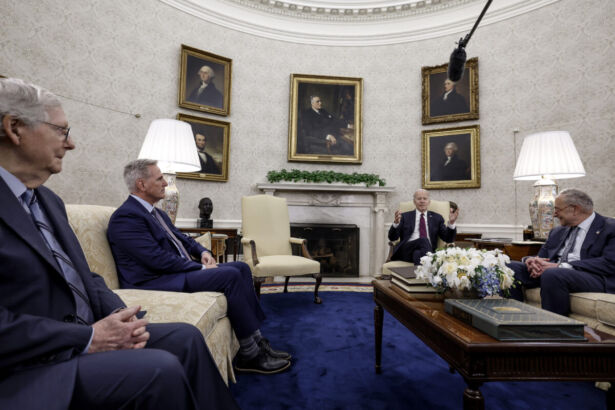 Biden and top Republicans and Democrats from Congress are set to sit down this week to try and resolve a three-month standoff over the $31.4 trillion U.S. debt ceiling and avoid a default before the end of May.
The Democratic president is calling on lawmakers to raise the federal government's self-imposed borrowing limit without conditions. Republican House of Representatives Speaker Kevin McCarthy has said his chamber will not approve any deal that does not cut spending to address a growing budget deficit.
The last time the nation got this close to default was in 2011, with the same pattern of divided government—a Democratic president and Senate with a Republican-led House. Congress eventually came around and averted default, but the economy endured heavy shocks.
Katabella Roberts and Reuters contributed to this report.
From The Epoch Times