WASHINGTON—President Joe Biden welcomed Ukrainian President Volodymyr Zelenskyy to the White House on Sept. 21 as he seeks continued assistance for his war-torn country in the face of Russia's invasion.
Mr. Zelenskyy also met with lawmakers on both sides of the aisle, although the response to his aid request is becoming increasingly difficult as Republican lawmakers are divided on future Ukraine aid.
It's Mr. Zelenskyy's sixth meeting with President Biden in person and his third visit to the White House.
During the meeting, President Biden announced a new package of military assistance for Ukraine worth $325 million that includes significant air defense capabilities.
The Biden administration asked Congress last month to authorize $24 billion in additional funding for Ukraine as part of a supplemental budget proposal. However, due to rising concerns on both the left and right, the new request is facing a political battle.
When asked about congressional support for Ukraine funding during his bilateral meeting with Mr. Zelenskyy, President Biden said: "I'm counting on the good judgment of the United States Congress. There is no alternative."
Since February 2022, the United States has appropriated $113 billion in military, economic, and humanitarian aid to Ukraine and countries affected by the war. The current funding was intended to last until Sept. 30. National security adviser Jake Sullivan confirmed that the funds will run out soon.
"We would like additional resources from the Congress on October 1st to be able to ensure that there's no disruption in the supply," he said during a White House news conference on Sept. 21.
Mr. Sullivan noted that while there's a "vocal, quite small minority of members" expressing questions, an overwhelming majority of members, both Democrats and Republicans, want to see the Ukraine money continue.
More than two dozen Republicans in the Senate and House sent a new letter to the White House on Sept. 21 promising to oppose additional funding for Ukraine and demanding that the president explain where the taxpayers' money has gone.
"The American people deserve to know what their money has gone to. How is the counteroffensive going? Are the Ukrainians any closer to victory than they were 6 months ago? What is our strategy, and what is the president's exit plan? What does the administration define as victory in Ukraine?" the letter reads.
In addition, House Speaker Kevin McCarthy (R-Calif.) said he turned down the Ukrainian president's request to address a joint session of Congress during his visit. Mr. McCarthy stated that Congress "didn't have time," owing to continuing negotiations to fund the government in order to avoid a government shutdown at the end of the month.
"We just didn't have time," Mr. McCarthy told reporters on Sept. 21. "And this is a little busy week. We're dealing with the funding issue."
However, he said that a bipartisan group of members would meet with Mr. Zelenskyy.
National Security Council spokesman John Kirby responded to Republican objections to additional funding for Ukraine, warning on Sept. 20 that if the United States walks away and lets Russian President Vladimir Putin take over Ukraine, the human and monetary costs will be "exorbitantly higher."
"The cost of defending sovereignty and territorial integrity, believe me, gets a whole lot more expensive, both blood and treasure, including American blood," Mr. Kirby told reporters during a conference call.
"There is no such thing as a blank check for Ukraine because every single thing that we're providing to Ukraine is done in full consultation with members of Congress."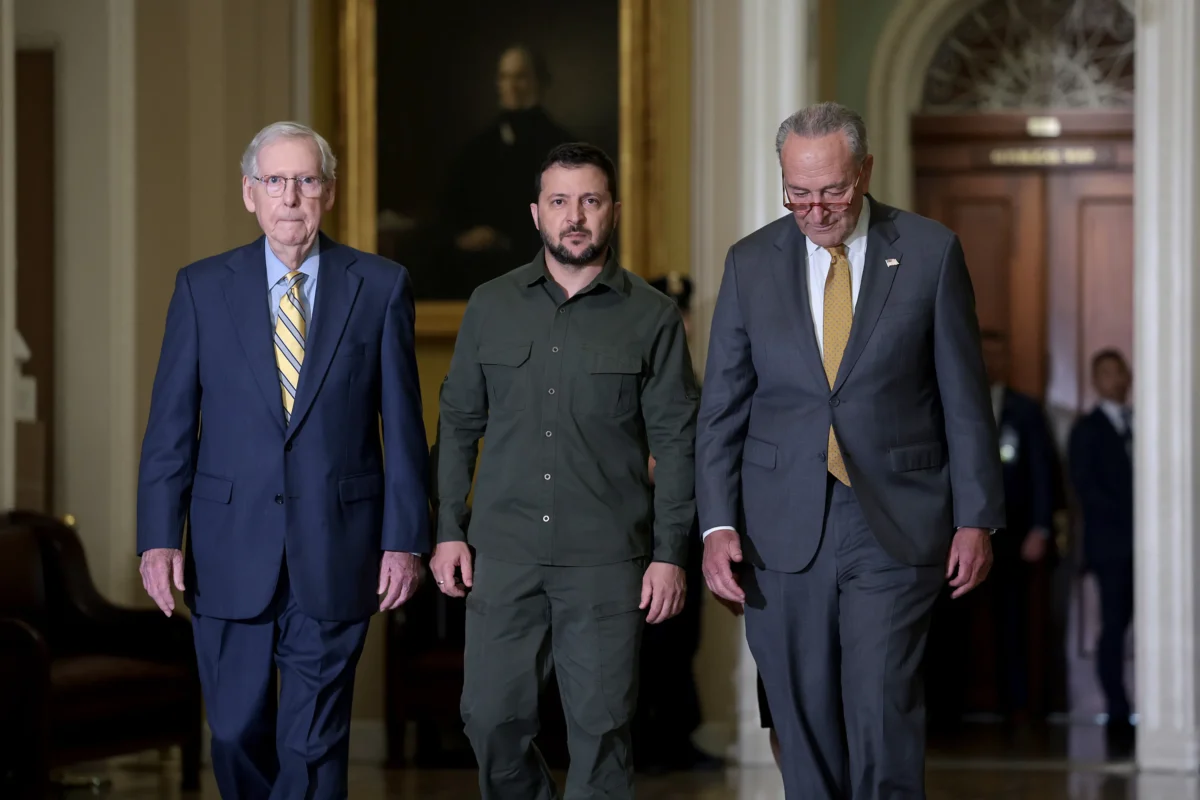 Zelenskyy Angers European Allies
The Ukrainian president's first stop this week was in New York, where he gave an in-person address to the U.N. General Assembly for the first time since Russia invaded his country in February 2022.
Mr. Zelenskyy delivered an emotional speech to world leaders on Sept. 19, warning them of rising Russian aggression beyond Ukraine.
"Mass destruction is gaining momentum," Mr. Zelenskyy said. "The aggressor is weaponizing many other things, and those things are used not only against our country but against all of yours as well.
"And the goal of the present war against Ukraine is to turn our land, our people, our lives, our resources into a weapon against you, against the international rules-based order."
During his speech, the Ukrainian president also decried Russia's alleged kidnapping of Ukrainian children, calling it "genocide."
"Those children in Russia are taught to hate Ukraine, and all ties with their families are broken. This is clearly a genocide," he said.
Mr. Zelenskyy's remarks to the United Nations, however, have angered some European countries, primarily Poland.
Polish Prime Minister Mateusz Morawiecki announced on Sept. 20 that his country will stop providing weapons to Ukraine. That decision came shortly after Warsaw summoned Ukraine's ambassador because of a dispute over grain exports.
Poland has been a staunch ally of Ukraine since a full-scale Russian invasion started last year. The country is also hosting 1 million Ukrainian refugees, who have received various types of government aid.
"We are no longer transferring weapons to Ukraine because we are now arming Poland with more modern weapons," said Mr. Morawiecki, who was speaking on Polsat News.
In his U.N. speech, Mr. Zelenskyy implied that some countries were pretending to support Ukraine while actually helping Russia with its grain exports.
"Alarmingly, some in Europe play out solidarity in a political theater, turning grain into a thriller. They may seem to play their own roles. In fact, they're helping set the stage for a Moscow actor," he said.
During his annual address to the U.N. General Assembly on Sept. 19, President Biden urged world leaders to stand with Ukraine.
"We must stand up to this naked aggression today to deter other would-be aggressors tomorrow," he said.
"That is why the United States, together with our allies and partners around the world, will continue to stand with the brave people of Ukraine as they defend their sovereignty and territorial integrity—and their freedom."
Caden Pearson contributed to this report.
From The Epoch Times