Another day, another tunnel for President Joe Biden as he continues his tour promoting projects funded by the $1.2 trillion Infrastructure Investment and Job Acts that he signed into law in November 2022.
On Tuesday, Biden appeared with Senate Majority Leader Chuck Schumer (D-N.Y.) and other elected officials in New York City, where he announced $292 million in funding that will be used to help construct a new railway tunnel under the Hudson River between New York and New Jersey.
The funds are part of a $1.2 billion mega grant package being awarded through the infrastructure bill.
"This is just the beginning of finally constructing a 21st-century rail system that is long, long overdue in this country," Biden said. "This project is critical to transforming the Northeast Corridor, increasing speeds capacity and reliability, and safety.
"In addition to getting folks out of cars and onto trains, we're going to help the environment as well because all the studies show you get from point A to point B on rail faster than you can in an automobile," Biden added. "For years, people talked about fixing this tunnel, but thanks to leadership, Chuck, and the bipartisan infrastructure law, we're finally getting this done."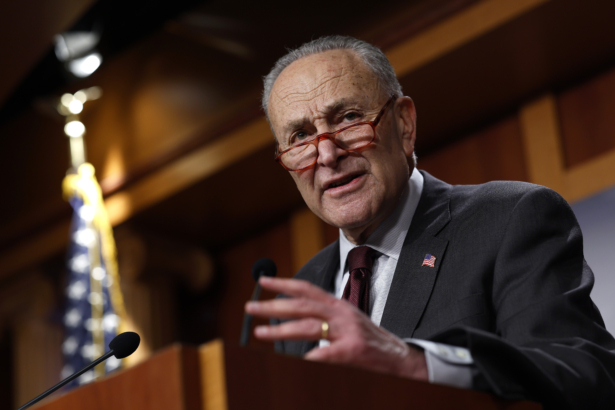 The Hudson Tunnel's two separate tubes, opened in 1910, are used by Amtrak and New Jersey Transit trains under the Hudson River, to connect Manhattan's Pennsylvania Station with Weehawken, New Jersey.
More than 450 trains carry 200,000 passenger trips on weekdays through what is the busiest rail corridor in the United States.
Superstorm Sandy caused damage to both underpasses in 2012 when millions of gallons of salt water flooded the tunnel. Remnants of seawater continue to harm the concrete, steel, tracks, and other features, the White House said in a statement.
"Today the tunnel requires regular, and occasional emergency maintenance that disrupts service for hundreds of thousands of riders throughout the region," the statement noted. "Rehabilitation of the tunnel would require a full closure, which will only be possible if a second tunnel existed."
The construction is projected to cost as much as $16 billion and help to reduce congestion for New Jersey commuters and Amtrak passengers traveling through New York City.
"As a U.S. senator, I commuted for 36 years. Every single solitary day the Senate was in session. I've traveled over 1,100,000 miles on Amtrak, and I can tell you all the delays. And they weren't all in Wilmington, Delaware," Biden said.
The infrastructure legislation represents the most significant investment in American roads and bridges since the interstate highway system was created, and the most significant investment in rail in America since Amtrak was established, Biden explained.
New York was Biden's second stop this week to tout the infrastructure bill. He was in Baltimore on Monday detailing improvements for Baltimore and Potomac Tunnel. At an event in Philadelphia on Friday, Biden will discuss funding for replacing toxic lead pipes and delivering clean water.
Other Projects
On Tuesday, Biden also highlighted other projects that will receive money from the mega grants, including the Brent Spence Bridge, which connects Kentucky and Ohio over the Ohio River; the Calcasieu River Bridge replacement in Louisiana; the Alligator River Bridge in North Carolina; a commuter railroad in Illinois; a transit and highway plan in California; and roads in Mississippi, Oklahoma, and Pennsylvania.
The Hudson  Tunnel will be constructed by union workers, Biden boasted.
"One of the things … about the infrastructure law that I'm most excited about is we're doing all of this with all American workers," Biden said. "And by the way, all of it, all of it is union labor. All of it. Every freaking one. Union labor.
"Wall Street didn't build this country. The middle class did, and unions built the middle class," Biden said.
Sen. Cory Booker (D-N.J.) pointed out that the Northeast Corridor contains 2 percent of the country's population but generates around 20 percent of the U.S. Gross Domestic Product (GDP).  He added that Biden is bringing forth the long-needed modernization to one of the country's most essential arteries.
"There's something that is almost poetic about a president who rode Amtrak every day when he was a senator or regularly that he is going to go down as the president that finally got these rail tunnels moving and the resources to complete it," Booker said.
Before introducing Biden on Tuesday, Senate Majority Leader Chuck Schumer spent part of his speech disparaging former President Donald Trump and praising the man he called "Amtrak Joe."
After criticizing former New Jersey Republican Gov. Chris Christie for "abruptly pulling the plug" on the initial plans for the Hudson Tunnel project, Schumer said "we had to start all over again" and "we got the states of New York and New Jersey to each agree to contribute 25 percent of the cost of the project in exchange for the federal government contributing 50 percent."
The Hudson Tunnel project is part of what is known as Gateway, a rail investment program that targets improvements for the Northeast Corridor.
When Trump took office, Schumer continued, he was a "Republican bully"  who set to "sabotage" the project.
"He said he wouldn't even negotiate until there was money to build his wall. He shut down the government for weeks when he invited me into the Oval Office to try and force an agreement to build the wall and then maybe Gateway. I had a few choice Brooklyn words for him," Schumer said. "No [expletive] way, Mr. President.
"Now, that doesn't mean we didn't make any progress during those years. We worked hard in the delegation, New Jersey and New York, to secure tens of billions of dollars in appropriations for various federal spending accounts that gateway could use once President Trump was gone," Schumer added. "But what I couldn't have anticipated  … is that the person who would replace Trump would happen to be the best possible person anywhere to move Gateway forward—Mr. Amtrak himself, Joe Biden."
Schumer continued to chastise Trump for what he called slowing the project.
"Get on the Joe Biden Express now because we are not stopping," Schumer said. "For four years, the former president was shoveling you know what, and now we're going to put real shovels in the ground, wielded by real American workers."
Not everyone in Washington shares the Democrats' enthusiasm for infrastructure bill spending.
On Wednesday, House Speaker Kevin McCarthy (R-Calif.) is scheduled to meet with Biden to discuss the debt ceiling issue.
Republicans are insistent that federal spending be cut while White House officials say Biden will not negotiate about the debt limit.
"I don't think there's anyone in America who doesn't agree that there's some wasteful Washington spending that we can eliminate," McCarthy said on Sunday.
From The Epoch Times