Commander, President Joe Biden's two-year-old German Shepherd, is reportedly no longer at the White House following a series of biting incidents involving White House Staff and Secret Service Agents.
According to a statement shared with CNN and Fox News late Wednesday by Elizabeth Alexander, First Lady Jill Biden's communications director, Commander is "not presently on the White House campus while next steps are evaluated."
Mr. and Ms. Biden are reportedly continuing to "work through solutions," and have thanked the Secret Service and all those involved for their "patience and support."
It's unclear where Commander is now, or what exactly "solutions" might be able to address the alleged bad behavior by the president's dog.
The most recent statement came after White House press secretary Karine Jean-Pierre was asked at her briefing Wednesday about another allegation that Commander had bitten a White House staffer.
A tourist reportedly saw the incident and shared photographs, which were later published online.
The Epoch Times has contacted Ms. Alexander, and the Secret Service for further comment but did not hear back before publication.
Not the First Incident
This isn't the first time the Biden's dog has been accused of misbehaving, with more than a few allegations of biting and aggressive behavior leveled at the canine.
According to Department of Homeland Security (DHS) records obtained and released by watchdog group Judicial Watch on July 25, Commander has been involved in at least ten attacks on members of the Secret Service.
As a result, some of the agents were required to visit a hospital for treatment.
All these incidents occurred over a four-month span, from October 2022 to January 2023, according to the 194 pages of records reviewed by Judicial Watch.
A more recent incident came to light on Oct. 3, bringing the total involving Biden's dog to at least 11.
On July 25, Ms. Alexander told the Epoch Times in an email that the White House complex is a "unique and often stressful environment" for family pets and the Biden family was "working through ways to make this situation better for everyone."
While Anthony Guglielmi, chief spokesperson for the Secret Service, said in a separate email to The Epoch Times, the agency was taking the "safety and well-being of our employees extremely seriously."
For the past few presidents, the agency has "navigated how best to operate around family pets, and these incidents are no exception."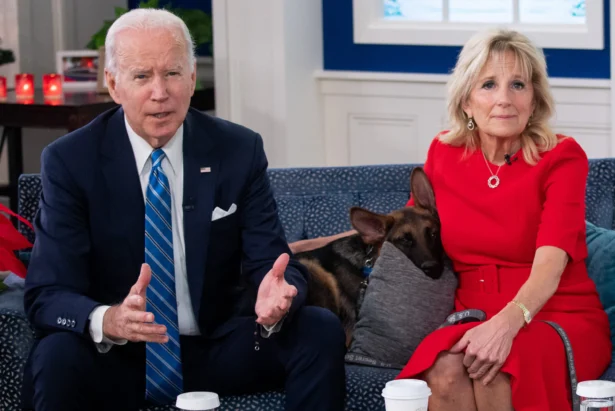 Previously, the Biden's had two other German shepherds, Champ and Major, living with them following Mr. Biden's win in the 2020 election.
Champ passed away in 2021 while Major was sent to live with friends of the Biden's around the same time, after he was involved in several biting incidents and acts of aggression towards staff.
Commander, a pedigreed German Shepherd puppy, arrived at the White House soon after as a gift from President Biden's brother, James Biden.
Pets, especially dogs, have long been a fixture at the White House, with many presidents bringing their canines as they took the top job.
Herbert Hoover, Franklin D. Roosevelt, and John F. Kennedy all had German shepherds as pets while serving as presidents, while Theodore Roosevelt had a bull terrier named Pete.
From The Epoch Times