Former Attorney General William Barr said on Tuesday that John Durham's long-awaited report was "a success," further indicating it has cleared former President Donald Trump of all wrongdoing "as far as Russiagate is concerned."
The key takeaway of Durham's 300-plus page report (pdf) published on Monday was that FBI agents pursued a full investigation—dubbed "Crossfire Hurricane"—without actual evidence supporting the alleged claims of coordination between his associates and Russia during Trump's 2016 campaign.
During an interview on Fox News's "Special Report" on May 16, Barr called the FBI's investigation "one of the greatest injustices done to a presidential candidate and president," designating the federal law enforcement agency's probe as "an abomination."
"I think the real story here—from the FBI's perspective—is what an abomination this was, this so-called investigation. If it wasn't a witch hunt, it's a damn good imitation of one," Barr said, adding that Trump "was treated unfairly here. So, he is vindicated as far as Russiagate is concerned."
Barr, who served as attorney general under both the George H.W. Bush and Trump presidencies, said he believes the report will help Trump in the short-term, but noted that he stands by previous comments that he believes the former commander-in-chief is not the right person to lead the Republican Party forward.
"I'm not supporting him for re-nomination. But he was right on this and this is a vindication. He had it right from the beginning," Barr said, referring to Trump calling out for years that the FBI and Department of Justice had been falsely investigating him for alleged collusion with Russia, calling the probe the "single greatest Witch Hunt" in U.S. history.
In a text message to The Epoch Times following the release of Monday's report, Trump campaign spokesman Steven Cheung reiterated Barr's remarks, stating the report proves there was "a coordinated effort" by elements in the federal government to falsely accuse Trump "through lies and deceit."
Barr noted in his Tuesday comments that while Durham's probe was about to "get to the truth … It was not launched as a criminal investigation. And people who compare it to the Mueller investigation are simply wrong."
In October 2020, Barr appointed Durham as special counsel on the investigation, which, after three years, led to Monday's report concluding that senior FBI agents "displayed a serious lack of analytical rigor towards the information that they received" from a source linked to former Secretary of State Hillary Clinton.
The report also described how some of the FBI officials involved in the investigation, such as Deputy Assistant Director for Counterintelligence Peter Strzok, had "pronounced hostile feelings toward Trump."
Barr also said Clinton's 2016 campaign launched "a smear campaign" based on Russian sources in an effort to undermine Trump by spreading false claims to the FBI and media outlets.
"Both the press and the FBI abandoned any semblance of professionalism and took up the cause with a vengeance," Barr contended.
Barr Refuses to Back Trump
Barr, who recently indicated that he's adamantly against Trump returning to the Oval Office, said that while he has his differences with his former boss, he believes the former president had great policies for which he deserves a lot of credit.
"He was very good at stopping the progressive march back in 2016. But I don't think he has the skills of, you know, unifying the party and persuading people on a particular program and getting it done through Congress," Barr said.
"I think people who want to restore America should look for a big victory that brings strength into the Congress and allows us to achieve some fundamental changes, and I don't think he is capable of delivering that kind of victory," he added.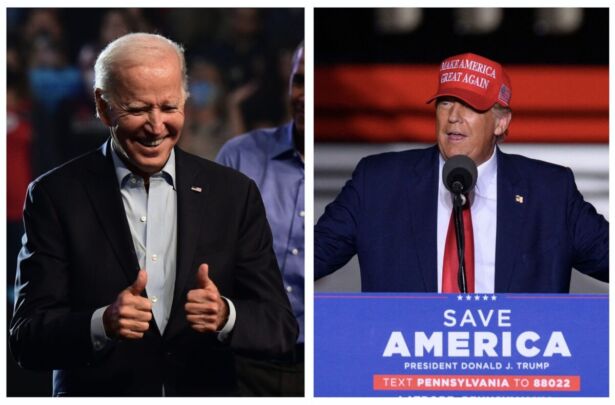 Despite Trump being the early frontrunner for the 2024 GOP nomination, Barr said he believes the Republican figure "has the best chance of losing" to President Joe Biden, who officially announced his reelection campaign last month, given the wider political climate.
"Even if he won, my concern is that he would wipe out Republicans in the Congress because of the vast turnout that would occur just to vote against him," he said.
Trump, meanwhile, has not been coy in sharing his thoughts on Barr, often lambasting him as a "RINO" (Republican in Name Only) and a sellout to the Washington establishment.
Last month, Trump ripped Fox News for interviewing the former attorney general, describing him in a Truth Social post as a "coward who was absolutely petrified of being impeached" and a "slave" to the Democratic Party.
Despite all the criticism, Barr said during an interview earlier this month that he felt the Trump administration had been largely successful in accomplishing its goals.