"Real-Time" host Bill Mayer, during his Friday night show mocked the passing of chemical engineering tycoon and billionaire David Koch, saying, "I'm glad he's dead."
"Yesterday David Koch of the zillion air Koch brothers died … of prostate cancer," Maher said, "I guess I'm going to have to re-evaluate my low opinion of prostate cancer."
Koch was a longtime Libertarian who spend a considerate amount of his fortune and efforts in supporting the conservative policies and Republican projects.
He and his brother Charles jointly owned Koch Industries. They were heavily criticized by climate change protagonists, who portrayed Koch Industries as one of the biggest polluters in the United States.
"He was 79, but his family says they wish it could be longer, but at least he lived long enough to see the Amazon catch fire," Maher continued. "Condolences poured in from all the politicians he owned, and mourners are being asked in lieu of flowers, to just leave their car engine running."
He continued, "As for his remains, he has asked to be cremated and have his ashes blown into a child's lungs."
Many people were appalled by Maher's jokes and found them tasteless. Someone on Twitter remarked: "With people being amused at this kind of vile "comedy," is it any wonder that people are capable of mass murder, genocide and all manner of bestial behavior. There are truly evil, sick individuals among us. Maher should hope that there is no God."
Another commenter on Twitter wrote: "Koch left behind a widow, three children, and three brothers. What Maher and others are saying is that they're glad for the pain his family is going through right now."
Maher, however, doubled down on his harsh statements, stating that Fox News is probably going to condemn him for it, adding, "but [expletion] him. The Amazon is burning up. I'm glad he's dead," he said.
The Epoch Times formerly reported on Koch's death.
Billionaire Businessman and Philanthropist David Koch Passed Away at Age 79
"David Hamilton Koch, longtime stockholder, director, and leader in Koch Industries passed away on August 23, 2019, at age 79 after many years of fighting various illnesses," the company said in a statement.
David and his brother Charles Koch were both known as conservatives and philanthropists, donating money to conservative causes as well as to a wide range of charities. They co-owned Koch Industries before David Koch retired last year.
At the time of his retirement, Koch's net worth was estimated at $42.4 billion, making him the 11th richest person in the world, Forbes reported at the time.
"We are deeply saddened by this, as we miss David's insightful questions and his many contributions to Koch Industries," Charles Koch wrote in a letter to Koch Industries employees, according to a copy reviewed by The Wall Street Journal.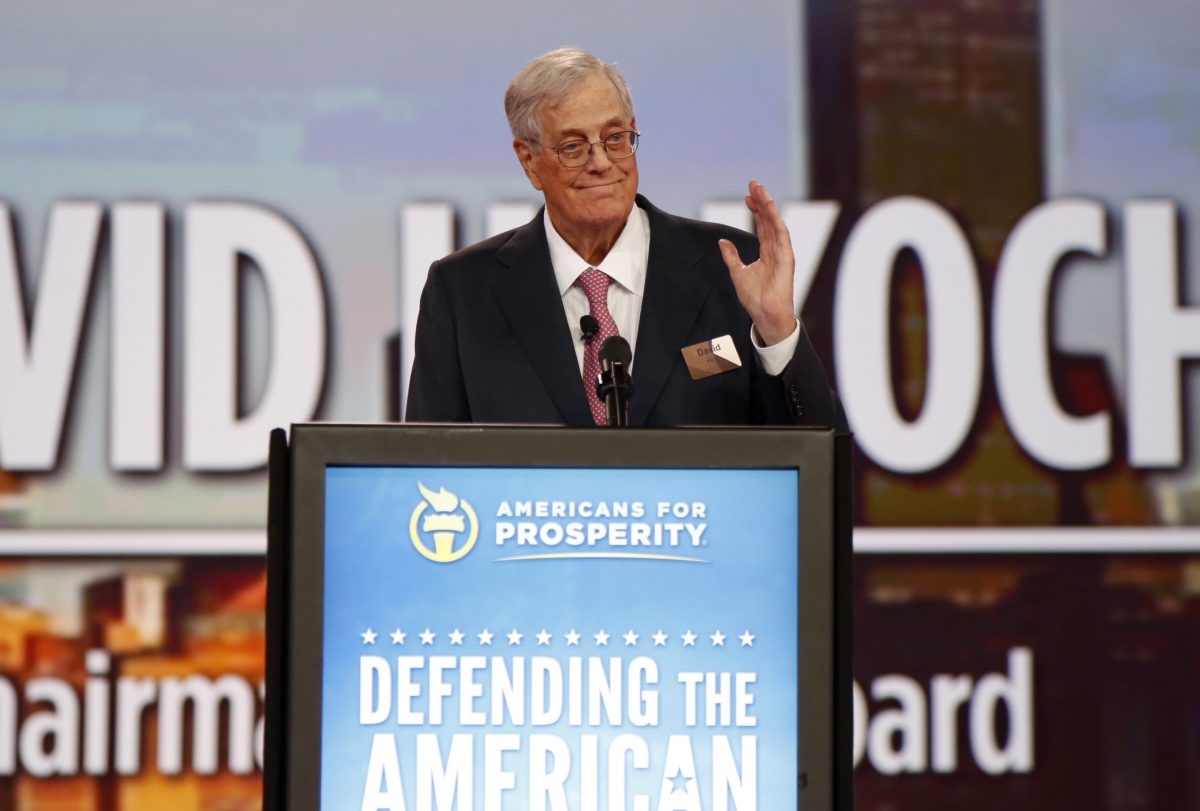 After surviving a plane crash in 1991, Koch was moved to change his life. He contributed or pledged more than $1.3 billion in his life, Koch Industries said. Causes included cancer research, art centers, and public policy groups.
Epoch Times reporter Zachary Stieber contributed to this report