ANKARA—Secretary of State Antony Blinken wrapped up a four-day trip to the Middle East, with little breakthrough on achieving the humanitarian pauses that Washington is seeking to get in more aid into Gaza amid the Israeli bombardment of the enclave and establish calm to secure safe passage for the hostages Hamas terrorists kidnapped.
Mr. Blinken embarked last Thursday on his second tour to the region since the decades-old Israeli–Palestinian conflict escalated after Oct. 7 when Hamas terrorists burst over into Israel in the deadliest attack in the country's history, killing more than 1,400 people and abducting 240 others.
While dismissing growing worldwide calls for a ceasefire, Washington has been seeking a humanitarian pause in Israel's military offensive but Israeli Prime Minister Benjamin Netanyahu rebuffed Blinken on Friday after their talks, saying there will be no let up in Israel's operations unless there is a deal on the hostages.
Asked what concrete progress he has made during his tour of the region, Mr. Blinken pointed to efforts to avoid a regional escalation.
"Sometimes the absence of something bad happening may not be the most obvious evidence of progress, but it is," he told reporters before departing to Tokyo for the Asia leg of his trip.
He said Washington was focused on getting more humanitarian assistance into Gaza and would continue to work with Israelis on steps to minimize civilian casualties but acknowledge the lack of a breakthrough. "All of this is a work in progress," he said.
Washington wants to prevent a wider regional conflict and has stepped up diplomacy with countries across the region.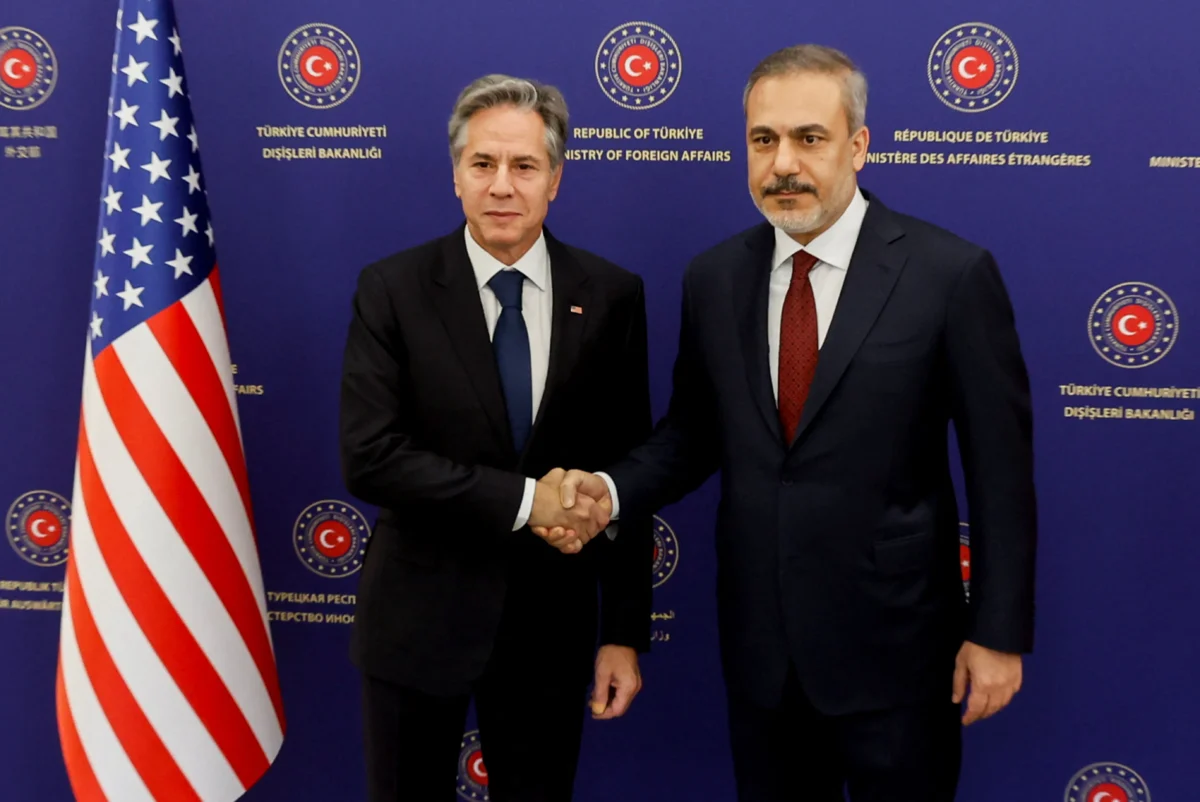 No Erdogan Meeting
In Turkey, Mr. Blinken met with the Turkish Foreign Minister Hakan Fidan and discussed efforts to boost aid into Gaza, the need to protect civilians and preventing the conflict from spreading, statements from both sides said.
The meeting between the two top diplomats lasted two and a half hours, a U.S. State Department official said. No talks took place between Mr. Blinken and Turkish President Tayyip Erdogan, who has criticized Washington over its "unlimited support to Israel".
Mr. Blinken had met Erdogan in February, when he visited the country following a devastating earthquake. Mr. Erdogan traveled to the Black Sea coastal city of Rize on Sunday and remained there throughout Blinken's visit in Ankara.
Turkey, a NATO member which supports a two-state solution in the Middle East, has sharply escalated its criticism of Israel as the humanitarian crisis in Gaza has deepened. It also hosts members of Hamas, which is viewed as a terrorist organization by some Western countries but not by Ankara.
As Mr. Blinken met Mr. Fidan in Ankara, dozens of people gathered outside the foreign ministry building to protest U.S. support for Israel.
On Sunday, pro-Palestinian crowds tried to storm an air base in southern Turkey that houses U.S. troops hours before Mr. Blinken's arrival.
A Turkish foreign ministry source said Mr. Fidan told Mr. Blinken that a ceasefire must be declared immediately in Gaza and that Israel must be prevented from targeting civilians and displacing people.
Mr. Blinken said U.S. focus on boosting aid into Gaza and freeing hostages remained and added that other countries in the region can play an important role in getting them back.
"We are working very aggressively on getting more humanitarian assistance in Gaza. And we have very concrete ways in doing that. And I think we'll see in the days ahead that assistance can expand in significant ways," he said.