TEL AVIV, Israel—Israeli Prime Minister Benjamin Netanyahu on Friday pushed back against growing U.S. pressure for a "humanitarian pause" in the war to protect civilians and allow more aid into Gaza, insisting there would be no temporary cease-fire until some 240 hostages were released.
U.S. Secretary of State Antony Blinken made his third trip to Israel since the war began, reiterating American support for Israel's battles against the Hamas terrorist group, while echoing President Joe Biden's earlier call for a brief halt in the fighting to address a worsening humanitarian crisis.
After talks with Mr. Netanyahu, Mr. Blinken said a temporary halt was needed to boost aid deliveries and help win the release of the hostages Hamas took during its brutal Oct. 7 incursion. But Mr. Netanyahu said he told Mr. Blinken "we are going with full steam ahead," unless hostages are released. He also ruled out sending to Gaza more fuel, which Israel says Hamas is hoarding—and that it would confiscate any new supplies.
U.S. officials say they are not seeking a ceasefire but short pauses in specific areas to allow aid deliveries or other humanitarian activity, after which Israeli operations would resume. Mr. Netanyahu has not publicly addressed the idea and has instead repeatedly ruled out a ceasefire.
Amid fears the conflict would widen across the region, the leader of Lebanon's Iranian-backed Hezbollah terrorist group promised more attacks on northern Israel on Friday, though he did not signal his group would fully join the war.
In Gaza, Israeli troops tightened their encirclement of the largest city, the focus of their campaign to crush the enclave's ruling Hamas terrorists.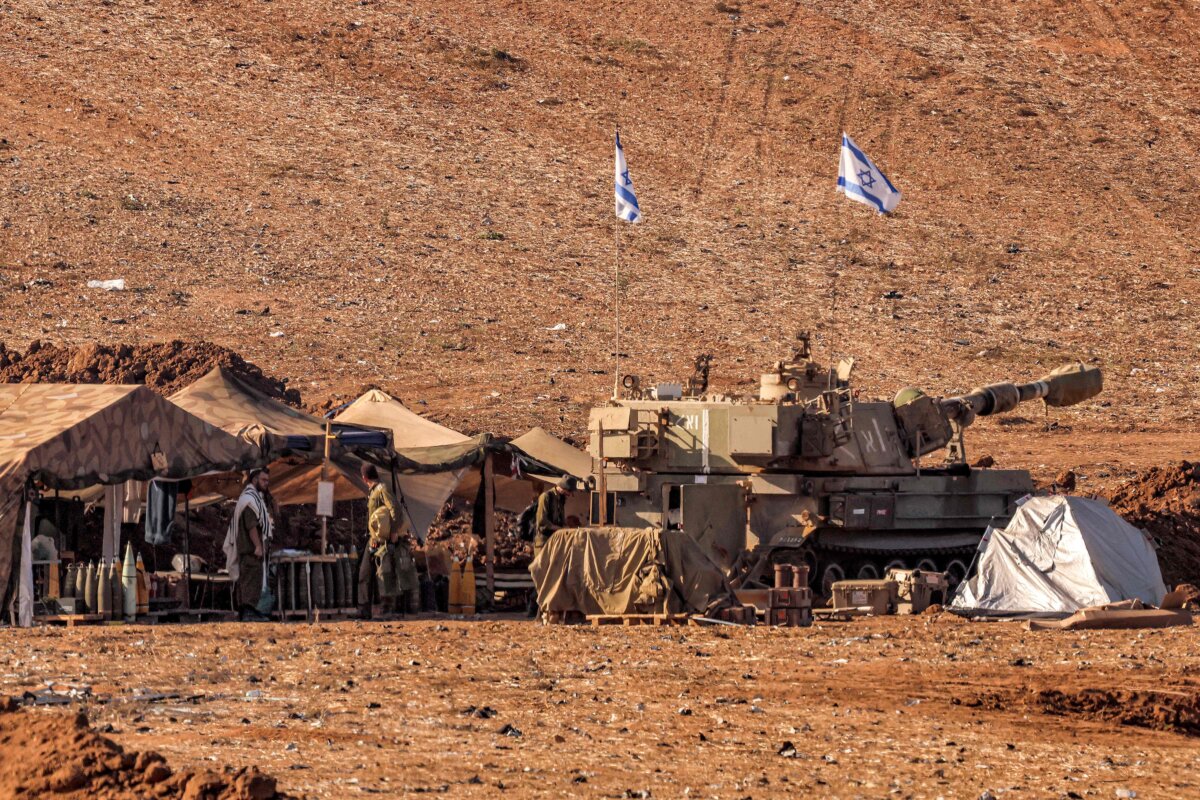 Fears Over New Fronts
Throughout the war, Israel and the Hezbollah terrorist group have traded fire almost daily along the Lebanon border, raising fears of a new front opening there.
In his first public speech since the war began, Hezbollah leader Hassan Nasrallah said his group had "entered the battle" with the past weeks' unprecedented cross-border fighting.
"We will not be limited to this," he said, suggesting escalation was possible.
Still, Mr. Nasrallah stopped short of announcing that Hezbollah is fully engaging in the war. So far, Hezbollah has taken calculated steps to throw military backing behind Hamas without igniting all-out war.
Mr. Blinken said the United States, which has deployed aircraft carriers and other forces in the eastern Mediterranean, was committed to ensuring that no "second or third front" opens.
Mr. Nasrallah dismissed U.S. warnings, saying: "Your fleets in the Mediterranean … will not scare us."
Thursday saw one of the heaviest exchanges over the border yet. Hezbollah attacked Israeli military positions in northern Israel with drones, mortar fire, and suicide drones, and Israeli warplanes and helicopter gunships retaliated with strikes in Lebanon. Israeli military spokesman Rear Adm. Daniel Hagari said civilians were wounded in the Hezbollah attacks.
"We are in a high state of readiness in the north, in a very high state of alert, to respond to any event today and in coming days," he said.
The exchanges since the start of the war have killed 10 Lebanese civilians and 66 fighters from Hezbollah and other terrorist groups and seven Israeli soldiers and a civilian in northern Israel.
A war with Hezbollah would be devastating for both Israel and Lebanon. Hezbollah is much stronger than Hamas, with an arsenal of some 150,000 rockets and missiles, some believed to be precision-guided weapons capable of striking deep inside Israel.
Israel has promised to unleash vast destruction in Lebanon if all-out war erupts, accusing Hezbollah of hiding its military installation in the midst of residential areas. The two enemies fought an inconclusive monthlong war in 2006. Renewed fighting could also risk drawing in Iran, which backs both Hamas and Hezbollah.
Gaza City Encircled
More than 9,200 Palestinians have been killed in Gaza so far, two thirds of them women and minors, the Gaza Health Ministry said, without providing a breakdown between civilians and terrorists.
More than 1,400 people have died on the Israeli side, mainly civilians killed during Hamas's initial attack. Rocket fire by Gaza terrorists into Israel has continued, disrupting life for millions of people and forcing an estimated 250,000 people to evacuate towns in northern and southern Israel. Most rockets are intercepted.
Twenty-four Israeli soldiers have been killed in Gaza since the start of the ground operation.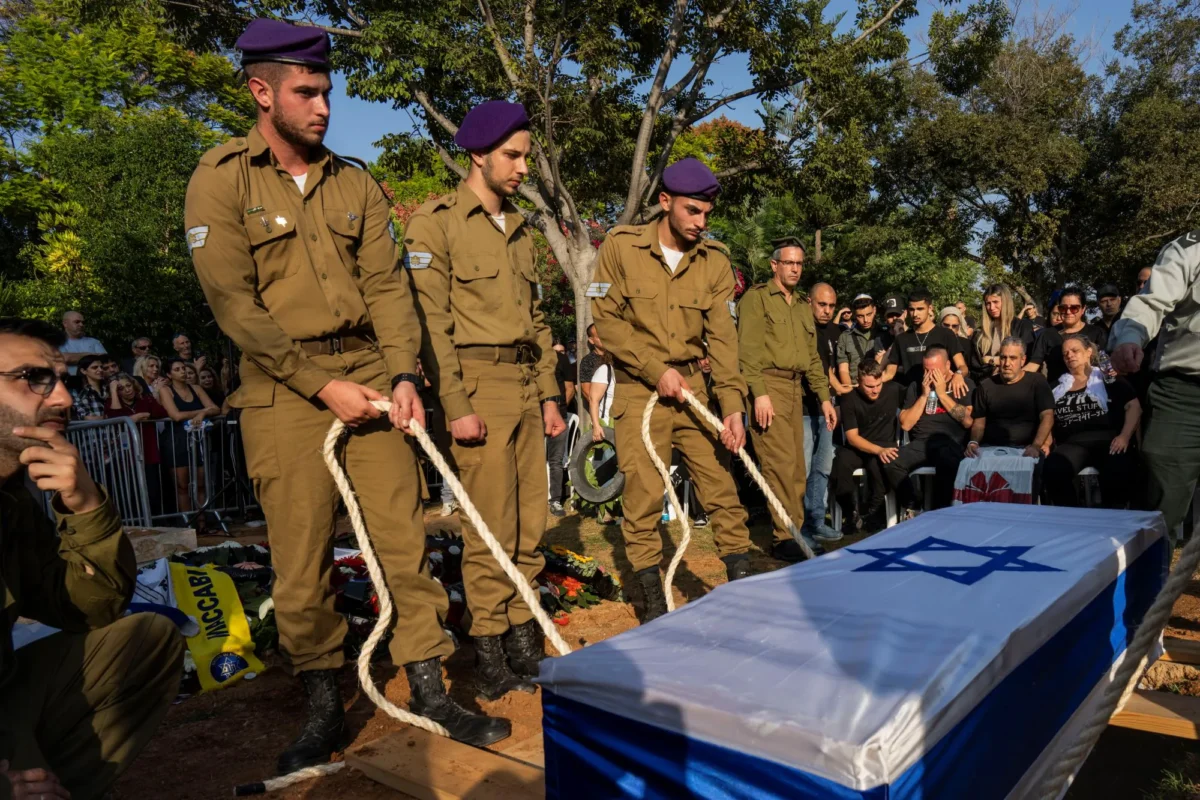 Israeli military officials said Friday their forces have encircled densely built-up Gaza City and began Friday to launch targeted attacks within the city on terrorist cells.
Hundreds of thousands of Palestinians remain in the city and nearby parts of northern Gaza. Israel says Hamas has an extensive military infrastructure in the city, including a network of underground tunnels, bunkers, and command centers. It says its strikes target Hamas and the terrorists endanger civilians by operating among them.
The military said its troops have killed numerous Hamas terrorists exiting tunnels. Footage released by the military showed soldiers and tanks advancing toward bombed out buildings.
Hamas's military wing said Friday its fighters battled Israeli troops in several areas, claiming they killed four soldiers near the city of Beit Lahiya and destroyed four tanks.
Neither side's reports could be independently verified.
Israel has repeatedly told residents of Gaza's north to evacuate to the south for greater safety. But many have been unable to leave or stay fearing continued airstrikes in the south—especially with Israeli forces on the main roads heading south.
The military on Thursday told residents to evacuate the Shati refugee camp on Gaza City's edge. On Friday, shells hit a convoy of evacuees on the coastal road they were told to use, killing roughly a dozen people, doctors said.
In the West Bank overnight, Israeli forces killed seven Palestinians in different places and arrested many more, according to the Israeli military and Palestinian health officials.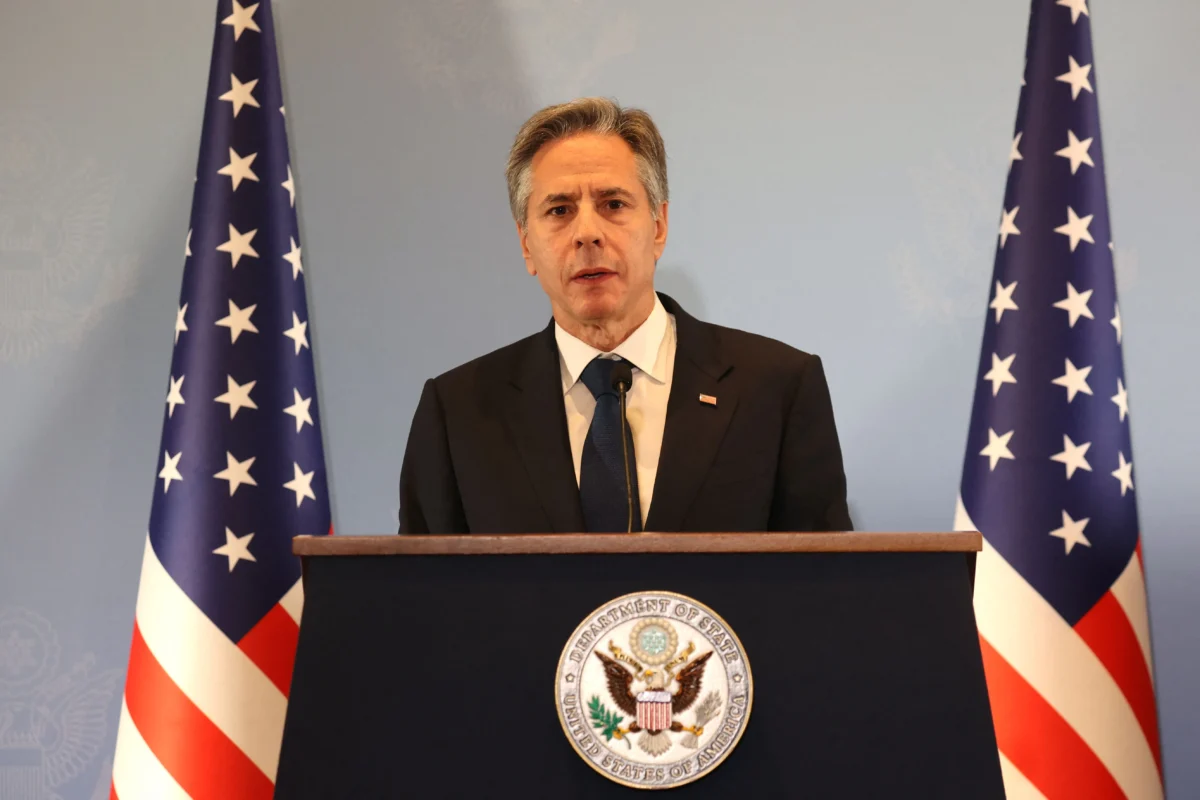 Blinken's Latest Trip
Mr. Blinken first held talks with Mr. Netanyahu before holding wider discussions with the prime minister's War Cabinet and meeting with President Isaac Herzog. He was stopping later Friday in Amman, Jordan.
As American officials have before, Blinken pledged unwavering support for Israel, saying it "has not only the right but the obligation to defend itself, and to make sure that October 7 should never happen again."
President Biden's suggestion for a humanitarian "pause" in the fighting aims to let in aid for Palestinians and let out more Palestinians who hold foreign passports and are wounded.
More than 386 Palestinian dual nationals and wounded exited Gaza into Egypt on Friday, according to Wael Abou Omar, the Hamas spokesman for the Rafah border crossing. That brings the total who have gotten out since Wednesday to 1,115.
Israel has allowed more than 260 trucks carrying food and medicine into Gaza, but aid workers say it's not nearly enough. Israeli authorities have refused to allow fuel in, saying Hamas is hoarding fuel for military use and would steal new supplies.
Israel on Friday released hundreds of Palestinian workers who said they had been held in an Israeli-run jail since the war began. They were dropped off near Gaza and entered through the Kerem Shalom border crossing.