U.S. Secretary of State Anthony Blinken announced on Monday that the amount of humanitarian aid for Gaza will "significantly expand" in the days ahead as he wrapped up a four-day diplomatic tour to the Middle East in a bid to deescalate tensions following the outbreak of the Israel–Hamas conflict.
Mr. Blinken met with Turkish Foreign Minister Hakan Fidan in Ankara on Nov. 6 to discuss efforts to boost aid into Gaza, the need to minimize civilian casualties, and prevent the conflict from spreading regionally, according to a U.S. Department of State press release.
"We're working … very aggressively on getting more humanitarian assistance into Gaza," the U.S. diplomat told reporters after meeting with his Turkish counterpart.
"We have very concrete ways of doing that, and I think you'll see in the days ahead that that assistance can expand in significant ways so that more gets into people who need it and gets to the people who need it, as well as making sure that people can continue to come out of Gaza," he added.
Turkey, a staunch ally of NATO, has stepped up its criticism of Israel's reprisal operations against Hamas after the U.S.-designated terrorist organization launched a series of coordinated attacks against the country on Oct. 7. The attacks killed more than 1,400 people, most of them Israeli civilians celebrating a Jewish holiday.
Unlike many of its NATO allies and the European Union, many top officials in the predominantly Islamic country do not view Hamas as a terrorist organization and often host senior Hamas members.
"Hamas is not a terrorist organization, it is a liberation group, 'mujahideen' waging a battle to protect its lands and people," Turkish President Tayyip Erdogan told lawmakers from his ruling AK Party on Oct. 25, using an Arabic word denoting those who fight for their faith.
Hamas, which controls the Gaza Strip, is designated a terrorist organization by the United States, European Union, United Kingdom, Australia, Canada, and the Organization of American States.
Protests Erupt Against Blinken Visit
Ahead of Mr. Blinken's arrival in Ankara, police used tear gas and water cannons in southern Turkey as hundreds of pro-Palestinian demonstrators tried to storm an air base that houses U.S. troops.
As the Blinken-Fidan meeting got underway, dozens of protesters from an Islamist group waved Turkish and Palestinian flags and held up anti-U.S. and anti-Israel placards outside the foreign ministry building to protest U.S. support for Israel. Earlier in the day, police also dispersed a group of students marching toward the ministry building chanting, "Murderer Blinken, get out of Turkey!"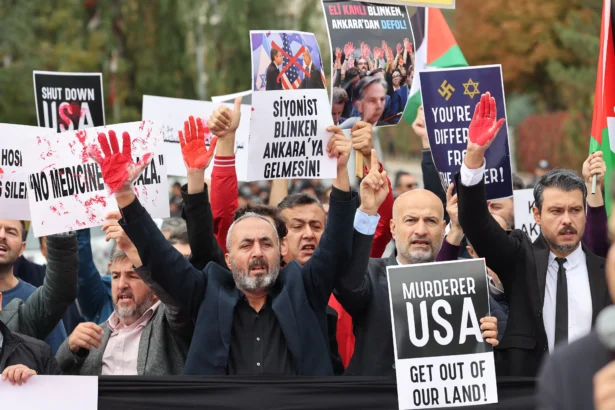 According to a U.S. Department of State official, the meeting between Mr. Blinken and Mr. Fidan lasted roughly two hours. Meanwhile, no talks took place between Mr. Blinken and President Erdogan, who has called for an immediate ceasefire between Israel and Hamas.
Israeli Prime Minister Benjamin Netanyahu has rejected calls for a ceasefire, and Mr. Blinken has also indicated that a ceasefire would only benefit Hamas and allow terrorists to regroup and attack again. Instead, the United States is pursuing localized pauses in fighting to allow more humanitarian aid into Gaza.
"When it comes to humanitarian pauses, we're engaged with the Israelis on the particular practicalities of that," Mr. Blinken said when asked if a ceasefire is tenable. "One critical aspect, though, is seeing progress on hostages. That's something we're intensely focused on. But we also believe that a pause could help advance that proposition as well."
Middle East Tour
Mr. Blinken, who met with senior officials in Israel, Jordan, Qatar, Egypt, and Iraq, among other countries, before arriving in Turkey was also asked in Ankara what concrete progress he has made during his tour of the region.
"We're making sure that the different influence and relationships that countries in the region have, including the countries that I visited or spoke to, that they're using that to make sure that this conflict and crisis doesn't spread," Mr. Blinken said.
"Sometimes the absence of something bad happening may not be the most obvious evidence of progress, but it is. And also tremendously important are the conversations we're having about how we can set the conditions, as I said, for a just and durable and sustainable peace," he added.
The U.S. diplomat also acknowledged that despite Washington's focus on getting more humanitarian assistance into Gaza, there has been little breakthrough in achieving humanitarian pauses.
"All of this is a work in progress," he said, adding the United States has engaged the Israelis on steps that they can take to minimize civilian casualties.
Mr. Blinken's diplomatic tour came as Israeli troops surrounded Gaza City and are expected to enter the city this week. Casualties will likely rise on both sides of the conflict. According to Palestinian health authorities, the death toll from Israeli strikes had exceeded 10,000.
Reuters contributed to this report.