A freight train that derailed in western Arizona on Wednesday and was initially believed to be carrying hazardous materials was reportedly hauling a type of food syrup, according to Burlington Northern Santa Fe (BNSF) Railway.
BNSF Railway, one of America's leading freight transportation companies, confirmed in a statement on Thursday that the train was carrying corn syrup when it derailed at approximately 7:40 p.m. in Arizona's Mohave County, which is near the border with California and Nevada, Reuters reported.
"There were no injuries as a result of the derailment, and preliminarily reports indicate there are no hazardous materials involved," the company said.
It was not immediately clear if the train belonged to BNSF or the exact cause of the derailment.
Mohave County Sheriff's Office spokeswoman Anita Mortensen told media outlets on Wednesday that the train was reportedly hauling hazardous materials.
Mortensen noted that she was unaware of any spills or leaks when the train derailment occurred near milepost 9 of Interstate 40, a rural, non-residential area about 20 miles north of Lake Havasu City.
The spokeswoman added that she had no information on the number of cars on the train or what kind of materials it had been carrying when it derailed. According to BNSF, the accident involved "about eight train cars," Reuters reported.
Mortensen said the sheriff's office notified the National Transportation Safety Board (NTSB) and BNSF, which would both respond to the incident.
BNSF, owned by conglomerate holding company Berkshire Hathaway Inc., operates railroad networks in North America and several Canadian provinces. The company has roughly 35,000 employees and employs nearly 8,000 locomotives.
Wednesday's derailment comes amid heightened attention to rail safety nationwide following a fiery derailment last month in Ohio.
On Feb. 3, a 151-car freight train operated by Norfolk Southern Railway that was carrying hazardous chemicals derailed in East Palestine, about a mile from the Pennsylvania border, igniting a fire and causing hundreds of people to be evacuated.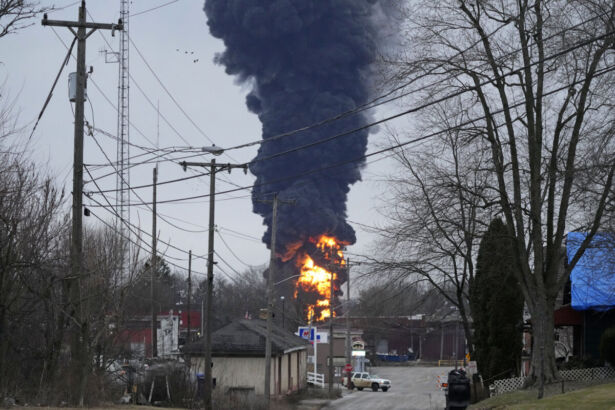 When the train crashed, 38 rail cars derailed. A fire ensued, damaging an additional 12 cars. According to the NTSB, of the 20 cars carrying hazardous materials, 11 derailed.
Meanwhile, Ohio State Attorney General Dave Yost said on Tuesday that the state has filed a 58-count civil lawsuit against Norfolk Southern, citing his concern that the rail company's accident rate has increased 80 percent over the past 10 years.
Norfolk Southern Railway violated numerous state and federal laws, caused the release of "over 1 million gallons of hazardous chemicals," and created "hidden dangers" for the health of residents and Ohio's natural resources, Yost said during an online news conference.
The Associated Press contributed to this report.