White House National Security Adviser John Bolton has warned Russia and other countries against sending its troops to Venezuela, saying that the United States views such actions as "provocative" and a "direct threat" to the security in the region.
Bolton issued the warning on March 29 in a strongly worded formal statement.
"We strongly caution actors external to the Western Hemisphere against deploying military assets to Venezuela, or elsewhere in the Hemisphere, with the intent of establishing or expanding military operations," Bolton said.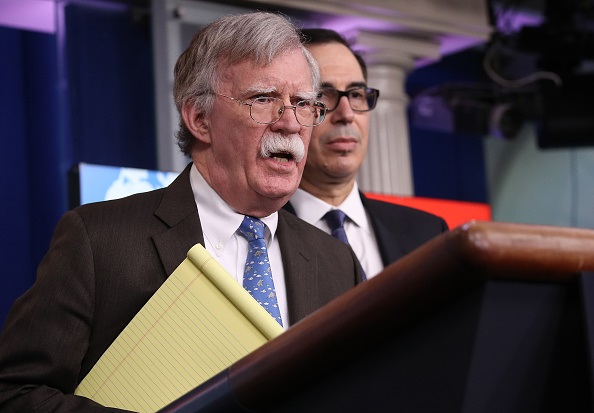 "We will consider such provocative actions as a direct threat to international peace and security in the region. We will continue to defend and protect the interests of the United States, and those of our partners in the Western Hemisphere," he added.
He also condemned Venezuela's illegitimate dictator, Nicolás Maduro, for using foreign military support to stay in power. He said that would "perpetuate the economic crisis that has destroyed Venezuela's economy and endanger regional stability."
The national security adviser's warning follows reports that two Russian military planes touched down in Caracas over the weekend with about 100 Russian special forces and cybersecurity personnel on board.
Hoy llegaron al aeropuerto Internacional de Maiquetía estos dos aviones de la Fuerza Aerea rusa.

1 Ilyushin Il-62M
1 Antomov 124

Fotos: cortesía pic.twitter.com/w7hgQhyivr

— Federico Black B. (@FedericoBlackB) March 23, 2019
On March 27, President Donald Trump called on Russia to pull its troops out of the country.
"Russia has to get out," Trump told reporters in the White House's Oval Office while in a meeting with Fabiana Rosales, the wife of Venezuelan opposition leader Juan Guaidó.
The president added that "all options" were being considered in response to Russia's actions.
A day later, Russia brushed aside Trump's calls to remove military personnel from the South American socialist country, saying that they had only sent "Russian specialists" as part of a military cooperation deal.
"Russia is not changing the balance of power in the region, Russia is not threatening anyone, unlike (officials) in Washington," Russian foreign ministry spokeswoman Maria Zakharova said.
"Russian specialists have arrived in Venezuela in line with the provisions of a bilateral inter-government agreement on military-technical cooperation. No one canceled this document."
Venezuela has been making headlines for months after Maduro refused to step down over mounting international pressure.
In mid-January, Venezuela's duly elected National Assembly declared Maduro's presidency illegitimate. The United States refuses to recognize him as the Venezuelan leader because of a fraudulent election, instead officially recognizing his opponent, Guaidó, as the interim president. However, Maduro has refused to give up control.
The standoff between the two has become a global referendum on socialism, with free-world nations including the United States, the UK, Germany, and Australia siding with Guaidó. Meanwhile, socialist and communist regimes, such as China, Russia, and Cuba, are backing Maduro.
Venezuela has since spiraled into deep constitutional chaos, exacerbated by its ruined economy. It was recently hit by power outages, food shortages, rioting, and looting.
Reuters contributed to this report.
From The Epoch Times