Border Patrol Chief Raul Ortiz will retire next month after more than three decades with the agency, he has announced.
"After a 32-year Border Patrol career spanning multiple Sectors, HQ tours, and overseas assignments in Afghanistan, I have decided to retire from federal service on June 30th," Ortiz wrote in an email to employees, which was obtained by the Daily Caller News Foundation.
"I leave at ease, knowing we have a tremendous uniformed and professional workforce, strong relationships with our union partners, and outstanding leaders who will continue to tirelessly advocate for you each day," Ortiz said.
It's not clear yet who will replace Ortiz, who began working as chief in August 2021 after his predecessor, Rodney Scott, retired when the Biden administration asked him to step down.
Scott had voiced support for some of former President Donald Trump's policies, including completing the building of a wall along the southern border.
Ortiz's retirement comes shortly after the end of the Title 42 emergency health restrictions that began in March 2020 and allowed Border Patrol agents to turn illegal aliens back to Mexico immediately if they were deemed to pose a health threat.
Ortiz managed the Border Patrol, an agency of the Department of Homeland Security (DHS), and its roughly 20,000 agents through the COVID-19 pandemic and Title 42 emergency health restrictions.
Data shows that the federal agency he oversaw encountered a record-high 2.2 million illegal migrant encounters at the southern U.S. border in 2022.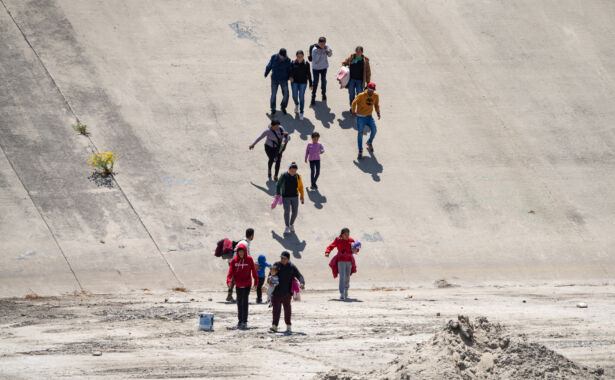 New Border Restrictions
Ortiz also helped oversee the roll-out of new restrictions this month meant to curb illegal border crossings.
Under those restrictions, Mexico will continue to accept migrants from Venezuela, Haiti, Cuba, and Nicaragua who are turned away at the border, while the United States will take in up to 100,000 individuals from Honduras, Guatemala, and El Salvador under a family reunification parole process.
However, Manny Bayon, a National Border Patrol Council union spokesman in San Diego, has claimed that some illegal immigrants are finding a "back door deal" to gain entry to the U.S. on humanitarian grounds by voluntarily withdrawing their asylum claims, returning to Mexico, and then entering the U.S. via "humanitarian parole."
The Biden administration has reported a decline in crossings at the border in the wake of Title 42 despite widespread concerns the number would soar.
So far, in fiscal year 2023, agents have recorded more than 1.8 million encounters at the border.
Ortiz's retirement comes after he told lawmakers at a House Homeland Security Committee hearing in March that DHS lacked "operational control" of the U.S. southern border and that migration flows in some areas were in a "crisis situation," contradicting previous remarks made by DHS Secretary Alejandro Mayorkas that the department has operational control of the border.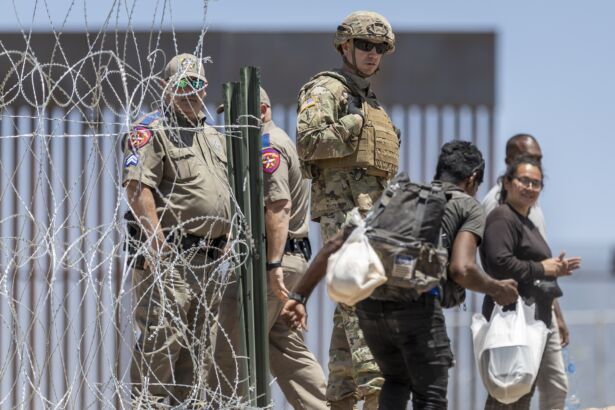 Mayorkas Praises 'Great Leader' Ortiz
In a DHS statement late Tuesday, Mayorkas called Ortiz a "great leader" who "embodies the core values of vigilance, service to country, and integrity, as well as the Border Patrol's motto: honor first."
"I knew when I became Secretary that Chief of the Border Patrol would be one of the most critical positions to fill. At the time, Chief Ortiz was planning to retire; convincing him to remain in service and selecting him to lead the Border Patrol was among the most important decisions I have made," Mayorkas said. "Chief Ortiz agreed to postpone his retirement several times since, and the Border Patrol, the Department, and our country have been all the better for it."
Mayorkas went on to state that Ortiz has "tackled some of the biggest challenges the Border Patrol has had to face," including the critical transition out of the COVID pandemic and "into the enforcement of our traditional immigration authorities under Title 8 of the United States Code."
"He championed our effort to increase the number of case processors in order to get our Agents and Officers back into the field. His commitment to the wellbeing of the workforce and to championing their priorities are among the clearest examples of his unsurpassed devotion to duty; he is the model of a law enforcement leader," Mayorkas wrote.
"The Border Patrol is stronger, and our nation is more secure, thanks to his leadership. I will miss his candor, our thought partnership, and our friendship. I offer my heartfelt congratulations to him for more than 32 years of dedicated service to the United States Border Patrol. We are forever grateful for his service and sacrifice, and that of his family who have served right alongside him," he added.
From The Epoch Times