Brazil's presidential election is headed for a runoff vote later this month after neither of the nation's top two candidates managed to secure enough support on Sunday to claim an outright victory.
Brazil's election authority announced on Sunday that a second round of voting was a mathematical certainty.
While former President Luiz Inácio Lula da Silva, the left-wing former president of the country, did pull in the most votes overall in the election on Sunday, according to officials, he still fell short of the more than 50 percent valid votes needed to prevent a run-off against conservative incumbent Jair Bolsonaro.
With 99.7 percent of the votes counted in Sunday's election, da Silva was ahead with 48.4 percent of the votes, while Bolsonaro had 43.3 percent of the votes; marking an extremely tight race.
The two will now face each other again in a run-off scheduled for Oct. 30
Nine other candidates were also competing in the election. But both da Silva, 76, and Bolsonaro, 67, garnered the most support in the race to determine who will run the country for the next four years.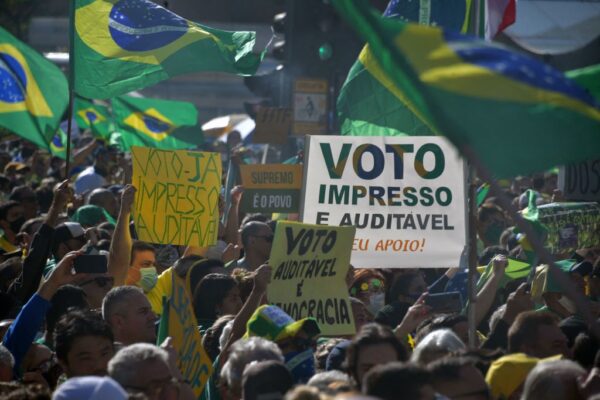 Polls Off the Mark Again
The results came as a surprise to many, given that pre-election polls had shown da Silva, widely known as Lula, with a strong lead.
The last survey published on Saturday by Datafolha, Grupo Folha's polling institute, predicted that da Silva would secure 50 percent of the vote compared to 36 percent for Bolsonaro.
That survey interviewed 12,800 people in 310 cities and reported a margin of error of plus or minus 2 percentage points.
Carlos Melo, a political science professor at Insper University in Sao Paulo, said: "It is too soon to go too deep, but this election shows Bolsonaro's victory in 2018 was not a hiccup."
Bolsonaro outperformed in Brazil's southeast region, which includes populous Sao Paulo, Rio de Janeiro, and Minas Gerais states, according to Rafael Cortez, who oversees political risk at consultancy Tendencias Consultoria.
"The polls didn't capture that growth," Cortez said.
Da Silva and his Workers Party led Brazil for two terms from 2003 to 2010, during which time he won the support of millions of Brazilians who benefitted immediately from his top-down social justice policies, including anti-hunger and income-transfer programmes, in which the government subsidised electricity and food prices, and transferred cash to the poor. His legacy was expanded on by former Workers Party President Dilma Rousseff.
According to Richard Bourne, da Silva's biographer, the former president "made Brazil a significant player on the world scene," helping create the G20 and establish relations with other BRICS countries; Russia, India, China and South Africa.
However, da Silva was banned in 2018 from returning to power again after he was convicted on charges of money laundering and corruption at the state-owned oil and petrol company, Petrobrás. Following an investigation into the alleged scheme, he was jailed for 12 years.
He always maintained his innocence, saying that the case against him was politically motivated. After spending 580 days behind bars, da Silva's conviction was overturned by the Supreme Court when seven of 11 justices decided he should be tried in his state of residence instead of the state in which he was accused. He has yet to retried in court over the charges.
Now, Da Silva's campaign has offered measures to protect the Amazon rainforest and a return to the prosperity that was seen across the country during his time in office, although details of how that will be achieved have been vague.
Bolsonaro, a former army captain, congressman, and leader of the Social Liberal Party, came to power four years ago via a conservative coalition that included evangelical Christians, pro-gun advocates, and others.
Bolsonaro Promises to Uphold Family Values
Bolsonaro has pledged to uphold traditional family values, protect the country from leftist policies, and reduce the tax burden in order to stimulate the economy. Dubbed by some as "Brazil's Trump," Bolsonaro has previously been outspoken about his admiration for the former U.S. President.
Bolsonaro has also questioned Brazil's electronic voting system, which he believes are more vulnerable to fraud than paper ballots.
His critics have taken aim at his administration's hands-off response to the COVID-19 pandemic, which saw the country top the United States in its number of COVID-19 deaths per million in the population, according to Johns Hopkins University data. Like many around the world, Brazilians are currently battling soaring inflation and rising poverty levels.
Despite Sunday's extremely tight results, Da Silva took to Twitter where he vowed to continue furiously campaigning across the country to win the election.
"Starting tomorrow, we will be on the campaign. Don't rest. Let's talk to our opponents, to our friends. We are the best solution to solve the life of the Brazilian people. Good night and see you tomorrow," he wrote.
Meanwhile, Bolsonaro issued similar rhetoric on Twitter, saying: "We know the size of our responsibility and the challenges we are going to face. But we know where we want to go and how we will get there. By the grace of God, I have never lost an election and I know that it will not be now, when the freedom of all of Brazil depends on us."
This article has been updated with further details. Reuters and The Associated Press contributed to this report.
From The Epoch Times