As boycotts spread through different industries, Bud Light has continued to see declining sales after engaging with transgender influencer Dylan Mulvaney two months ago.
According to data by Bump Williams Consulting and Nielsen IQ, sales of Bud Light dropped 25.7 percent for the week ending May 20, reported the New York Post. Its nearest rival, Modelo Especial, saw its sales increase by 9.2 percent for the same week, Williams said.
Overall, Bud Light's sales are down 24.3 percent for the four-week period that ended on May 20, the data show. Modelo, meanwhile, has grown by 8 percent in the same timeframe. Perhaps the biggest winner is Pennsylvania-based Yuengling, which bills itself as "America's Oldest Brewery," as the brand's Yuengling Flight has increased by 47.6 percent in the four-week period.
"While Bud Light loses week after week, Modelo Especial gains week after week and now Modelo outsells Bud Light on a national basis across all trade channels combined," marketing consultant Williams told the New York Post about the latest figures. "If this continues Modelo will surpass Bud Light for the year."
Anheuser-Busch InBev owns both Modelo and Bud Light. However, it doesn't control Modelo within the United States, where the lager is controlled by Constellation Brands, a firm based in New York.
"This is a big achievement for Modelo, but it's short term," Benj Steinman, editor of Beer Marketer's Insights, told the paper. "Constellation is closing the gap and has said it wants to be the No. 1 beer."
Other than Modelo and Yuengling, Coors Light, Miller Light, and Pabst Blue Ribbon have also seen significant increases since Bud Light produced cans with Mulvaney's face and as the transgender influencer claimed in a hashtag that he is a partner with Bud Light in early April. After those posts were made, it generated significant backlash on social media as some analysts questioned whether Bud Light's executives were out of touch with its customer base.
As a result, sales of the beer have declined for six straight weeks, and Anheuser-Busch, the owner of the brand, has seen its shares tumble. At one point this month, an analyst with HSBC downgraded the company's stock to hold due to a "Bud Light crisis" that hasn't yet been resolved.
The CEO of Anheuser-Busch InBev, Michel Doukeris, has stressed on multiple occasions that Bud Light didn't engage in a partnership with Mulvaney, a biological male, and that only "one can" was produced, while he added that it wasn't for sale. Doukeris further alleged that social media "confusion" and "misinformation" were the reason why the brand has seen its sales drop.
Other Anheuser-Busch beers have seen their sales decline, too, according to another analyst.  Data has shown that Budweiser's sales have also dropped over the past several weeks, albeit not as much as Bud Light.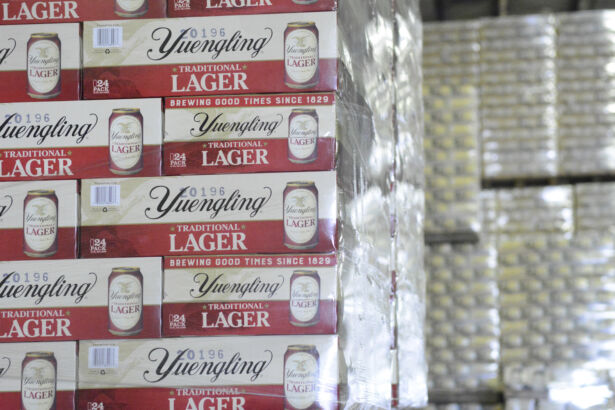 "There continues to be contagion to the wider [Anheuser-Busch] brand portfolio, with Budweiser, Busch, and Michelob all weak again," Simon Hales said of Bud Light's prospects in a statement to Yahoo Finance. "The latest data shows little sign that consumers are moving on from the Bud Light controversy, and we expect these issues will continue to weigh on investor sentiment."
And Dave Williams, of Bump Williams, told Newsweek on Tuesday that Bud Light's sales decline "does appear to be plateauing," adding that the company isn't close to being out of the woods.
"The absolute magnitude could still creep up if those percentage drops are going up against bigger holiday/summer weeks in the [year ago] time period," Williams said. "One thing is for sure, the rate of decline has not gotten any better just yet."
Ad Campaigns
Notably, Bud Light rolled out a Memorial Day rebate campaign that essentially gave away a 15-pack of beer in some places. The campaign started May 17 and lasts until May 31, where consumers can get up to $15 on Bud Light.
At the local level, at least one distributor released a radio ad that sought to bring back Bud Light customers. Alabama-based Bama Budweiser released an advertisement this month that attempted to distance itself and Bud Light from Mulvaney.
"We too at Bama Budweiser are upset about it and have made our feelings known to the top leadership at Anheuser-Busch," Steve Tatum, with Bama Budweiser, said in the radio advertisement, according to several news reports. "The voice of the consumer has been heard, and Anheuser-Busch has taken action."
The ad also stated: "Mulvaney is not under contract with Bud Light. The videos you may have seen are Mulvaney's own social media posts that went viral, and many web-based news outlets have distorted the story." It didn't elaborate but said consumers "deserve to know the truth" about the situation.
Again pivoting, Tatum says that "life is too short to let a couple of individuals decide what you can eat or drink or spend your hard-earned money on. And remember, making friends is our business, not enemies," according to the reports.
The Epoch Times has approached Anheuser-Busch InBev for comment on Tuesday.
From The Epoch Times