Buffalo Bills safety Damar Hamlin collapsed on the field after making a tackle in the first quarter of his team's Monday Night Football clash with the Cincinnati Bengals.
Hamlin collapsed around 8:55 p.m. EST. CPR was administered before he was removed from the field and transported to the University of Cincinnati Medical Center, where he is in critical condition, according to an NFL press release and reports from multiple Cincinnati media outlets. The medical center is a Level 1 Trauma Center.
The Bills later said on Twitter that Hamlin suffered a cardiac arrest following an impact during the game.
Damar Hamlin suffered a cardiac arrest following a hit in our game versus the Bengals. His heartbeat was restored on the field and he was transferred to the UC Medical Center for further testing and treatment. He is currently sedated and listed in critical condition.

— Buffalo Bills (@BuffaloBills) January 3, 2023
The NFL postponed the game around 9:20 p.m., and later officially suspended the game around 10:00 p.m.
Hamlin played collegiately at the University of Pittsburgh and is 24. The Bills selected Hamlin in the sixth round, 212th overall, in the 2021 NFL Draft.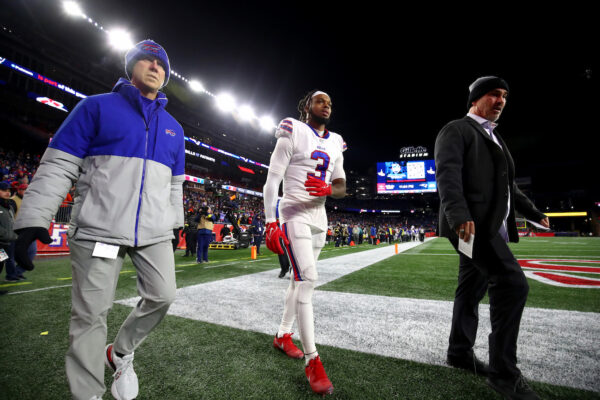 On a second-and-3 play from the Cincinnati 39-yard line with 5:58 remaining in the first quarter, Bengals wide receiver Tee Higgins caught a pass from quarterback Joe Burrow for a 13-yard gain. Hamlin made the tackle but was hit in the chest by Higgins's right shoulder in the process.
He initially stood up after dragging Higgins down but then fell backward to the ground before receiving CPR and then leaving in an ambulance around 9:25 p.m.
Buffalo took a 12–3 record into the game while Cincinnati entered with an 11–4 mark. The teams were fighting for playoff seeding with just one game remaining after tonight.
The Bengals opened with a 75-yard touchdown drive in its opening possession. The Bills responded with a field goal before the game was postponed.
Immediately after Hamlin collapsed, multiple players were visibly shaken and in tears. Players, coaches, and staff members gathered in a circle to pray for Hamlin.
Hamlin was intubated and tests were being conducted late Monday.
"His vitals are back to normal and they have put him to sleep to put a breathing tube down his throat. They are currently running tests," Hamlin's marketing representative Jordan Rooney said at 10:30 p.m.
Dozens of Bengals and Bills were seen gathered across from UC Medical Center. Some were holding a candlelight vigil.
Hamlin previously organized a children's fundraiser ahead of Christmas in 2020, which has continued on as an annual holiday toy drive. Within two hours of the on-field collapse on Monday, more than $400,000 was donated to the cause. Around midnight, the fundraiser had reached $1.2 million, far exceeding its initial goal of $2,500.
Hamlin has been showered with words of support from players and fans on Twitter. JJ Watt, who recently announced his retirement effective at the end of the season, tweeted, "The game is not important. Damar Hamlin's life is important. Please be ok. Please."
"Praying hard … please be okay man," Kansas City quarterback Patrick Mahomes posted.
Retired NFL quarterback Drew Brees tweeted, "Damar Hamlin represents every one of us and every teammate we've ever had. I've never met him, but I know him as a member of our brotherhood. My family and I pray for him and his family as he recovers. God be with him."
From The Epoch Times