Transportation Secretary Pete Buttigieg has broken his silence on the disastrous derailment of a train in Ohio that released a toxic chemical, sparking health concerns.
The fiery crash in East Palestine, Ohio, on Feb. 3 involved about 50 cars, with some carrying hazardous materials, including the highly flammable chemical vinyl chloride.
The dangerous toxin was released into the air from five of the derailed cars before crews ignited it to get rid of the highly flammable chemical in a controlled fashion.
Area residents were evacuated because of the health risks from the fumes, though they have since been allowed back to their homes.
So far, there have been reports from local residents of animals dying off, including fish, chickens, and livestock.
Few federal officials have made public statements regarding the derailment and the toxic fire, and Buttigieg did not reference the incident during a Feb. 13 appearance at the National Association of Counties Legislative Conference in Washington.
'Actively Engaged'
During the on-stage discussion, Buttigieg touched on topics like racial disparity and mentioned the safety risks of "balloons," drawing laughs from the audience. But his avoidance of the topic of the derailment and the toxic chemical release didn't go over well on social media, where critics complained that he seemed to be dodging the subject.
Buttigieg broke his silence following the criticism, posting on Twitter a series of statements.
"I continue to be concerned about the impacts of the Feb 3 train derailment near East Palestine, OH, and the effects on families in the ten days since their lives were upended through no fault of their own," he said in a post on Twitter.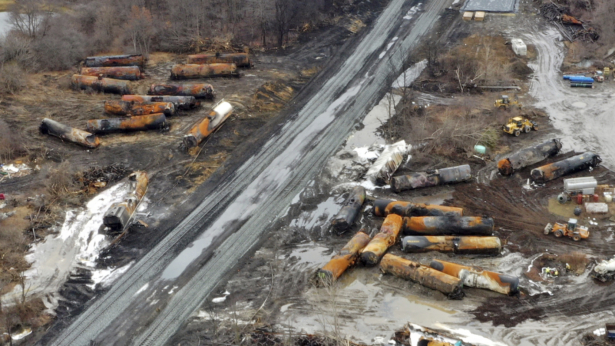 He made reference to an investigation into the accident being conducted by the National Transportation Safety Board (NTSB), noting that the Department of Transportation (DOT) was assisting with the probe.
"Our Federal Rail Administration and Pipelines and Hazardous Materials teams were onsite within hours of the initial incident and continue to be actively engaged," he said.
"We will look to these investigation results & based on them, use all relevant authorities to ensure accountability and continue to support safety," Buttigieg continued.
He said that the Environmental Protection Agency (EPA) had screened 291 homes for both indoor and outdoor air quality and that there were "no detections" of dangerous chemicals. Another 181 homes remain to be checked, he added.
In a Feb. 13 update, EPA said that community air monitoring in East Palestine was running 24 hours a day and that, so far, the network of monitoring stations "did not detect anything above the action level."
A day prior, EPA said that the duration of community air monitoring would eventually be phased out in consultation with local authorities.
"Air monitoring since the fire went out has not detected any levels of concern in the community that can be attributed to the incident at this time," the EPA's Feb. 12 statement reads.
"Residents may still smell odors from the site. If you experience symptoms, Columbiana County Health Department recommends calling your medical provider."
The incident marked the third train derailment in Ohio since October 2022.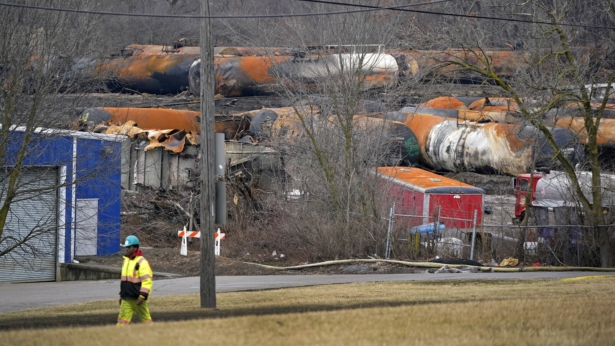 'Grave Danger of Death'
On Feb. 6, Ohio Gov. Mike DeWine and Pennsylvania Gov. Josh Shapiro ordered the evacuation of a 2-mile by 1-mile zone spanning the state line due to the presence of vinyl chloride.
A statement from DeWine cited the presence of the toxic chemical in five boxcars, announcing that the possibility of a devastating explosion would be mitigated through a controlled release later that day.
The statement said that residents who stayed near the controlled release risked "grave danger of death."
After the vinyl chloride release, DeWine and other officials said on Feb. 8 that residents near the incident could return to their homes.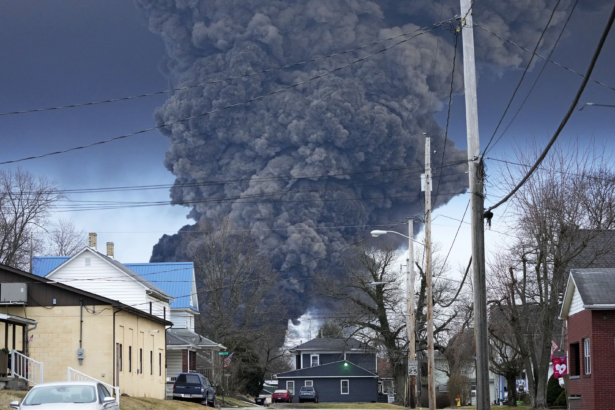 Residents of nearby communities have reported that animals on their properties have been sickened or even died, raising concerns about the risk to livestock and humans.
'Get The Hell Out Of There'
Erin Brockovich, the consumer advocate made famous by the eponymous movie, took to Twitter to say that she's trying to gather more information about the incident, while urging area residents to trust their senses and act accordingly if they experience anything worrying.
"I'm trying to gather information on this very serious situation in Ohio involving a train derailment with hazardous chemicals," Brockovich wrote on Twitter over the weekend. "What I will say is this. Trust your eyes, ears and nose and get the hell out of there if your senses are telling you too [sic]."
On Monday afternoon, Brockovich—who was the subject of the 2000 Academy Award-winning film "Erin Brockovich"—called on the federal government to be more transparent.
"The Biden administration needs to get more involved in this #PalestineOhio train derailment now. We are counting on you to break the chain of administration after administration to turn a blind eye. STEP UP NOW," she wrote.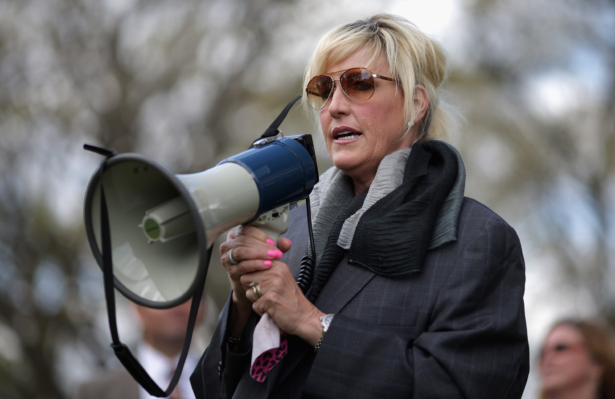 Meanwhile, a West Virginia water utility has enhanced its water treatment process as a precaution following the derailment.
West Virginia American Water said Sunday that there hasn't been any change in raw water at its Ohio River intake.
"The health and safety of our customers is a priority, and there are currently no drinking water advisories in place for customers," the company said in a statement.
It added that it is planning to install a secondary intake on the Guyandotte River in case there's a need to switch to an alternate water source.
Jack Phillips and Nathan Worcester contributed to this report.
From The Epoch Times