Department of Transportation Secretary Pete Buttigieg said Tuesday that he is "planning to go" to East Palestine, Ohio, amid criticism that top Biden officials have not visited the village after a toxic train derailment earlier this month.
"I am planning to go and our folks were on the ground from the first hours," Buttigieg told ABC News' "Good Morning America" on Tuesday when asked why he hasn't gone to East Palestine yet. During the interview, Buttigieg did not say when he would visit the village.
Buttigieg, who has faced criticism from Republicans and locals for not visiting the town, said he would push for more regulations and rules on freight rail operators. In the ABC News interview, he said that he's witnessed the alleged "power that multibillion-dollar railroad companies wield and they fight safety regulations tooth and nail."
"Today we're pushing forward a three-part drive on rail safety," he said, adding that "we need help from Congress to hold" organizations accountable. He urged Norfolk Southern, whose train was involved in the East Palestine derailment, and other rail companies to use new inspection technologies, use safer tank cars, and to inform state officials if rail cars are carrying hazardous gas through their state, according to a Department of Transportation statement released Tuesday.
"Profit and expediency must never outweigh the safety of the American people," Buttigieg said in the statement. "We at [the agency] are doing everything in our power to improve rail safety, and we insist that the rail industry do the same—while inviting Congress to work with us to raise the bar."
On Monday night, the mayor of East Palestine, Trent Conway, appeared on Fox News and criticized the Biden administration's response. In particular, he singled out President Joe Biden's Monday visit to Ukraine, where he met with Ukrainian President Volodymyr Zelenskyy and promised hundreds of millions of dollars in new aid amid the conflict with Russia.
"That was the biggest slap in the face that tells you right now, he doesn't care about us," Conway told Fox News host Jesse Watters. Biden "can send every agency he wants to but I found that out this morning and one of the briefings that he was in the Ukraine giving millions of dollars away to people over there, not to us and I'm furious," he added.
"Yeah, Presidents Day in our country. He's … over in Ukraine," Conway added. "So that tells you what kind of guy he is."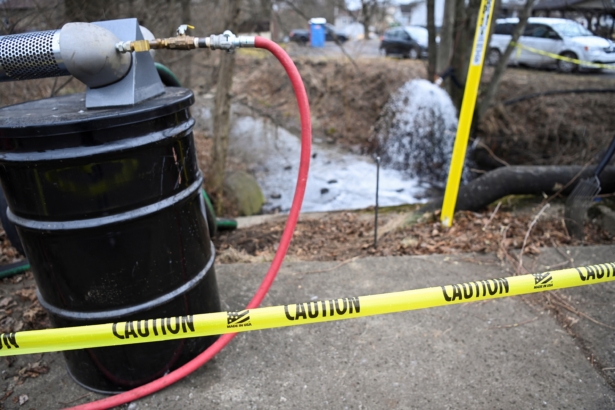 The head of the Environmental Protection Agency plans to return to the town of 4,700 Tuesday along with the governors of Ohio and Pennsylvania to discuss the cleanup and efforts to keep people safe on the same day officials plan to open a medical clinic staffed by contamination experts to evaluate residents' complaints.
State and federal officials have reiterated that their testing of air and water samples in the area doesn't show dangerous levels of any toxins, but some people have been complaining about constant headaches and irritated eyes as they worry about returning to their homes.
Buttigieg said railroads and tank car owners should take action themselves to accelerate their plan to upgrade the tank cars that haul flammable liquids like crude oil and ethanol by 2025 instead of waiting to comply with the 2029 standard Congress ultimately approved after regulators suggested the earlier deadline. He also said freight railroads should quickly agree to use a confidential hotline regulators created that lets employees report safety concerns without fear of retribution, and reach agreements to provide their employees with paid sick time to help prevent fatigue.
Greg Regan, president of the AFL-CIO's Transportation Trades Department coalition, said Ohio's derailment should prompt reforms.
"I do think that there's a moment to look in the mirror as an entire industry and decide what we can do better," Regan said. "I think the industry by and large has been reluctant to make the types of changes that are needed. They have obviously fought regulations in the past, but I think they are running out of excuses here."
CEO Alan Shaw said in a statement the railroad reissued Monday that he knows the railroad will be judged by its actions, but he pledged to do everything he could to help "get East Palestine back on its feet as soon as possible."
As part of those efforts, the railroad said it has designated one of its local employees who lives in the town as a liaison between East Palestine and Norfolk Southern. That person will oversee a $1 million budget to help the community in addition to a $1 million fund the railroad created to help residents and $3.4 million in payments it has already handed out to families.
The Associated Press contributed to this report.
From The Epoch Times