Nearly three weeks after a toxic train derailment upended life in the village of East Palestine, Ohio, Transportation Secretary Pete Buttigieg made his first visit to the community to meet with those affected on Thursday, Feb. 23, promising accountability and higher safety standards.
Noting that the National Transportation Security Board released its preliminary findings on the derailment earlier that morning, Buttigieg reassured that ensuring accountability would be a top priority for the administration.
"Having these factual findings is an important step to being able to move on to the phase of policymaking," he told reporters at a press conference. "And while we will of course wait for [NTSB's] analysis and recommendations at the end of the full process to make certain judgments, we will not wait for that process to run its course to continue doing everything we can to raise the bar on rail safety and to hold people accountable."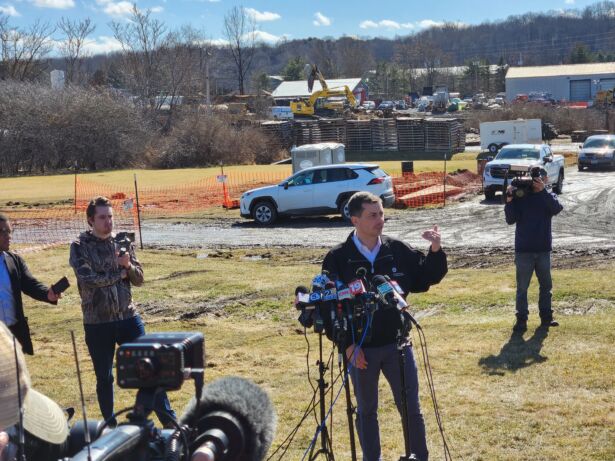 Buttigieg made the remarks near the site where, on Feb. 3, 38 cars of a Norfolk Southern train derailed, including 11 that were carrying hazardous chemicals. The resulting fire and chemical spill prompted an evacuation, and due to fears of a potential explosion, authorities decided to burn off the toxic chemicals in a "controlled burn." Since returning to their homes, some residents have reported bouts of nausea, vomiting, rashes, and burning sensations.
Buttigieg, praising residents' "resilience" and "decency" in the wake of the crash, pointed to the three-pronged plan he laid out earlier this week as a way forward for ensuring the situation never occurs again. The plan would involve the implementation of new inspection technologies, safer tank cars, and the requirement to provide advanced notice to emergency response teams when rail cars are transporting hazardous gas through their state.
"In general, hazardous materials could be going through communities in stronger tank cars, so let's speed that up," he said.
The transportation secretary's trip to East Palestine comes amid mounting backlash over the Biden administration's response to the tragedy.
Prior to Thursday, the only administration official to have visited the town since the crash was Environmental Protection Agency Administrator Michael Regan, who made his second stop there Tuesday to announce that he was ordering Norfolk Southern to take all necessary actions to clean up the "mess they created."
On Wednesday, after weeks of questions about when Buttigieg might make his own trip, the Transportation Department confirmed that he would be visiting the site on Thursday.
"As the Secretary said, he would go when it is appropriate and wouldn't detract from the emergency response efforts," a department spokesperson told The Epoch Times in a statement. "The Secretary is going now that the EPA [Environmental Protection Agency] has said it is moving out of the emergency response phase and transitioning to the long-term remediation phase."
Despite maintaining that the timing of the trip was appropriate, Buttigieg—who did not publicly address the incident until 10 days after the fact—acknowledged Thursday that he could have weighed in on the matter sooner.
"The answer to your question is yes," he told a reporter who had asked if he took too long to respond, adding that
Buttigieg explained that he had been trying to maintain a "balance" between his desire to get involved and his duty as transportation secretary to allow the proper authorities to take the lead.
"I felt strongly about this and could have expressed that sooner," he said. "I was taking pains to respect the role that I have and the role that I don't have, but that should not have stopped me from weighing in about how I felt about what was happening to this community."
Former President Donald Trump also visited the area on Wednesday, delivering truckloads of donated bottled water and cleaning supplies to residents.
Trump has also been critical of the administration's response to the derailment, holding that the Feb. 17 announcement that he would visit East Palestine was what spurred the Federal Emergency Management Agency to reverse its previous decision not to send the town aid.
Alluding to the former president Thursday, Buttigieg said: "To any national political figure who has decided to get involved in the plight of East Palestine, I have a simple message, which is I need your help. Because if you're serious about this, there is more that we could do to prevent more communities from going through this."
When questioned on what the former president could do to assist, Buttigieg referred to his prior assertion that a braking rule withdrawn under the Trump administration could have prevented the accident.
"One thing he could do is express support for reversing the deregulation that happened on his watch," the secretary said. "I heard him say he had nothing to do with it, even though it was in his administration."
While also decrying the injection of politics into the tragedy, Buttigieg noted his own distrust of Republicans' sincerity on the issue.
"If the same people who want to come here and play political games are the same people who sided with industry again, and again, and again, and watered down rail regulations … I want to see whether they've had an actual change of heart, or not. And if they've had an actual change of heart, I'll take them at their word and we can get working."
From The Epoch Times