A doctor from California who was taken into custody earlier this week for allegedly being involved in the U.S. Capitol breach earlier this month has been released again, authorities said.
Simone Gold, a Los Angeles-based emergency medicine specialist and founder of the "America's Frontline Doctors," was arrested on Jan. 18 on charges of entering a restricted building or grounds, violent entry, and disorderly conduct, according to an affidavit from the Department of Justice (DOJ).
Gold, 55, claimed she did not witness any violence during the Jan. 6 incident, telling The Washington Post she went to the nation's capital to speak at a "Rally for Health Freedom" and is the person depicted in police bulletins carrying a bullhorn on Capitol grounds.
"I can certainly speak to the place that I was, and it most emphatically was not a riot," and "where I was, was incredibly peaceful," she claimed.
Gold also said she does "regret being there," adding that she "followed a crowd and assumed that it was legal to do so, further noting that she was inside for about 20 minutes."
According to a release from the DOJ, Gold was released "on conditions" following a virtual court hearing on Thursday at 1:00 p.m. in Washington D.C.
John Strand, the "America's Frontline Doctors" communications director, was also arrested earlier this week on federal charges for his alleged involvement at the U.S. Capitol. He was released on conditions as well. The DOJ did not provide a date for when he was released.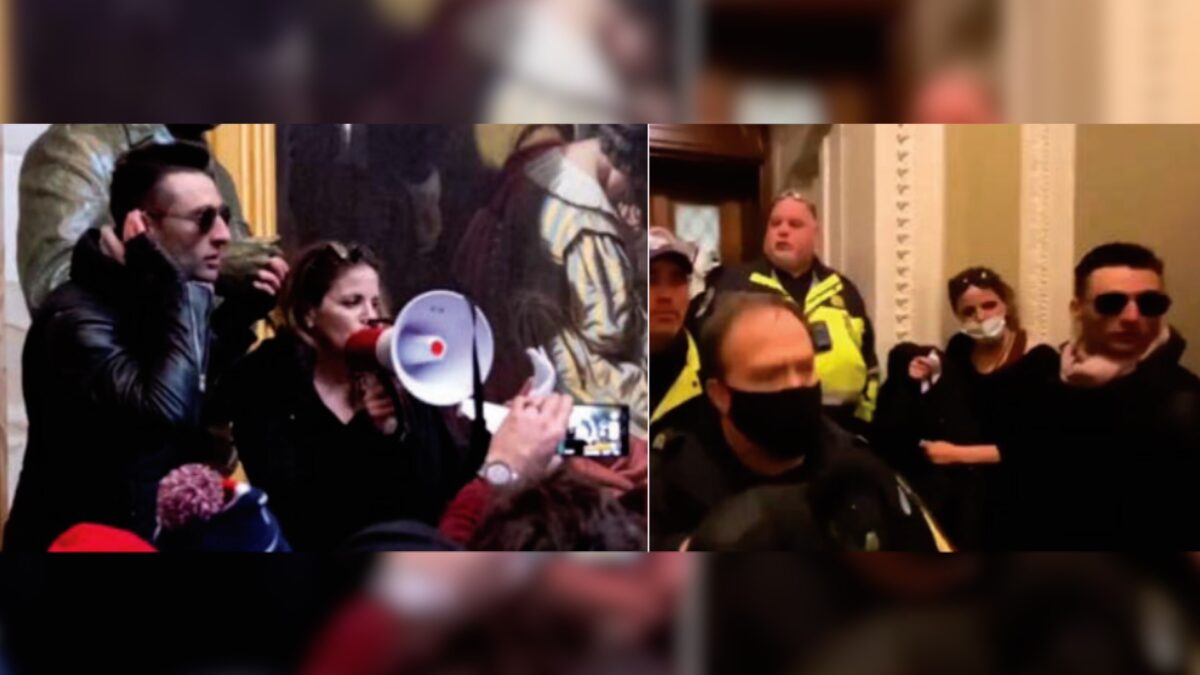 Investigators received tips about Gold's presence at the Capitol, including photographs and videos, according to the affidavit. She was later seen in a video obtained by detectives within "a large crowd attempting to push past multiple officers" who were trying to block the crowd from entering the building.
Gold appeared in multiple media reports earlier this year while advocating the use of hydroxychloroquine to treat the CCP (Chinese Communist Party) virus, which emerged from mainland China in 2019 and causes the COVID-19 disease.
Facebook, Twitter, and YouTube removed videos of the press conference on July 27, 2020, held by members of "America's Frontline Doctors." The big tech platforms said it violated their policies.
Gold also started to speak out against stay-at-home orders in mid-2020 because there was "no scientific basis that the average American should be concerned" about COVID-19. She also led an open letter to former President Donald Trump in May that warned about the consequences of a prolonged shutdown. The letter was signed by more than 600 doctors.
Dozens of people have been arrested for participating in the unrest on Jan. 6. The storming of the Capitol has been widely condemned by lawmakers on both sides of the aisle.
Epoch Times reporter Mimi Nguyen Ly and The Associated Press contributed to this report.