California has been put under a rare blizzard warning for the first time in nearly four decades as what the National Weather Service (NWS) described as a "dangerous" winter storm is expected to pound parts of the state with high winds, freezing temperatures—and "copious" amounts of snow.
"We are still on track for our DANGEROUS winter storm," NWS Los Angeles said in an alert early Thursday.
The blizzard warning—the region's first since 1989—affects areas near the Ventura County Mountains and Los Angeles County Mountains from 4 a.m. Friday to 4 p.m. Saturday, according to the NWS.
Area residents can expect heavy snow, wind gusts of up to 75 mph, and visibility at near zero.
"Expect blizzard conditions in the mountains with FEET of snowfall. A few inches of rain are expected in lower elevations. Be weather ready!" NWS Los Angeles warned.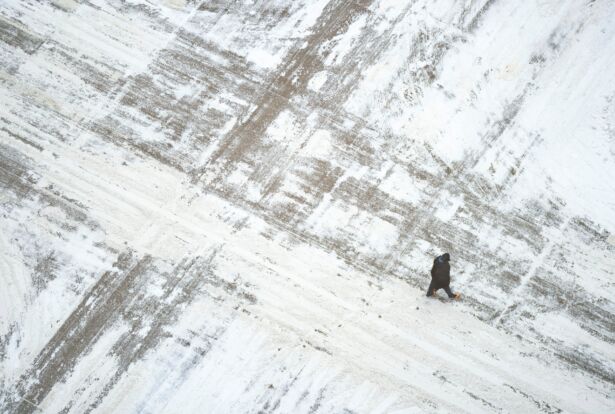 'A Ton of Snow'
Meteorologists expect between 2–5 feet of snow at elevations of around 4,000 feet by Saturday night, though elevations above that could see nearly twice that.
Mt. Baldy, the highest peak in Los Angeles County, could see around 8 feet of snow this week, according to Carol Smith, a meteorologist with the National Weather Service in Oxnard.
Smith told the Los Angeles Times that it's difficult to estimate exactly when and how much snow will fall on specific peaks, but she said Mt. Baldy would likely see around 96 inches of snow.
"It's going to be a ton of snow, there's going to be a lot of wind," Smith told the outlet.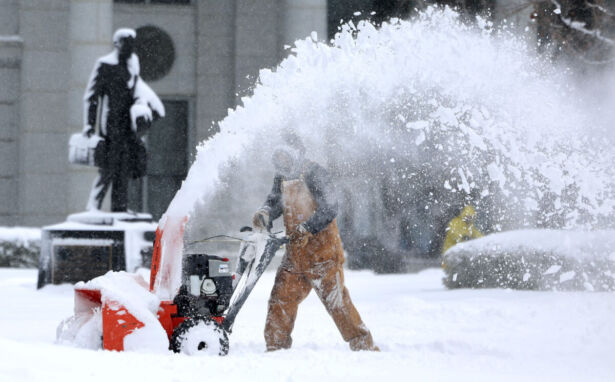 'Blizzard Conditions'
Meteorologists at NWS said that most major mountain passes and regions around 2,000–4,000 feet can expect between 6 and 12 inches of snow.
"A major winter storm is set to bring copious amounts of snow to many of California's mountain ranges, including southwest Oregon & southern Nevada," NWS Weather Prediction Center said in a tweet Thursday.
"Blizzard conditions are expected in the southern Sierra Nevada & the Transverse Ranges on Friday," it added.
Travel in affected areas could be very difficult or impossible, NWS warned, with very strong winds potentially damaging or knocking over trees.
People were advised to travel only in emergencies.
"If you must travel, have a winter survival kit with you. If you get stranded, stay with your vehicle," NWS cautioned.
There have already been reports of snow falling on the I-15 Freeway in San Bernardino.
While snow is rare in Southern California, the area has seen its fair share of extreme weather, including wildfires, droughts, heavy rains, and flooding.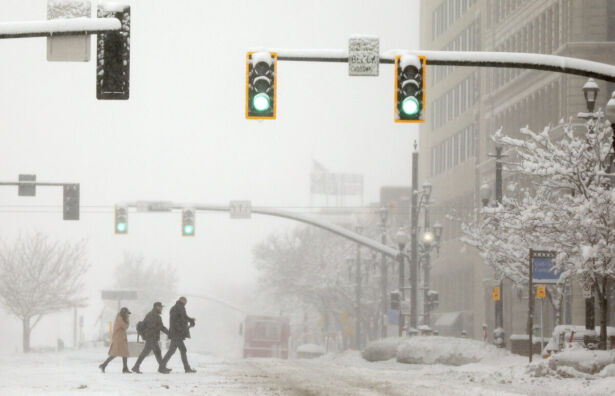 Storm Impacts
The storm, one in a series that was expected to pummel the United States through the week, sowed chaos coast to coast. More than 65 million people in more than two dozen states were under weather alerts at one point on Wednesday.
The wintry mix hit hard in northern parts of the country, closing schools, offices, and even shutting down the Minnesota Legislature.
Gusty winds knocked down lines or fouled them with tree branches and other debris in California, where around 39,000 residents were without power on Thursday morning, according to PowerOutage.us.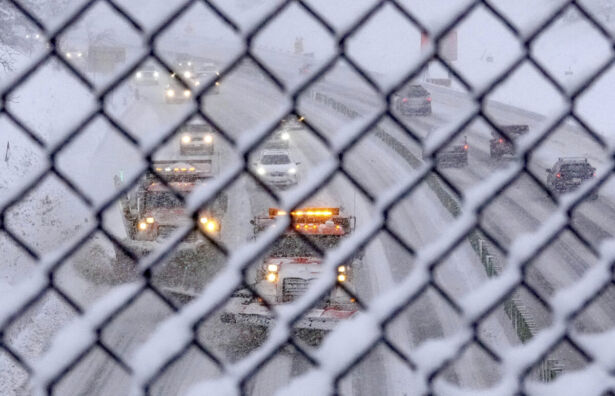 About 90 churches in western Michigan canceled Ash Wednesday services, WZZM-TV reported.
In Wyoming, the state Transportation Department posted on social media that roads across much of the southern part of the state were impassable.
Rescuers tried to reach people stranded in vehicles but high winds and drifting snow created a "near-impossible situation" for them, said Sgt. Jeremy Beck of the Wyoming Highway Patrol.
"They know their locations, it's just hard for them to get them," he said.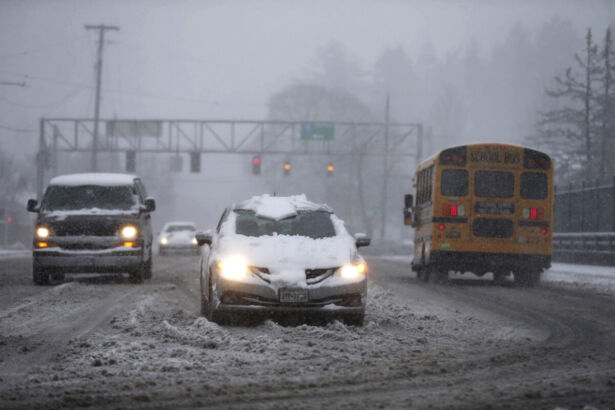 Unexpectedly heavy snow during rush hour sent dozens of cars spinning out in Portland, Oregon, and caused hours-long traffic jams.
In Arizona, about 180 miles of Interstate 40 were closed while state police in New Mexico shut down on-ramps in Gallup, just across the Arizona line.
The NWS warned of the potential for blinding, wind-whipped snow, especially Thursday afternoon into the night when up to a half-inch per hour could fall.
Bad weather also contributed to nearly 1,800 U.S. flight cancellations on Wednesday, according to the tracking service FlightAware. Another 6,700-plus flights were delayed across the country.
So far on Thursday morning, there were 667 flight delays across the United States and 742 cancellations.
The Associated Press contributed to this report.
From The Epoch Times