The U.S. Centers for Disease Control and Prevention (CDC) has warned health care providers about potential cases of high blood lead levels in children after consuming certain cinnamon-flavored applesauce products.
The CDC issued a health advisory on Nov. 13, stating that as of Nov. 7, at least 22 toddlers aged between 1 and 3 had been found to have high blood lead levels after eating cinnamon-flavored applesauce products.
The cases were reported in 14 states: Alabama, Arkansas, Louisiana, Maryland, Missouri, New Mexico, New York, North Carolina, Ohio, Pennsylvania, South Carolina, Tennessee, Texas, and Washington.
According to the CDC, the affected children reported symptoms such as headache, nausea, vomiting, diarrhea, change in activity level, and anemia.
There's no safe level of lead exposure, but the CDC uses a marker of 3.5 micrograms per deciliter to identify children with high lead levels. The affected children's blood lead levels ranged from 4 to 29 micrograms per deciliter.
The CDC said it was working with the Food and Drug Administration and local partners to investigate a link between high blood lead levels and consuming certain cinnamon-flavored applesauce products.
"State partners tested multiple lots of the reported products, and test results indicated the products contained extremely high levels of lead," the CDC said.
The illnesses are part of an outbreak tied to recalled pouches of fruit puree marketed to kids from WanaBana apple cinnamon fruit puree and Schnucks and Weis cinnamon applesauce pouches. The products were sold in stores and online.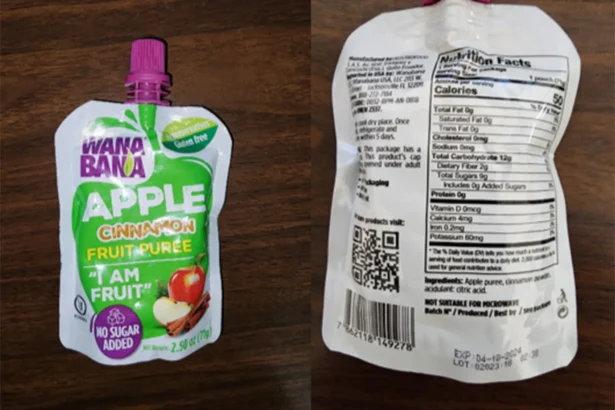 Children who are affected may show no symptoms, experts said.
Nevertheless, the CDC advised parents and caregivers of children who may have consumed recalled products to contact their health care provider about getting a blood test for lead.
Lead exposure can lead to serious learning and behavior problems. Heavy metals like lead can get into food products from soil, air, water, or industrial processes, according to the American Academy of Pediatrics.
According to the CDC, lead toxicity primarily targets the central nervous system, with children being more vulnerable to lead poisoning compared to adults because their nervous systems are still developing. Children also tend to absorb a higher fraction of ingested lead than adults.
"Although children with lead exposure may have no apparent acute symptoms, even low levels of lead have been associated with learning, behavioral, and cognitive deficits," it stated.
The CDC said that children who are exposed to large amounts of lead may develop acute lead poisoning, presenting with gastrointestinal, hematological, and neurological effects.
The symptoms include anemia, abdominal pain, weakness, and severe neurological sequelae, which may result in brain damage. Some effects of lead poisoning in a child may continue into adulthood, the CDC stated.
The Associated Press contributed to this report.
From The Epoch Times