Chevron Corp. has agreed to buy U.S. rival Hess Corp. for $53 billion in stock in a deal that reflects top U.S. energy companies' sustained confidence in oil and gas assets.
The proposed deal will increase the company's oil and gas production by more than 10 per cent, ramping up its competition with ExxonMobil Corp., the No. 1 U.S. oil and gas producer.
The acquisition makes Chevron a partner in Exxon's booming Guyana oil fields, which are expected to generate 1.2 million barrels of oil per day by 2027. The deal also gained Chevron access to shale sites in the Bakken Formation in North Dakota.
The move follows Exxon's recent rapid-fire deals for top U.S. shale producers Pioneer Natural Resources and Denbury. With a combined value of nearly $64 billion, the 2 transactions put Exxon firmly at the top of the U.S. shale industry.
The recent Chevron and Exxon deals owe much to sky-high industry profits due to increased energy prices, which have resulted from soaring demand and embargos on Russian oil and gas since its invasion of Ukraine.
The acquisition of Hess reflects Chevron's bet that the demand for fossil fuels will remain robust for decades to come, in contrast to a number of European energy companies—such as BP, Shell, and TotalEnergies—which are increasing their investments in renewable energies.
In an interview with The Financial Times last month, Chevron chief executive Mike Wirth expressed his skepticism about the International Energy Agency's fossil fuel forecasts. "You can build scenarios, but we live in the real world, and have to allocate capital to meet real-world demands."
Mr. Wirth said that the world could expect to see more acquisitions in the near future. "We've got too many CEOs per BOE (barrel of oil equivalent), so consolidation is natural."
Chevron has offered 1.025 of its shares for each Hess share held, or $171 per share, for a premium of about 4.9 percent over the stock's last close. The total deal value, including debt, amounts to $60 billion.
Chevron's shares were trading 3.4 percent lower while Hess was off a fraction in premarket trading. RBC analysts said they were surprised by the deal timing, and had expected Chevron to bide its time after Exxon's mega deal for Pioneer earlier this month.
Guyana has emerged as the world's fastest-growing oil producer, with its output quadrupling from less than 100,000 barrels a day in early 2020 to nearly 400,000 in March 2023, according to data from Oilprice.com.
Hess holds a 30 percent stake in an Exxon-led consortium currently pumping 380,000 barrels per day in the oil-rich South American nation.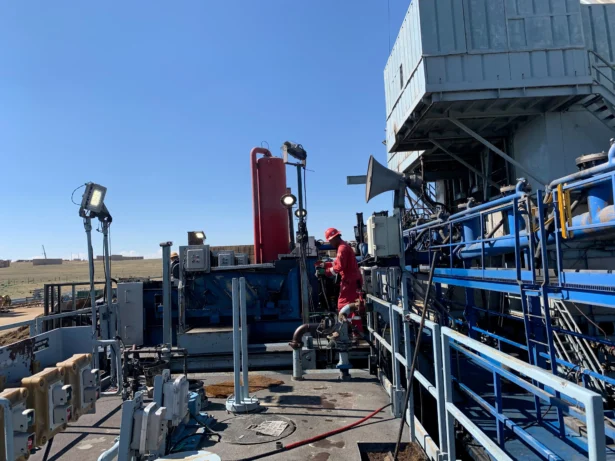 The deal still faces a number of regulatory reviews. "We don't see anti-trust concerns here," said Mr. Wirth, however. "This is great for energy security: It brings together two great American companies."
Hess CEO John Hess will join Chevron's board of directors once the deal has been completed, which should be in the first half of 2024.
The combined companies expect to generate about $1 billion in cost synergies within a year of the deal closing, said Mr. Wirth.
Chevron said that following completion of the deal, the company intends to increase its share repurchases by $2.5 billion to the top end of its guidance range of $20 billion per year in a continued upside oil price scenario.
Goldman Sachs and JP Morgan were the lead advisers to Hess, while Morgan Stanley and Evercore were Chevron's advisers.
Reuters contributed to this report.