China's defense minister Li Shangfu is visiting Russia and Belarus this week. Analysts say what led the newly-appointed minister to travel to Moscow, the second in four months, appeared to be the goal of taking attention away from its economic troubles at home.
Gen. Li on Tuesday reiterated the Chinese regime's stance on Taiwan, vowing to thwart what he described as efforts to use the Taiwan issue to "contain" the regime.
The comments were part of his speech at a Moscow Conference on International Security in Russia, during which he took several veiled swipes at Washington and its allies.
"Playing with fire and attempting to use Taiwan issues to contain China are doomed to failure," Gen. Li told the conference, which was attended by senior military officials from countries including Belarus, Vietnam, and Saudi Arabia.
Such comments, outside analysts say, appeared to be a ploy by the Chinese Communist Party (CCP) to divert attention from its real troubles.
"China is facing mounting problems at home, like what President Biden described, 'a ticking bomb,'" Su Tzu-yun, a senior analyst at Taiwan's government-funded Institute for National Defense and Security Research, told The Epoch Times. "Beijing is eager to shift the blame away."
China's Domestic Challenges
He noted that American imports from China have been falling with the share of U.S. imports falling to 13 percent in June, compared with a peak level of 21 percent in 2017.
Mexico replaced China to become the U.S. top trade partner, with its share of U.S. imports rising over 15 percent in June.
"That means Beijing's position as the world factory has been gradually replaced," said Mr. Su.
But the timing couldn't be worse. Mr. Su pointed to soaring unemployment among young people. Official data showed the youth jobless rate hit a record high of 21.3 percent in June. On Tuesday, China's National Bureau of Statistics stopped releasing the unemployment rate for 16 to 24 year olds.
Moreover, more crisis from the property sector is brewing, Mr. Su added. Following the collapse of Evergrande, a real-estate giant, another large developer Country Garden is now in danger of default.
Under these circumstances, Moscow's forum provided an opportunity for the Chinese regime to spread propaganda, and Gen. Li's message was delivered to an audience "mainly in mainland China," according to Mr. Su.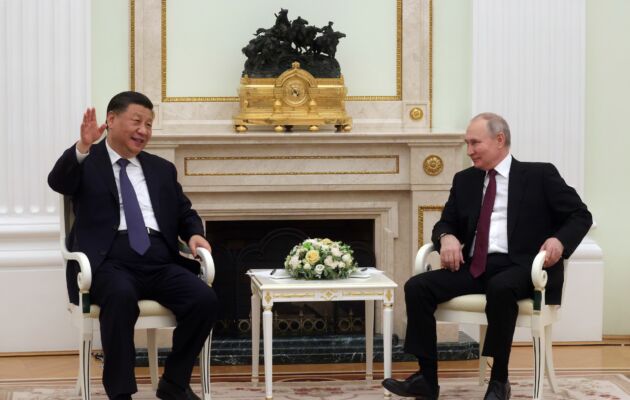 It's not the first time the CCP regime tried to blame the challenges it facing at home on the West. China's paramount leader Xi Jinping took an unusually direct shot at the United States in a March conference, saying the U.S.-led "containment, encirclement, and suppression" threatens the country's growth.
But China's new defense minister's comments came as the Biden administration is seeking to break the U.S.-China deadlock, sending three cabinet officials to Beijing in a span of a month and inviting China's new foreign minister to Washington. Mr. Su suggested Gen. Li's remarks would make it harder to tone down the heat.
"The Chinese Communist Party is responsible for the strained U.S.-China ties," he added.
Deepened Sino-Russia Ties
Echoing Gen. Li's comments, Russian Defense Minister Sergei Shoigu on Tuesday accused the West of stoking tensions around Taiwan.
The self-ruled Taiwan, like Ukraine, faces rising aggression from its larger neighbor bent on bringing the territory under its control, by force if necessary.
"Bilateral relations between Russia and China have surpassed the level of strategic ties in all respects, becoming more than just allied," Gen. Shoigu said, according to a statement pushed by the Russian defense ministry.
The two defense chiefs also had a meeting on the sideline of the annual forum in Moscow, according to the Russian defense ministry, during which the Russian official praised the growing ties with Beijing.
"Russia and China are strategic partners, good neighbors, and loyal friends," said Gen. Shoigu.
But under the warm words, observers say the partnership between Beijing and Moscow is not so stable.
"The Chinese Communist Party is carefully distancing itself from Russia because the Russian ministry suffered setbacks in the Ukranian war in recent times," said Wang Juntao, a prominent Chinese activist and political scholar. He noted Gen. Li only described the Sino-Russia relations as "an example of non-targeting of third countries" in the speech.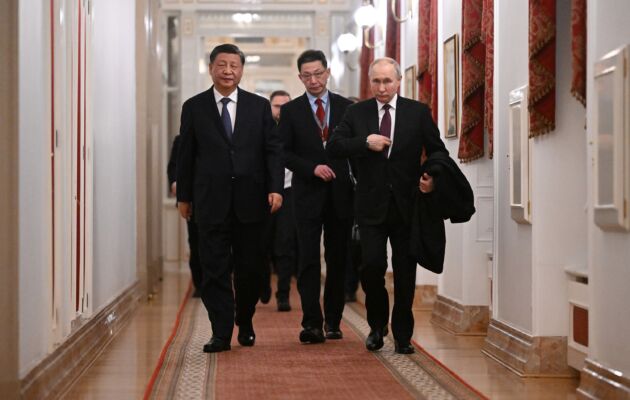 Mr. Su agreed.
"Beijing wants Russia to be its main support, including conducting joint naval exercises to demonstrate its military strength to the United States and Japan," he said.
Earlier this month, 11 Chinese and Russian vessels sailed near the coast of Alaska in a joint navy operation that American officials described as "unprecedented." The United States mobilized four destroyer ships in response.
But as its economic growth stalled, the CCP needed the European and American markets, Mr. Su noted. The regime doesn't want to cause economic sanctions upon itself by siding too closely with its isolated neighbor.
"If Beijing is tied to Russia too far, it may backfire. Beijing can't bear it."
Luo Ya contributed to this report.
From The Epoch Times