Nearly 37 million people in China may have been infected with COVID-19 on a single day this week, Bloomberg News reported on Friday, citing estimates from the Chinese regime's top health authority.
About 248 million people, which is nearly 18 percent of the population, are likely to have contracted the virus in the first 20 days of December, the report said, citing minutes from an internal meeting of the National Health Commission held on Wednesday.
A rising number of prominent figures tied to the Chinese Communist Party (CCP) have died amid the recent surge in Omicron variant in China.
Those who've died over the past few weeks include Yang Lianghua, formerly a senior reporter for the CCP official mouthpiece People's Daily and the chief editor of the newspaper's international edition; Zhou Zhichun, former deputy chief editor and vice president for the state-owned China Youth Daily; politician Zhu Zhihong, who once chaired the Jiangxi Provincial Committee of the Chinese People's Political Consultative Conference; 39-year-old Peking Opera actress Chu Lanlan; Marxist economist Hu Jun; former National Sports Commission vice director Liu Ji; the designer of the mascots from the 2008 Beijing Olympics, Wu Guanying; as well as dozens of illustrious professors at two of China's most prestigious academic institutions, Peking University and Tsinghua University.
About a dozen leading health experts have also died, including Nan Dengkun, who is credited with having pioneered China's medical rehabilitation industry, and top pharmaceutical scientist Wei Shuli.
Despite the uptick in obituaries of prominent individuals appearing on state media outlets, few details were mentioned about their causes of death.
The virus surge has overloaded morgues and hospitals across China. Beijing Tongzhou Civil Affairs Bureau told state-owned Beijing Youth Daily that the funeral home in its district is cremating 140 to 150 bodies each day as of Dec. 22, a stark contrast with the 40-per-day workload in the past. More than half a dozen funeral homes have confirmed a similar situation with The Epoch Times in recent days.
A Beijing resident told The Epoch Times that he lost five family members over 10 days, at least two of which were COVID-positive. All of them had been vaccinated with homegrown vaccines from Sinovac, which has received heavy scrutiny in the past for alleged side effects from diabetes to leukemia.
"These fake vaccines really haven't provided any protection," he said in an interview on Wednesday, requesting his name be withheld for safety reasons. "The commoners who contract COVID have nothing but their own immunity as a defense."
"It's too hard for me to take," he said. "I'm near a total breakdown these past few days."
"The government is not telling the COVID death numbers even though so many people have died in Beijing," the resident added.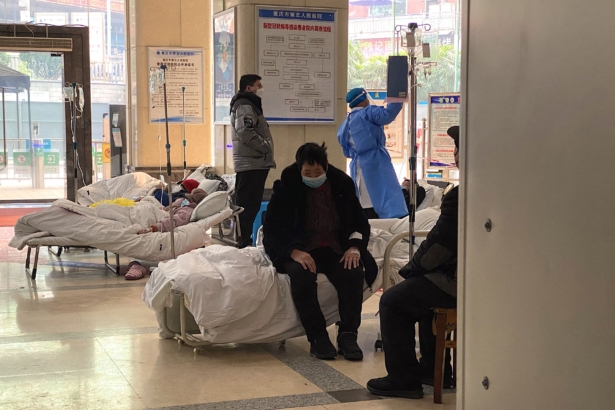 Skepticism About Official Data
China's national health authority on Saturday reported 4,128 daily symptomatic COVID-19 infections, and no deaths for a fourth consecutive day.
The actual number of COVID-19 cases and deaths may be much higher. China's COVID-19 data is difficult to verify, as the Chinese regime routinely suppresses or alters information.
British-based health data firm Airfinity said this week that infections in China are likely more than a million a day with deaths at more than 5,000 a day, in "stark contrast" to official data.
The emergency hotline in Taiyuan in the northern province of Shanxi was receiving over 4,000 calls a day, a local media outlet said on Saturday.
Taiyuan authorities urged residents to call the number only for medical emergencies, saying guidance about COVID-19 "does not fall within the scope of the hotline."
A health official in Qingdao said the port city was seeing roughly 500,000 daily infections, media reported on Friday.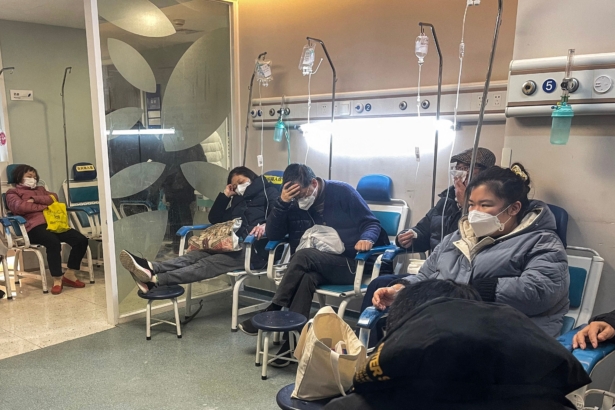 In Wuhan, the central city where COVID-19 emerged three years ago, media reported on Friday that the local blood repository had just 4,000 units, enough to last two days. The repository called on people to "roll up their sleeves and donate blood."
A Shanghai hospital has estimated half of the commercial hub's 25 million people would get infected by the end of next week.
Amid mounting doubts about Beijing's statistics, U.S. Secretary of State Antony Blinken on Thursday said all countries, including China, need to share information on their experiences with COVID-19.
Reuters and Epoch Times reporter Eva Fu contributed to this report.