The Chinese communist party's latest aggression, this time, against a U.S. ship, was "unsafe," the United States military said following a potentially dangerous interaction in international waters in the Taiwan Strait on Saturday.
The USS Chung-Hoon, accompanied by Canada's HMCS Montreal, was performing "a routine south to north Taiwan Strait transit" on June 3 "in accordance with international law," U.S. Indo-Pacific Command (USINDOPACOM) said in a statement late Saturday.
The Chinese Communist Party (CCP)'s guided-missile destroyer, the Luyang III DDG 132 of the People's Liberation Army-Navy, "overtook Chung-Hoon on their port side and crossed their bow at 150 yards," the command said, forcing the U.S. guided-missile destroyer to slow to 10 knots to "avoid a collision."
"[China's] actions violated the maritime 'Rules of the Road' of safe passage in international waters," the command said.
"High seas freedoms of navigation and overflight" apply in the waters where the dangerous interaction occurred, it added.
Part of the U.S. 7th Fleet, the Arleigh Burke-class guided-missile destroyer USS Chung-Hoon and Royal Canadian Navy Halifax-class frigate HMCS Montreal passed through the Strait in accordance with international laws concerning open seas, the U.S. military said.
"The ships transit through a corridor in the Strait that is beyond the territorial sea of any coastal State," the 7th fleet said in a statement. "Chung-Hoon and Montreal's bilateral transit through the Taiwan Strait demonstrates the commitment of the United States and our allies and partners to a free and open Indo-Pacific.
"Cooperation like this represents the centerpiece of our approach to a secure and prosperous region where aircraft and ships of all nations may fly, sail and operate anywhere international law allows."
'Wrong Signal'
The CCP's military defended its actions saying that the transit was sending the "wrong signal" and that it "handled" the situation in accordance with the Chinese regime's law and regulations.
"The countries concerned deliberately create incidents in the Taiwan Strait region, deliberately provoke risks, maliciously undermine regional peace and stability, and send the wrong signal to 'Taiwan independence' forces," its Eastern Theatre Command of China's People's Liberation Army said in a statement late Saturday.
Chinese state media on Saturday also explicitly named who it considers "Taiwan independence" forces, with Tan Kefei, spokesperson for China's Ministry of National Defense, citing remarks by Chinese Defense Minister Li Shang during a closed-door meeting with Singaporean Defense Minister Ng Eng Hen.
"China will never tolerate any attempt by the island's ruling Democratic Progressive Party (DPP) authorities to 'solicit foreign support' while seeking 'Taiwan independence,' nor will it accept any efforts by external forces to 'utilize Taiwan to contain China,'" Tan said.
Typically, the CCP has blamed "separatist forces" for Taiwan's refusal to bow to the regime's communist rule. Taiwan is a self-governing liberal democracy.
However, ahead of Taiwan's 2024 general election, the CCP is hoping to win influence in Taiwan's domestic politics. DPP presidential candidate Vice President Lai Ching-te is the only Taiwanese presidential candidate who has explicitly stated that he stands against the tyrannical rule of the CCP. He says that he is "anti-CCP, not anti-China."
U.S. Sen. Rick Scott (R-Fla.) said on Twitter late Saturday, "America is not scared of Communist China's unsafe, unprofessional, and illegal naval actions. The Taiwan Strait is international waters and the U.S. Navy will never be pushed off course by a regime foolishly pretending otherwise."
Taiwan's Ministry of National Defense, which monitors movement in the seas and skies around Taiwan, said the U.S. transit on Saturday was normal and told the CCP that it was the one disrupting peace, stability, and security in the region with its "provocative actions."
"Maintaining the peace and stable development of the Taiwan Strait and the region is the shared responsibility of free and democratic countries around the world," the ministry said. "Any measures to increase tension and danger will not help regional security.
"The Ministry of National Defense calls on the Chinese authorities to respect the right to freedom of navigation, avoid excessively provocative actions, and jointly maintain regional peace, stability, and security in the region."
U.S. warships transit the international waters in the strait around once a month. However, it is a rarer occasion for them to do so alongside vessels of U.S. allies.
More than 40 percent of global shipping container traffic passes through the crucial international trade passage of the Taiwan Strait. It is the main shipping route between Europe and China, Japan, and the United States.
Tensions Ongoing
Earlier in the day, Taiwan's defense ministry said that in the 24 hours since 6 a.m. Saturday, it had detected 15 Chinese military aircraft and seven Chinese naval vessels around Taiwan—a near-daily occurrence since the CCP escalated its overt aggression against Taiwan in late 2020.
Two of the PLA aircraft again entered Taiwan's southwest air defense identification zone (ADIZ). Taiwan's Armed Forces responded by launching combat air patrol aircraft, Navy vessels, and land-based missile systems, the ministry added.
15 PLA aircraft and 7 PLAN vessels around Taiwan were detected by 6 a.m.(UTC+8) today. R.O.C. Armed Forces have monitored the situation and tasked CAP aircraft, Navy vessels, and land-based missile systems to respond these activities. pic.twitter.com/ZlEJrDUKPB

— 國防部 Ministry of National Defense, R.O.C. ?? (@MoNDefense) June 4, 2023
The incidents in the Strait come as government officials met in Singapore for the June 2–4 Shangri-La Dialogue to discuss Asian defense issues. U.S. Secretary of Defense Lloyd Austin and his counterparts from other Asia-Pacific nations, including China, were in attendance.
The United States and its allies have voiced support for and actions to maintain "a free and open Indo-Pacific" in accordance with international law in response to the CCP's flouting of agreed international norms to which it is a signatory.
The CCP is claiming sovereignty over Taiwan as well as attempting to assert its sovereignty in regions of the South China Sea within its nine-dash line, triggering an outcry from all other nation-states in those waters with contesting claims recognized by the United Nations Convention on the Law of the Sea.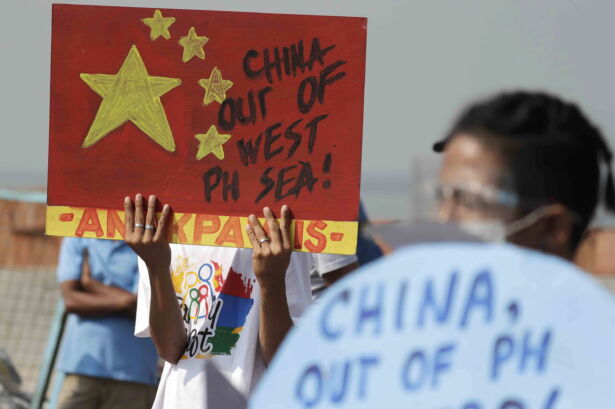 In another move set to increase regional tensions, the CCP on May 15 issued new rules to the China Coast Guard to arrest foreigners who are considered liable for crimes against Chinese citizens or the Chinese state, even when committed outside of China's territorial waters.
Frank Fang and Reuters contributed to this report.
From The Epoch Times