WASHINGTON—By visiting Moscow to boost ties with Russia's Vladimir Putin, Chinese leader Xi Jinping is demonstrating to the world his disregard for the "atrocities committed in Ukraine" and providing the isolated Russian leader with "diplomatic cover," according to Secretary of State Antony Blinken.
Blinken made the remarks at a press conference on March 20 as he announced the launch of his department's annual human rights report, just as Xi made his first visit to Moscow since Putin mounted a war in Ukraine last year. The two greeted each other as a "dear friend" before dinner.
Xi was the first international leader to have met Putin after the International Criminal Court issued an arrest warrant for the Russian president on March 17, citing the "alleged war crimes of deportation of children from Ukrainian occupied territories into the Russian Federation."
"That President Xi is traveling to Russia days after the International Criminal Court issued an arrest warrant for President Putin suggests that China feels no responsibility to hold the criminals accountable for atrocities committed in Ukraine, and instead of even condemning them, it would rather provide diplomatic cover for Russia to continue to commit those very crimes," Blinken told reporters.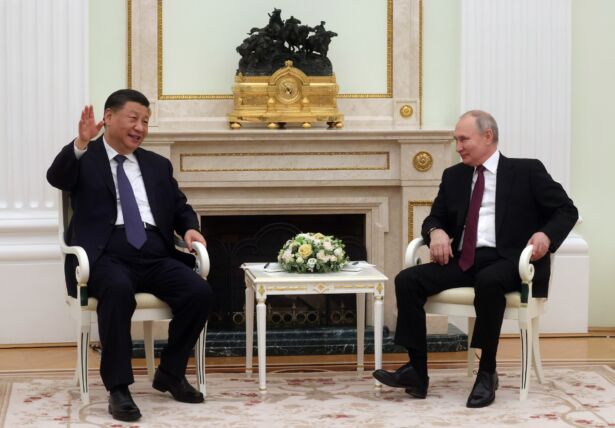 Blinken on Monday authorized the 34th round of military assistance to Ukraine, sending a package of U.S. arms and equipment valued at $350 million.
"Russia alone could end its war today. Until Russia do we will stand united with Ukraine for as long as it takes," he said in a statement.
At the press conference, Blinken expressed his hope for Xi to reiterate certain parts of the ceasefire plan Beijing proposed on Feb. 24 and compel Russia to withdraw its troops from Ukraine soil, which he called the "fundamental element."
"China's proposal includes elements we have long supported, including ensuring nuclear safety, resolving humanitarian crises, protecting civilians, and indeed, the first element calls for upholding sovereignty, independence of territorial integrity of all countries," he said.
The secretary warned that "calling for a ceasefire that does not include the removal of Russian forces from Ukrainian territory would effectively be supporting the ratification of Russian conquest."
"The world should not be fooled by any tactical move by Russia, supported by China or any other country, to freeze the war on its own terms," he said.
White House National Security Council John Kirby has previously questioned whether Beijing's peace proposal is sustainable.
"It's difficult to see how this [the Chinese peace plan] could represent a sustainable option here when there have been no discussions between the Chinese and Ukrainians," he told The Epoch Times in late February.
After his three-day summit with Putin, Xi is due to call Ukraine President Volodymyr Zelenskyy, in their first discussion since the war.
Putin at the Monday meeting with Xi welcomed Beijing's resolution to the Ukraine conflict.
"We will discuss all those issues, including your initiative that we highly respect," he said. "Our cooperation in the international arena undoubtedly helps strengthen the basic principles of the global order and multipolarity." He told Xi he was "slightly envious" of China's rapid development in recent decades, as the communist leader smiled.
Experts have warned that Xi's efforts to portray himself as a peacemaker during this trip are a mere smokescreen. In reality, the Chinese regime is interested in prolonging the Ukraine law to distract the West's attention away from its ambitions in the Ind-Pacific, they said.
The growing ties between Russia and China have worried many in the West, including House Speaker Rep. Kevin McCarthy (R-Calif.), who warned of an "axis of power" forming between North Korea, China, Russia, and Iran.
"I'm worried about this axis of power. But we also need to have a plan to win [in Ukraine]," he told reporters at the GOP retreat in Florida on Sunday
From The Epoch Times