Those at Erick Erickson's "The Gathering" in Atlanta on Aug. 19 saw two sides of Chris Christie.
The first side was on stage in the 45 minutes the former New Jersey governor spent chatting amiably with Mr. Erickson, the Atlanta-based conservative talk radio host. Mr. Christie talked about the issues of the day—the challenge of communist China, his approach to combating crime, and most notably, his plan to reform Social Security.
Sometimes called "the third rail of politics," Social Security is an issue that many politicians avoid, even if they acknowledge that the pension program will go broke without reforms.
"This is the most refreshing interview because the first six questions were not about Trump," Mr. Christie enthused as Mr. Erickson wrapped up their segment.
Former President Donald Trump's rivals for the Republican presidential nomination have found their efforts to discuss policy issues overshadowed by media questions about the former president—his controversies, his big lead in the polls, and the four indictments against him. The fourth came five days earlier in downtown Atlanta, just a few miles from where Mr. Erickson's event took place at the Grand Hyatt Hotel in Buckhead.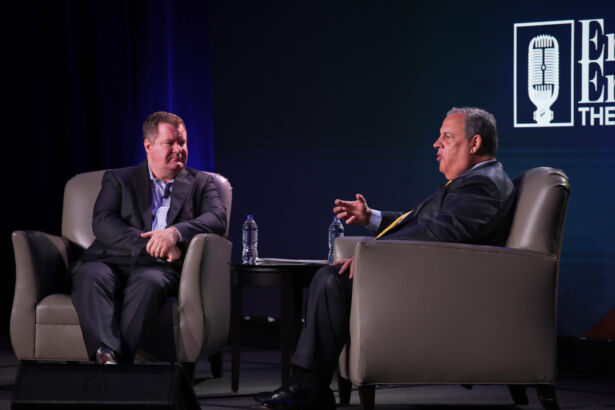 Media Focus on Trump
The second side to Mr. Christie was outside the main hall, where he took questions from reporters, nearly all of them about President Trump. His own platform notwithstanding, Mr. Christie made it clear he's ready to take it to the former president.
On President Trump's skipping the upcoming Republican debate in Milwaukee, Mr. Christie said, "He's a coward. There's no other conclusion to come to, that he's both afraid of me and he's afraid of defending his record. And if I had his record, I'd be nervous about showing up.
"I mean, let's face it guys," Mr. Christie said to several dozen reporters. "By Wednesday, he's going to be out on bail in four different jurisdictions. Really, when are we going to stop thinking that's normal?
"Nominating someone who's out on bail in four jurisdictions is not a winning formula. So whether you believe in the criminal prosecutions or you don't, two things: one, they're real, and that's something we're going to have to deal with. And two, his conduct is reprehensible.
"It doesn't matter whether it's criminal or not, on Jan. 6. I don't care, quite frankly, whether he's held criminally responsible or not. He's morally responsible for what happened on Jan. 6, and that's what I want to talk about."
The Epoch Times asked, "If Donald Trump gets the nomination, will he lose?"
"Yes," Mr. Christie said.
Mr. Christie was asked about President Trump's view that he doesn't need to debate rivals he is "already crushing."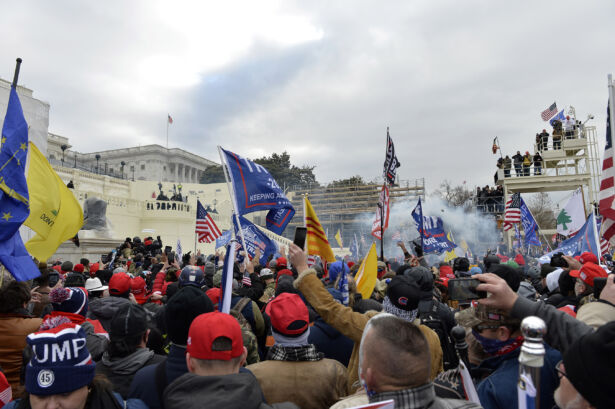 "Yeah, there's an argument for avoiding the voters. If you're a safe politician with a crappy record, there's always an argument for that.
"But what you really need to think about is, you've been the nominee of this party twice. Do you not owe it to the voters to stand up there and let them compare you to the rest of the people running?
"And if you're so great, why are all these people running? Nobody ran against him in 2020. Why are all these people running now? I mean, he needs to answer these questions. And he owes it to the voters to do it. "
Another reporter raised the possibility of President Trump being banned from the ballot in some states.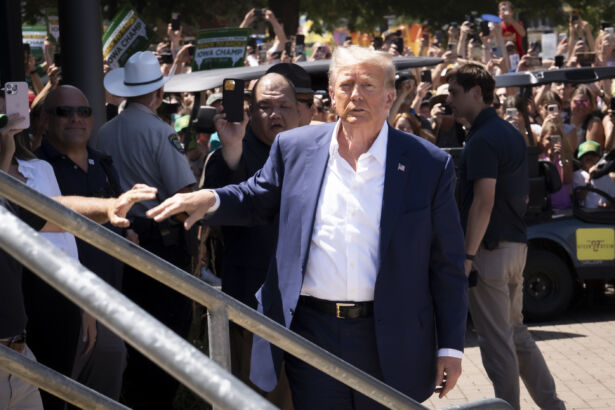 The voters have to take that into account, Mr. Christie said, and it's the voters who will decide.
"Donald Trump's made himself a candidate for president under the most ridiculous circumstances ever seen in my life.
"There's nothing more selfish than what he's doing. He's been charged with four different crimes. And yet, he still persists in insisting that he has to be a candidate for president."
Under the U.S. justice system, defendants are considered innocent until proven guilty.
"I don't think you would have seen George Washington or Thomas Jefferson or Abraham Lincoln be charged with those crimes. But if they had, they certainly wouldn't have run," Mr. Christie said.
A reporter asked him how he would square past support for President Trump with running against him now. "What answer would you give to that?"
"That on Election Night 2020, he left me, and he left the American people who supported him by standing behind the seal of the President of the United States in the East Room of the White House at 2:30 in the morning, telling us the election was stolen.
"We have absolutely no evidence that it was stolen and, to this day, he's not presented any evidence that it was stolen, here in Georgia or anywhere else in the country."
"Yes, I supported him and he disappointed me. And he abandoned me by undercutting our democracy and making the American people feel like that election was stolen when it wasn't.
"That is beneath the office that he was privileged to hold. And as a result, he should never hold it again."
"I don't regret having supported him. I think he was a better president than Hillary Clinton ever would have been. And I think we watch Joe Biden now, and we wonder what's going on there, and is he really capable of doing the job anymore, whether he's past the sell-by date."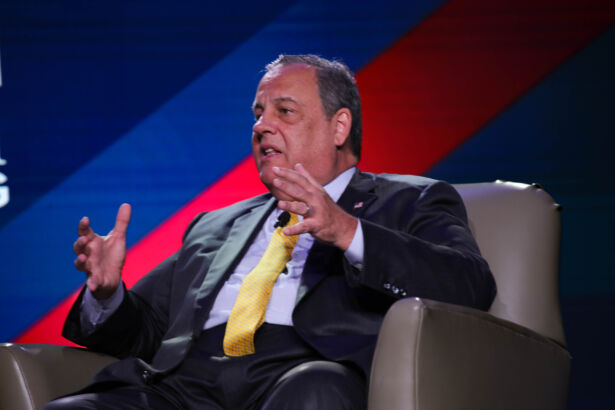 Mr. Christie was asked about President Trump's announcement and then cancellation of a press conference regarding his Aug. 14 indictment in Georgia on state RICO charges tied to his contesting of the 2020 election results.
"I never thought he was going to hold a press conference for two reasons," Mr. Christie said. "One, he has no evidence to present. And if he did, the first question from any of you would be, what the hell have you been holding this back for three years, okay? He has no evidence."
Meanwhile, in response to the indictment, President Trump's team have said they will unveil a "conclusive" report proving election fraud in Georgia.
Mr. Christie said Mr. Trump was trying to distract from his four indictments that are lodged in four different venues, two federal and two state. "He wants to talk about anything other than that."
"And secondly, he is scared. He never listens to his lawyers. But he listened this time. Why? Because he's scared. He's scared. He is just a couple of steps away from that jail cell closing behind him."
Mr. Trump worries, Mr. Christie speculated, that "if he shoots off his mouth like he normally does, that he'll wind up even closer to that jail cell than he is today."
"This is a tragedy for our country to be going through this, but I want the country to understand he did it. He did it to us. When he says something like, 'I'm getting indicted for you,' baloney. He's getting indicted because of misconduct."
Mr. Christie listed Mr. Trump's transgressions as he sees them: taking documents to Mar-a-Lago and hiding them for 18 months, egging his Jan. 6 crowd to march to the Capitol, despite video evidence to the contrary, allegedly asking Vice President Mike Pence to reverse the election, and asking the Georgia Secretary of State "to find them 11,780 notes so he could win the election."
"They're not after us. They're after him," Mr. Christie said.
Mr. Christie said that Fulton County District Attorney Fani Willis's grand jury indictment of Mr. Trump this week was unnecessary. The former president already faces federal charges tied to his Jan. 6 conduct, he said. Ms. Willis could have left that to federal special prosecutor Jack Smith, then indicted Mr. Trump's 18 co-defendants and coordinated with Mr. Smith on it.
Mr. Christie said that Republicans need Georgia to win the 2024 presidential election, and Mr. Trump "has proven he can't win Georgia."
He alluded to the former president's role in both Republican senators, David Perdue and Kelly Loeffler, losing their runoff elections on Jan. 5, 2021; his backing primary candidates who failed to defeat Republican Gov. Brian Kemp and Georgia's Secretary of State Brad Raffensperger; and his subsequent backing of former football star Herschel Walker who lost the Senate race last November to incumbent Raphael Warnock.
"We need to make sure that we allow Georgians to see the merits of Republican leadership clearly. And instead, what they've seen is a whining child who comes down here and complains, ad nauseam, about how everything's so unfair to him—the most unfairly treated billionaire in the history of America."
Reforming Social Security
In the more peaceful setting of his interview with Mr. Erickson, Mr. Christie laid out his plan to reform Social Security. The only three variables, he said, are eligibility, taxes, and age. "There's nothing else. There's no Kabuki magic to this."
He said he won't raise taxes, which are "too high already." He would exempt those in their 50s or older from any changes, as it's too late for them to adapt. He'd target younger workers with 30 years or more to ramp up saving to IRAs or 401(k) plans.
And he supports means-testing Social Security, a touchy subject as it means not paying benefits to the very wealthy and perhaps others. "Warren Buffett does not need Social Security, right? He knows. Mark Zuckerberg, Elon Musk, Jamie Dimon; they don't need it.
"So maybe we can start [all the way up] there so no one is offended, okay? And then let's start having a discussion to work our way down."
He countered arguments by some that they're entitled to Social Security because they paid into it. He said taxpayers who pay for numerous benefits most don't need, such as food stamps or education, if they don't have children in school.
Mr. Christie posed a grim reality: if nothing is done and Social Security taps out in a predicted 11 years, it will trigger automatic 25 percent cuts to pensioners, many of whom have no other income and are struggling even now to get by.
"There will be people in this country who wouldn't be able to pay the rent, or the mortgage, wouldn't be able to buy food, wouldn't be able to heat the home; kind of twisted stuff. So we've got to have this conversation."
He pointed to his record as New Jersey governor: going "line by line through the budget" to balance it by cutting 863 programs.
"When I did that, my popularity numbers went down," he said, because the cuts affected every constituency. "But you have to be willing to give those numbers up for something of consequence."
From The Epoch Times