COLUMBIA, S.C.—The clerk of court accused of tampering with the South Carolina jury that found Alex Murdaugh guilty of two counts of murder denied asking jurors if they thought he was guilty before deliberations or suggesting she thought he killed his wife and son.
The sworn statement from Colleton County Clerk of Court Rebecca Hill was filed Tuesday by prosecutors telling a judge there is no need to hold a hearing where jurors, Ms. Hill, other court employees, and even the trial judge could be questioned under oath and their messages and texts subpoenaed.
Defense attorneys said Mr. Murdaugh deserves a new trial because of Ms. Hill's alleged actions. Mr. Murdaugh's six-week murder trial, which concluded in March, became a sensation with its mix of privilege, brutality, and power. The judges, lawyers, and Ms. Hill herself all became minor celebrities.
On Tuesday, prosecutors included statements from nine jurors and an alternate nearly contradicting what four jurors, one dismissed before deliberations, told Mr. Murdaugh's lawyers, leading to the September request to throw out the jury's verdict. The prosecution's interviews were conducted by the State Law Enforcement Division, whose agents investigated Mr. Murdaugh and presented much of the evidence on the killings during the trial.
Mr. Murdaugh's attorneys want the full hearing to see whether Ms. Hill influenced the jury.
They made a number of allegations, including that Ms. Hill told jurors their deliberations shouldn't take long, thereby implying Mr. Murdaugh was guilty. Mr. Murdaugh's attorneys have also said Ms. Hill had conversations in a private bathroom with the jury forewoman and handed jurors the business cards of media members who wanted interviews before deliberations.
Ms. Hill's sworn statement is a point-by-point denial of the court filing from Mr. Murdaugh's attorneys and says there are numerous other false statements she was not asked by prosecutors to address right now. That includes the defense's allegation that Ms. Hill made up a story about a Facebook post to secure the dismissal of a juror who might have voted not guilty.
"Only Alex Murdaugh could conceive of such a confounded gambit as even remotely possible, and he is projecting his own calculating, manipulative psyche onto a dedicated public servant in an effort to save himself," the state Attorney General's Office wrote in its court papers.
Mr. Murdaugh is serving life without parole in the shooting deaths of his wife and younger son at their home in 2021. Investigators said 52-year-old Maggie was shot four or five times with a rifle and 22-year-old Paul suffered two shotgun blasts.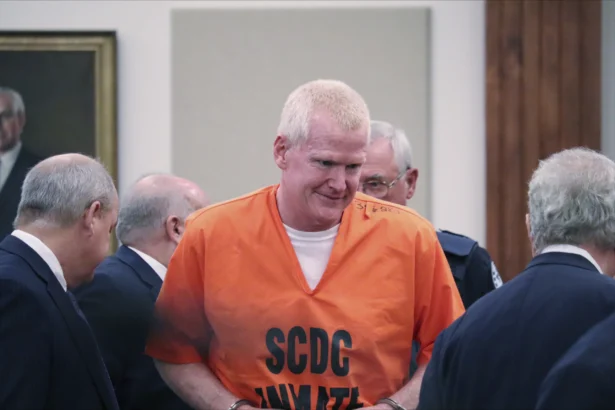 Even if his conviction is overturned, Mr. Murdaugh likely would remain in prison. He is awaiting sentencing after pleading guilty to federal charges he stole millions of dollars from clients and his family law firm, which will probably mean years or decades behind bars. That trial is set to begin later this month.
By law, Judge Clifton Newman, who presided over Mr. Murdaugh's trial, would decide whether to hold the hearing where jurors could be questioned.
But the defense is asking the South Carolina Supreme Court to remove Mr. Newman from both the appeal and any future trials. That includes proceedings on state financial crimes and insurance fraud after authorities said Mr. Murdaugh had someone shoot him so his surviving son could get life insurance—that alleged plot unraveled after the shot only grazed his head.
The jurors interviewed by state agents mostly praised the work of Ms. Hill and her staff. They said they felt no pressure to reach a guilty verdict or reach their verdict quickly.
Prosecutors said several of the statements a juror told the defense actually mirror comments from the prosecution's opening and closing statements. Those include the allegations that Ms. Hill told the jury "not to be fooled" by the defense's evidence and to watch Mr. Murdaugh closely as he testified, as well as to "look at his actions," and "look at his movements."
Four court workers were also interviewed by the prosecution and denied the allegations against Ms. Hill. A juror said Ms. Hill denied smoke breaks during deliberations, but the jury coordinator said that was a common practice in the Colleton County courthouse.
One juror did say Ms. Hill and a producer from the NBC show Dateline approached after the verdict and appeared disappointed when they denied giving an interview.
Ms. Hill and three jurors did end up in New York City after the trial for an NBC interview. Ms. Hill wrote in her self-published book it was her first plane trip.
The prosecution also argued that the new trial hearing should be denied because the jurors did a tremendous public service and should not continue to be bothered after their service is done.
"Needless exposure of jurors to litigative stress and impeachment by zealous attorneys, particularly in a case of with this level (of) public exposure, can only serve to further discourage citizens from willfully participating in this duty," prosecutors wrote.
By Jeffrey Collins