Chris Licht, who was named as CNN's chairman and CEO about a year ago, will depart the corporate news network, said the chief executive of CNN's parent company.
David Zaslav, the head of Warner Bros. Discovery which owns CNN, said that he "met with Chris and he will be leaving CNN," according to a report from CNN's media reporter, Oliver Darcy, published on Wednesday. His remarks were made during a conference call with CNN's employees.
In the article, Zaslav did not say when Licht would be leaving the company.  The Epoch Times has contacted the company for comment.
Licht's job was "never going to be easy," Zaslav noted, praising the executive for what he called an "amazing career." Licht was named as CEO by Zaslav to replace Jeff Zucker, who was forced out under a corporate merger of the company's parent company and whose tenure was punctuated by a shift toward the political left.
"For a number of reasons things didn't work out and that's unfortunate," Zaslav told CNN staffers, according to the article. "It's really unfortunate. And ultimately that's on me. And I take full responsibility for that."
Zaslav told CNN staffers that the firm is "in the process of conducting a wide search" to find a new CEO, but he stipulated that it will "take a while." That process is happening internally and externally, he said.
In recent days, Licht came under fire for his defense of a CNN town hall event in mid-May that featured former President Donald Trump. Some CNN staffers, including Darcy, were publicly critical of the event, while Licht said that the event was necessary to give a voice to Trump supporters and noted they comprise about half the country's electorate.
"It's hard to see how America was served by the spectacle of lies that aired on CNN Wednesday evening," Darcy said after the town hall event.
After the town hall, Licht said that "it is our job to get those answers and hold him accountable," claiming that covering Trump is "messy and tricky." He added: "America was served by what we did last night."
Then, on June 1, Licht was featured in an article by the left-wing Atlantic publication, which portrayed the executive and his one-year tenure in an unflattering light.
"In the wake of The Atlantic's explosive story, I've spoken with dozens of staffers across the company. There are a wide range of emotions coursing through the halls of CNN. Some staffers are frustrated. Others are angry. Many are sad about the awful state of affairs that has taken hold of an organization they love," Darcy claimed in his CNN newsletter. "There is one near-universal sentiment, however, that has been communicated to me: Licht has lost the room."
Ratings Problem
In the wake of Trump leaving office in early 2021, CNN's ratings continued to slide. Last year, the cable network experienced a major, 27-percent decline in viewership on average, according to Nielsen ratings.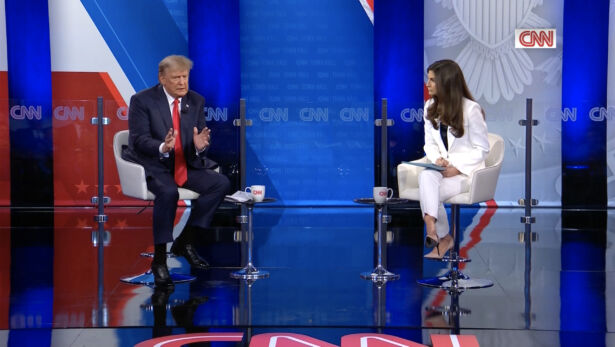 When Trump conducted his town hall event last month, CNN's 8 p.m. timeslot ratings shot up and won the night, according to Nielsen. But since then, CNN's ratings have cratered.
This year, CNN has consistently trailed both Fox News and MSNBC, but it has been under pressure to pivot from its left-leaning coverage during the Trump presidency years. As Trump was in office, pundits on the channel would often directly criticize the former president, leading him to frequently describe the outlet and its reporters as "fake news."
In recent days, Newsmax has performed better than CNN in several timeslots, namely with the channel's Eric Bolling beating out longtime anchor Anderson Cooper's show, "AC360," during the 8 p.m. ET timeslot, ratings show. Bolling has seen a rise in viewership after Fox News in late April decided to part ways with former top-rated host Tucker Carlson, who on Tuesday released the first installment of his Twitter show.
Of CNN's recent changes, "Viewers are a bit confused with all of the changes, particularly in the prime-time lineup," said Jennifer Thomas, a former CNN producer who now teaches journalism at Howard University. She said in March that CNN needs more news that impacts viewers and less analysis.
Zaslav has also said that he recognized that a more partisan approach could bring more viewers and money, but that "it's not what I came here to do," according to a transcript of Zaslav's speech.
He said he hoped the network would be able to figure out what is working and what isn't. He urged the managers to not worry about outside noise.
"Ratings be damned," he told The Associated Press in March. "Let's focus on who we are. This is our mission. This is our legacy. And this is our journey together."
The Associated Press contributed to this report.
From The Epoch Times