Officials are voicing concerns that three mysterious leaks that hit the Nord Stream 1 and Nord Stream 2 pipelines on the same day maybe due to sabotage.
Denmark's prime minister, Mette Frederiksen, told reporters that sabotage could not be ruled out as the cause behind the unexplained gas leaks that hit Nord Stream 1 and Nord Stream 2 gas pipelines on Sept. 26.
The two pipelines carry natural gas through the Baltic Sea from Russia to Germany. Both pipelines were not in operation but still contained gas at the time of the leaks.
"It is hard to imagine that it is accidental. We cannot rule out sabotage, but it is too early to draw conclusions," Frederiksen told Politiken, a Danish daily newspaper.
Frederiksen was in Poland attending the inauguration of the Baltic Pipe in a symbolic "valve opening" on Sept. 27. The new undersea pipeline is a new gas supply corridor that will carry gas from Norway to Denmark and Poland, with an annual capacity of 10 billion cubic meters per day. The pipeline is seen as a measure to cut EU reliance on fossil fuels from Russia.
Referring to the Nord Stream leaks, Frederiksen said the situation was "extraordinary" and "unusual." "It is hard to imagine that what is happening is a coincidence," she told reporters on Sept. 27.
Polish Prime Minister Mateusz Morawiecki had also suspected subversion. At the pipeline ceremony, he told attendees, "Today we faced an act of sabotage, we don't know all the details of what happened, but we see clearly that it's an act of sabotage, related to the next step of escalation of the situation in Ukraine."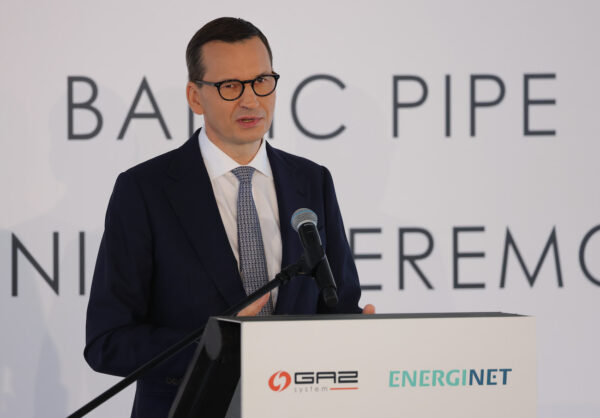 Separately, at least two U.S. officials late on Sept. 27 issued statements referring to the Nord Stream leaks as an "apparent sabotage."
White House national security adviser Jake Sullivan wrote on Twitter: "I spoke to my counterpart Jean-Charles Ellermann-Kingombe of Denmark about the apparent sabotage of Nord Stream pipelines. The U.S. is supporting efforts to investigate and we will continue our work to safeguard Europe's energy security."
State Department spokesperson Ned Price just minutes later released a statement using the same term to describe the leaks.
"Secretary of State Antony J. Blinken spoke with Danish Foreign Minister Jeppe Kofod today about the apparent sabotage along the Nord Stream 1 and Nord Stream 2 pipelines. The United States remains united with our Allies and partners in our commitment to promoting European energy security," he said in a statement.
Simultaneous Destruction 'Unprecedented'
Nord Stream AG, the operator of the network, issued a statement that noted the close timing of the three leaks. It told reporters, according to Reuters: "The destruction that occurred on the same day simultaneously on three strings of the offshore gas pipelines of the Nord Stream system is unprecedented."
"Currently, it is not possible to estimate a timeframe for restoring the gas transport infrastructure," the operator announced in a separate statement. "The causes of the incident will be clarified as a result of the investigation."
Björn Lund, director of the Swedish National Seismic Network, asserted that the leaks were likely caused by underwater explosions that took place shortly before the three leaks were discovered. In an interview with NPR, Lund said that it is "very clear from the seismic record that these are blasts," and that "these are not earthquakes; they are not landslides underwater."
He said that the Danish and Swedish seismic monitoring stations had detected two substantial undersea explosions at the sites of the gas leaks. The first blast took place at 2:03 a.m., the other at 7:04 p.m., Swedish time, on Sept. 26, reported state broadcaster SVT.
"Preliminary estimates would say that this is at least equivalent to 100 kilograms of dynamite," Lund said of the seismic data, reported NPR.
Kremlin spokesman Dmitry Peskov, when asked about the damaged pipelines, told reporters that "No option can be ruled out right now," reported the state-run TASS news agency.
He also said that Russia is "extremely concerned" about the leaks. "Certainly, this is an issue related to the energy security of the entire continent," Peskov said.
Currently, gas deliveries from Russia to Germany and central Europe are only possible via the Yamal pipeline running through Poland or through the Ukrainian pipeline network.
Nord Stream 1 had been the main source of Russian gas to Europe until late Aug. 19, when Russian state-owned oil and gas firm Gazprom shut off the gas for maintenance. In early September, Gazprom announced it had abandoned plans to restart gas flows through the pipeline to Germany indefinitely, saying that an oil leak in a critical turbine was not yet fixed. Russia has blamed international sanctions over the war in Ukraine for deterring the pipeline's routine maintenance.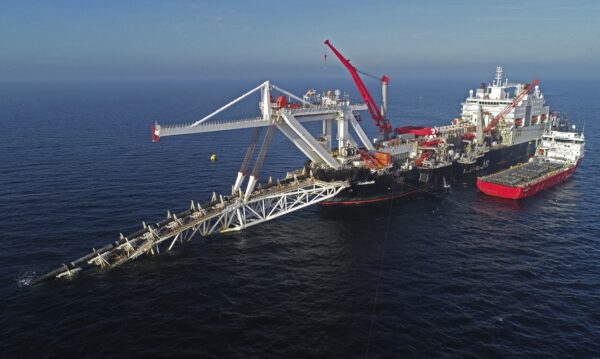 Meanwhile, Nord Stream 2, never came into operation. Germany in February halted the certification of the gas pipeline shortly prior to Russia's invasion of Ukraine. At the time, German Chancellor Olaf Scholz said the refusal to certify the pipeline was in response to Russian President Vladimir Putin's recognition of the independence of two Russian-backed breakaway regions in eastern Ukraine.
In February, prior to Russia's invasion of Ukraine, President Joe Biden had warned that Nord Stream 2 would not move forward if Russia invaded Ukraine.
"If Russia invades, that means tanks or troops crossing the border of Ukraine again, then there will be no longer a Nord Stream 2," he said at a press conference with Scholz on Feb. 7. When asked how that could be achieved when given that Nord Stream 2 is under German control, Biden said: "We will, I promise you, we will be able to do it."
Bryan Jung contributed to this report.
From The Epoch Times