The House Freedom Caucus (HFC) has voted in favor of removing Rep. Marjorie Taylor Greene (R-Ga.) from the staunchly conservative group, a board member of the caucus said Thursday.
"A vote was taken to remove Marjorie Taylor Greene from the House Freedom Caucus for some of the things she's done," Rep. Andy Harris (R-Md.) told reporters on July 6. The vote was first reported by Politico, which noted that it was unclear at the time whether she'd already been ousted.
When Mr. Harris was asked if she was formally removed from the group, he responded: "As far as I know, that is the way it is."
Mr. Harris told the publication that Ms. Greene's close affiliation with House Speaker Kevin McCarthy (R-Calif.) and support of President Joe Biden's debt deal may have contributed to her removal.
"I think all of that mattered," he replied when asked if her support for Mr. McCarthy played a role in the group's decision to vote her out. He declined to say how he voted.
Mr. McCarthy faced a revolt from some Republicans who accused him of betraying an agreement that got him elected to lead the GOP-controlled chamber when he reached a deal with Biden for a compromise debt ceiling legislation.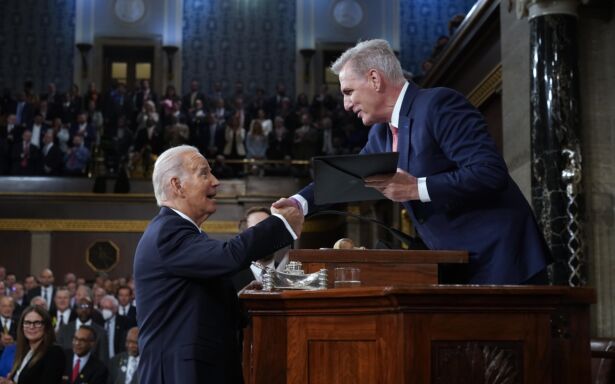 Thursday's vote would mark the first time a member has been removed from the group.
A spokesperson for the HFC, which was founded in 2015, declined to comment on the vote to expel Ms. Greene, saying: "HFC does not comment on membership or internal process."
In a statement to news outlets Thursday evening, Ms. Greene did not directly point out whether she was in or out of the group, saying she serves "no group in Washington."
"In Congress, I serve Northwest Georgia first, and serve no group in Washington. My America First credentials, guided by my Christian faith, are forged in steel, seared into my character, and will never change," she said.
"I fight every single day in the halls of congress against the hate-America Democrats, who are trying to destroy this country," the congresswoman continued. "I will work with ANYONE who wants to secure our border, protect our children inside the womb and after they are born, end the forever foreign wars, and do the work to save this country."
She concluded: "The GOP has less than two years to show America what a strong, unified Republican-led congress will do when President [Donald]  Trump wins the White House in 2024. This is my focus, nothing else."
Heated Confrontation
The move to expel Ms. Greene from the roughly three-dozen-strong conservative group comes weeks after she engaged in a heated clash on the House of Representatives floor with Rep. Lauren Boebert (R-Colo.) over the latter's plan to impeach Biden.
In the exchange, which was captured on video, Ms. Greene accused Ms. Boebert of taking her articles of impeachment on her own, introducing a privileged motion to force a vote on the impeachment resolution (pdf) targeting Biden.
Responding to Ms. Greene's verbal altercation with Ms. Boebert, Mr. Harris told Politico that he believes her publicly addressing a fellow member in the way that she did was "the straw that broke the camel's back."
"I think the way she referred to a fellow member was probably not the way we expect our members to refer to other fellow, especially female, members," he said.
Mr. McCarthy said he had requested that Ms. Boebert discuss her resolution with the House GOP conference before initiating a vote, but she proceeded without doing so, generating mixed reactions within the Republican Party.
The 219–208 party-line vote sent the resolution to the Judiciary and Homeland Security committees, which oversee impeachments and immigration policy, respectively.
Meanwhile, a spokesperson for Ms. Boebert declined to say how the congresswoman voted at the HFC meeting, which reportedly took place the morning that Congress left town before the July 4th recess.
"There was nothing personal about Congresswoman Boebert's vote regarding MTG's membership status in the House Freedom Caucus," Joey Hungerford said in a statement obtained by CNN.
Reuters and Savannah Hulsey Pointer contributed to this report.