The Walker County Coroner's Office confirmed on Thursday that Curtis "C.J." Harris, a singer who competed in the U.S. television series "American Idol," died of a heart attack. He was 31.
Danielle Calloway, the office's deputy coroner, told Fox News that Harris died late on Jan. 15 at the Walker Baptist Medical Center in the city of Jasper, Alabama. The singer was transferred to the medical center after suffering a heart attack at a home in the city.
On Monday, an unidentified family member of Harris told news outlets that Harris was rushed to a local hospital by ambulance after suffering an "apparent" heart attack.
In 2014, Harris finished in sixth place on the thirteenth season of "American Idol."
Members of the talent show offered condolences on social media after they learned about the singer's sudden death.
"C.J. Harris was an incredible talent, and the news of his passing deeply saddens us. He will be truly missed," a message on the show's official Twitter page reads.
Caleb Johnson, the winner of American Idol's thirteenth season, said on Instagram that Harris was his roommate during "Hollywood week"—which is the first set of eliminations on the talent show, where singers battle it out in solo and group performances in hopes of making it through to the showcase round.
"This hurts so much," Johnson said. "We instantly became friends and formed a brotherhood pack with [Alex Preston] and [Sam Woolf]."
"So many amazing memories and experiences with you CJ! Life is so fragile!" he added. "I am so grateful that our lives got to cross paths in this lifetime. You were a beautiful, kind soul that always made the room brighter with your smile and laughter."
Woolf, a Florida native who finished in fifth place on the show's thirteenth season, described Harris as "a genuine and loving person."
"We became close friends during the show and were roommates on the tour," Woolf wrote on Instagram. "I'm very grateful to have gone through that incredible experience with him alongside Caleb and Alex."
Jessica Meuse, who performed alongside Harris that season, wrote in a heartfelt tribute on Instagram that she was "completely shocked" after hearing about her friend's sudden passing.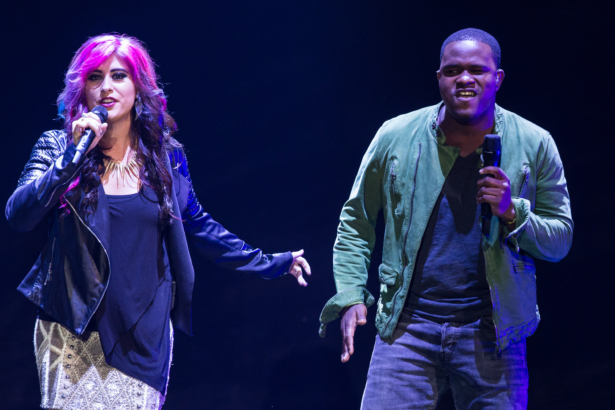 "I'll miss your random phone calls asking for life advice and talking about the music world," she wrote. "When you go through something like Idol together, it brings everyone involved together like a big, weird, dysfunctional family."
During an interview with the Hollywood Reporter in 2014, Harris said the talent show helped him to get to know himself better while noting that it also changed his life after being in a difficult period financially.
"I was just barely trying to get by," the Alabama native told the publication. "I was doing everything I could to make it in the music industry, and then American Idol came along and changed my life."
In another interview, Harris revealed that prior to competing on American Idol, he auditioned for "The X-Factor" and "The Voice," but never made it past the first round.
"I never got through, and it hurt me. It really did," he told the Hollywood Reporter. "So I went back home and that's what made me stop playing in bars. I wanted to get it together and find out who I am."