The Los Angeles County Medical Examiner's Office has listed actor Matthew Perry's cause of death as "deferred," as his autopsy results are pending a toxicology report.
Mr. Perry, who gained worldwide fame for playing the wise-cracking Chandler Bing on the hugely popular 1990s sitcom "Friends," was found dead at his Los Angeles, Calif. home on Oct. 28. He was 54.
A representative for the medical examiner's office told People Magazine on Oct. 29 that an autopsy had been completed and that toxicology results were pending. An autopsy is usually completed within a day or two after a person's death, but the final results of a toxicology report can take weeks to come through.
According to a record of Mr. Perry's cause of death, his body had been cleared for release so that family members could make funeral arrangements.
The cherished actor was found unresponsive in a hot tub at his residence in the affluent Pacific Palisades area of Los Angeles shortly after 4 p.m. on Oct. 28, according to tabloid news outlet TMZ, which first broke the story.
Unnamed police sources cited by the outlet said emergency services were called to the scene following an initial report of a cardiac arrest. A 15-second recording of the moment first responders were sent to the scene had been obtained by TMZ, and referenced an apparent drowning.
The Los Angeles Police Department's Robbery-Homicide Division is handling the investigation into Mr. Perry's death. The agency said no drugs were found at the location, and that there had been no indication of foul play.
Asked about the circumstances of Mr. Perry's death, Los Angeles Fire Department Captain Erik Scott said—without referring to Mr. Perry by name—that firefighters called to an address in the Pacific Palisades neighborhood found "an adult male unconscious in a stand-alone jacuzzi."
"A bystander had brought the man's head above the water and gotten him to the edge, then firefighters removed him from the water upon their arrival," Mr. Scott said, adding that a medical assessment at the scene had revealed that "the man was deceased" before emergency personnel arrived.
Mr. Perry shared his last post on Instagram on Oct. 23, which comprised a photo of him sitting in a hot tub at night while wearing headphones. The post reads: "Oh, so warm water swirling around makes you feel good? I'm Mattman."
Social Media Flooded With Tributes
The news brought an outpouring of grief from fellow celebrities, other high-profile personalities, and Mr. Perry's legions of fans.
"We are devastated to learn of Matthew Perry's passing," an Oct. 28 post on the official "Friends" X account reads. "He was a true gift to us all. Our heart goes out to his family, loved ones, and all of his fans."
Mr. Perry's family said in a statement published by People Magazine that they were "heartbroken by the tragic loss of our beloved son and brother," adding the late actor brought "so much joy to the world, both as an actor and a friend."
Prime Minister Justin Trudeau said the sudden death of his childhood schoolmate was "shocking and saddening." Mr. Perry had attended the same school as Mr. Trudeau, though a couple of grades ahead of the future Canadian prime minister.
"I'll never forget the schoolyard games we used to play, and I know people around the world are never going to forget the joy he brought them. Thanks for all the laughs, Matthew," Mr. Trudeau posted on X on Oct. 28.
Born in Massachusetts on Aug. 19, 1969, Mr. Perry grew up in Ottawa, Canada. His mother, Suzanne Morrison, a former Canadian journalist, worked for then-prime minister Pierre Trudeau—Justin Trudeau's father—as a press secretary.
The American-Canadian actor was 24 years old when he began portraying the sardonically wry statistical analyst Chandler Bing on "Friends," which ran for a total of 10 seasons from 1994 and ranked among the top 10 prime-time television shows for much of its original network run.
The series featured Mr. Perry alongside co-stars Jennifer Aniston, Courteney Cox, Matt LeBlanc, Lisa Kudrow, and David Schwimmer, and made global stars out of Mr. Perry and all five of his lead castmates.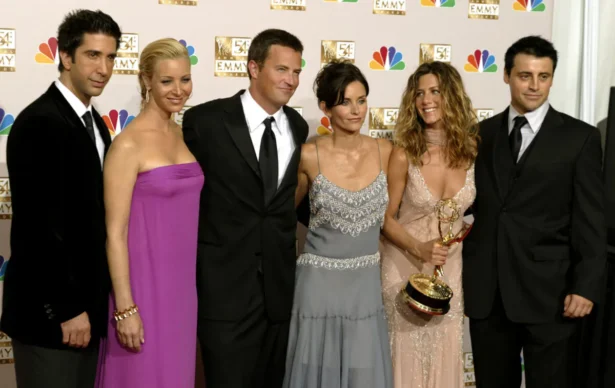 The six earned widespread critical acclaim for their on-screen chemistry, playing a close-knit group of young singles who spent time in each other's apartments and hung out together at the "Central Perk," a fictional Manhattan coffee house.
Following "Friends," Mr. Perry went on to star in three further, though shorter-lived, network television ventures—"Studio 60 on the Sunset Strip," "Mr. Sunshine" and "Go On."
He also logged guest appearances or recurring roles in other hit TV shows, including "The West Wing," "Ally McBeal," "Scrubs," and "Beverly Hills, 90210." His motion picture credits included "Fools Rush In," "The Whole Nine Yards," "Almost Heroes," and "Three to Tango."
Addiction Struggles
Mr. Perry's death came one year after he published his memoir, "Friends, Lovers, and the Big Terrible Thing," which outlined the actor's decades-long struggle with addiction to prescription drugs and alcohol. He had been clean since May 2021.
"I've probably spent $9 million or something trying to get sober," he told The New York Times.
"My friends call me Matty. And I should be dead," he wrote in the opening line of his memoir. Mr. Perry told People Magazine in Oct. 2022 that he wrote the book to help others struggling with addiction.
"I wanted to share when I was safe from going into the dark side of everything again," he said. "I had to wait until I was pretty safely sober—and away from the active disease of alcoholism and addiction—to write it all down. And the main thing was, I was pretty certain that it would help people," he said.
Reuters and Marnie Cathcart contributed to this report.