Sen. Tom Cotton (R-Ark.) came to the defense of Sen. Bob Menendez (D-N.J.) on Tuesday, amid growing calls for the New Jersey senator to resign.
"Senator Menendez has a right to test the government's evidence in court, just like any other citizen. He should be judged by jurors and New Jersey's voters, not by Democratic politicians who now view him as inconvenient to their hold on power," Mr. Cotton wrote on X, formerly known as Twitter, on Sept. 26.
Mr. Menendez and his wife Nadine were indicted on three conspiracy charges on Sept. 22. The couple were accused of accepting "hundreds of thousands of dollars" of bribes from three New Jersey businessmen in exchange for the senator's agreement to use his position to "protect and enrich" the businessmen and the government of Egypt.
According to the indictment, the bribes included gold bars worth over $100,000, more than $480,000 in cash, a Mercedes-Benz convertible, and home furnishings.
In a statement responding to the charges, Mr. Menendez alleged he had been a victim of an "active smear campaign." He added, "For years, forces behind the scenes have repeatedly attempted to silence my voice and dig my political grave."
On Tuesday, when asked by a reporter why he is not resigning, Mr. Menendez said, "Because I'm innocent."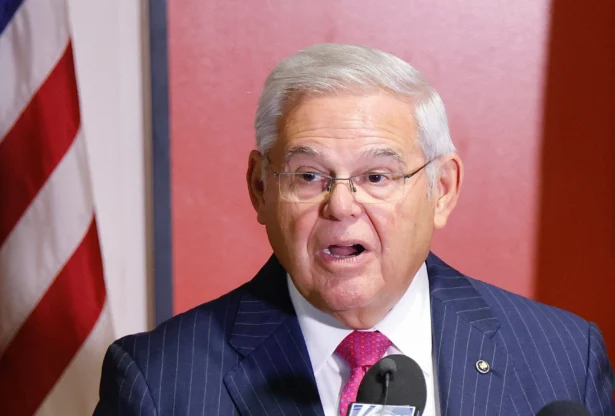 Mr. Cotton called the charges against his Democratic colleague "serious and troubling," while noting the Department of Justice's past record in prosecuting public figures.
"At the same time, the Department of Justice has a troubling record of failure and corruption in cases against public figures, from Ted Stevens to Bob McDonnell to Donald Trump to Bob Menendez the last time around," Mr. Cotton added, referring to 2015 federal corruption charges against the New Jersey senator that were eventually dropped in 2018.
While Mr. Menendez has resisted calls to resign, he has decided to step down temporarily from his leading role on the Senate Foreign Relations Committee.
Mr. Cotton's sentiment was echoed by Sen. Marco Rubio (R-Fla.).
"The allegations against the Senior Senator from New Jersey are nasty & the evidence offered difficult to explain away," Mr. Rubio wrote on X on Sept. 26. "But in America guilt is decided by a jury, not politicians in fear of their party losing a Senate seat."
Mr. Menendez, who has represented New Jersey in the Senate since 2006, is seeking reelection in 2024. Shirley Maia-Cusick, a Republican Senate candidate for New Jersey, called on Mr. Menendez to "resign immediately" in a statement, adding that "it is time for justice to be served."
Over half of Senate Democrats have called on Mr. Menendez to resign, including Sen. Cory Booker (D-N.J.), Sen. Tammy Duckworth (R-Ill.), and Sen. Chris Murphy (D-Conn.) on the Senate Foreign Relations Committee.
Many House Democrats also called on the embattled New Jersey senator to step down, including Reps. Summer Lee (D-Pa.), Madeleine Dean (D-Pa.), Mikie Sherrill (D-N.J.), Colin Allred (D-Texas), Jason Crow (D-Colo.), David Trone (D-Md.), Lisa Blunt Rochester (D-Del.),  Jamaal Bowman (D-N.Y.), Adam Schiff (D-Calif.), Seth Moulton (D-Mass.), Dean Phillips (D-Minn.), Nancy Pelosi (D-Calif.), and Don Beyer (D-Va.).
"A jury will decide whether Senator Menendez committed federal crimes that can be proven beyond a reasonable doubt, but the preponderance of evidence presented in the indictment makes it impossible for him to continue serving in the U.S. Senate, and I urge him to resign," Mr. Beyer wrote.
Mr. Beyer added, "I further urge the Administration and my colleagues in Congress and to note and respond forcefully to the covert Egyptian campaign to thwart American foreign policy aims detailed in the indictment."
Mr. Menendez is scheduled to appear in a federal court in Manhattan on Wednesday. 
From The Epoch Times