CASCADE LOCKS, OR (KPTV)—For the second time this month, a cougar was shot and killed in the Columbia River Gorge.
On June 6, a cougar was shot after it killed two goats and tried entering a home in Bridal Veil.
Cougar shot, killed after trapping Cascade Locks woman and her baby https://t.co/KimuAN3YvR pic.twitter.com/YhUdoYd7u7

— FOX 12 Oregon KPTV (@fox12oregon) June 23, 2019
Friday night, there was a similar encounter in Cascade Locks.
Emily Elliot says it was shortly after 9 p.m. when she arrived at her home on John Quincy Avenue, after running errands. Her 10-month-old son, Waylon, was fast asleep in his car seat.
"I decided to leave him in there while I was unloading," she said.
With her dog, Willie, by her side, Elliot put up the groceries. Her car and her son were both still in sight.
According to Elliot, she then went to get a bag of dog food from a nearby shed, when Willie alerted her of a cougar that was standing nearby—watching them.
"All the fur on his back went up and he scurried," Elliot said.
She tells FOX 12, at the time, she was aware the Hood River County Sheriff's Office had reported three cougar sightings in the area, within the past two weeks.
"In my heart, I knew a cougar's out there," said Elliot. "I just immediately stood up tall and just called my dog to me in a really stern voice."
The new mom says, the cougar was hissing and growling at her dog. Elliot then backed away toward her car, where her baby was still fast asleep.
According to Elliot, she had one thing in mind: "I need to get in the car. I need to get in and shut the door."
But, she feared the cougar would follow her and hurt her son, so Elliot made the difficult decision to head toward her RV instead.
"You just have all the feelings going through you, like I'm a horrible mom," she said.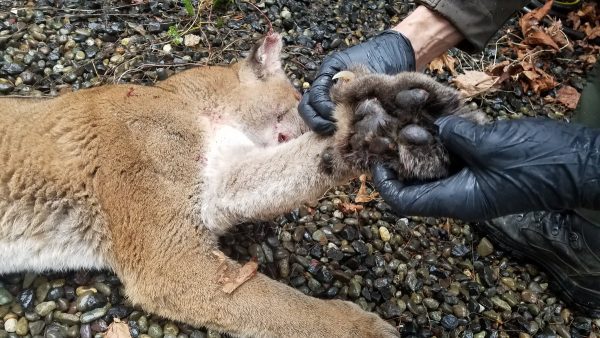 Frantic, she called 911 but when a deputy arrived the cougar still had not left.
"She stayed back there and was scoping him out," Elliot told FOX 12. "Waylon woke up and was crying really loud."
With a rifle in hand, the Hood River County deputy moved toward the big cat, covering Elliot so she could run to her car, grab her baby and head back inside.
A sheriff's deputy says cougars may move closer to cities in search of water as changing weather dries the area. https://t.co/LQ5kfTGEgL

— KEZI 9 NEWS (@KEZI9) June 19, 2019
Once the mom and son were safe in the RV, Elliot says she heard two loud gunshots that, according to her, brought the traumatic ordeal to an end.
The Oregon Department of Fish and Wildlife confirmed the cougar died of a gunshot wound. A spokesman says it was a 2-year-old male cougar and its body will now be transported to ODFW's lab for a necropsy.