Credit Suisse shares dove 63 percent in early trading Monday to a new low after it was announced that UBS would buy the troubled bank in a multi-billion-dollar deal backstopped by a Swiss central bank $100 billion emergency credit line.
Shares of Credit Suisse clawed back some of the initial losses Monday morning and at the time of reporting were 59 percent down on the day, as investors digested news that UBS would be taking over its distressed peer in a state-backed takeover.
The rescue deal sees UBS buying the 167-year-old Credit Suisse for around $3.23 billion and absorbing up to $5.4 billion in losses.
"With the takeover of Credit Suisse by UBS, a solution has been found to secure financial stability and protect the Swiss economy in this exceptional situation," Swiss National Bank (SNB) said in a statement.
Credit Suisse is among 30 financial institutions known as globally systemically important banks (G-SIBs) and authorities worried that its failure could undermine broader financial system stability.
"An uncontrolled collapse of Credit Suisse would lead to incalculable consequences for the country and the international financial system," Swiss President Alain Berset said Sunday as he announced the deal, which he described as "one of great breadth for the stability of international finance."
An emergency ordinance was required to allow the UBS–Credit Suisse merger to go ahead without shareholder approval.
'Best Available Outcome'
Credit Suisse said in a statement that, until the deal is finalized, it's business as usual for the beleaguered bank.
"Until consummation of the merger, Credit Suisse will continue to conduct its business in the ordinary course and implement its restructuring measures in collaboration with UBS," it said.
Axel Lehmann, chairman of the Board of Directors of Credit Suisse, said in a statement that the merger with UBS is the best possible solution.
"Given recent extraordinary and unprecedented circumstances, the announced merger represents the best available outcome," he said.
"This has been an extremely challenging time for Credit Suisse and while the team has worked tirelessly to address many significant legacy issues and execute on its new strategy, we are forced to reach a solution today that provides a durable outcome," he added.
In order to ensure the takeover goes smoothly, the Swiss central bank has offered UBS around $100 billion in liquidity assistance.
"The substantial provision of liquidity will ensure that both banks have access to the necessary liquidity," SNB said in a statement, with further details of the credit line not immediately available except that it's to be backstopped by a federal default guarantee.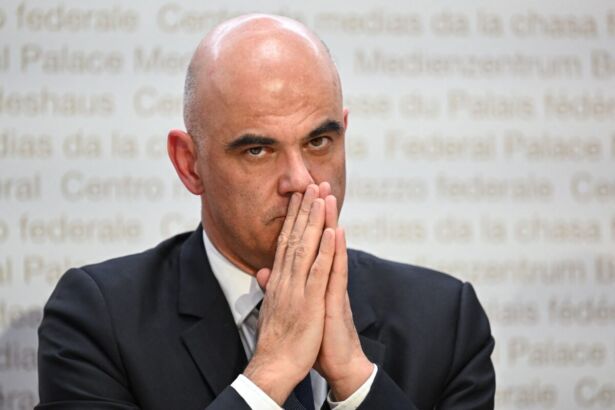 Following news of the emergency buyout, the world's central banks—including the U.S. Federal Reserve—announced coordinated moves to stabilize banks, including rolling out swap lines to let banks borrow U.S. dollars if they need to.
UBS shares fell 10 percent in Monday trading, with the sharp price moves following a day of heavy selling in Asian financial markets as early investor optimism about efforts to stem a banking crisis evaporated.
Investor attention has shifted to the huge hit some Credit Suisse bondholders would take under the UBS acquisition.
Swiss financial regulator FINMA said that the buyout deal would trigger a "complete write-down" of Credit Suisse's additional tier 1 (AT1) bonds, amounting to around $17 billion in value, leading to a boost in the bank's core capital.
The massive bond write-down has added to anxiety about other key risks including contagion, the fragile state of U.S. regional banks, and the challenges for central banks as they seek to contain inflation and financial risks.
Shares in European banks took a beating in early trade on Monday as investors digested news of the emergency takeover of Credit Suisse.
JPMorgan said that although UBS stood to gain in the longer-term from the deal, the write-down of the AT1 bonds would have an impact on other European banks.
"We believe this AT1 writedown by a systemically important bank will have negative implications for the wider European Banks' AT1 market as well as overall funding profile and Cost of Equity for the Banks," JPMorgan strategists wrote in a note on Monday.
An index of 600 European bank stocks fell as much as 6 percent in early trading Monday though it has since clawed back some losses. By around 6:30 a.m. New York time, the index was trading 1.5 percent down.
The index has shed around 16 percent this month after several recent failures of U.S. banks sparked fears of contagion and a wider sell-off in bank shares.
UBS Chairman Colm Kelleher said in a statement that the merger is "attractive" for UBS shareholders and the deal cements UBS's position as a leading asset manager in Europe.
"This acquisition is attractive for UBS shareholders but, let us be clear, as far as Credit Suisse is concerned, this is an emergency rescue," he said.
"The transaction will bring benefits to clients and create long-term sustainable value for our investors."
From The Epoch Times