Manhattan District Attorney Alvin Bragg was sued by a conservative organization in a bid to turn over prosecution records relating to the cases against former President Donald Trump, who was arrested on multiple counts earlier this year.
The Heritage Foundation think tank filed a Freedom of Information Law against the Manhattan prosecutor, alleging that he and his office coordinated with Rep. Daniel Goldman (D-N.Y.), the White House, and the Department of Justice (DOJ) about the prosecution targeting Trump.
"Regrettably, these questions have not been met with answers. These reports have raised concerns in many circles based in large part upon the longstanding history of President Trump's political opponents coordinating their activities to systematically weaponize the criminal justice system against him and thereby pervert the course of Justice," the lawsuit (pdf) against Bragg stated.
A second lawsuit (pdf) filed by the conservative Washington-based think tank also claimed that Bragg retained pro-bono assistance from top law firms in connection to the Trump case. They are asking a court to release requested documents to the public under the New York Freedom of Information Law and declare that Bragg hand over the documents.
The Epoch Times has contacted Bragg's office and the Heritage Foundation for comment on the lawsuit.
Mike Howell, director of Heritage's Oversight Project, told Fox News that his organization suspects that Bragg was "coordinating, or otherwise communicating" with opponents of Trump, adding that there is reason to believe Bragg is a "prolific communicator" via his phone.
"The fact we have to file a lawsuit against Bragg who says he can't produce these records and says he doesn't have the systems to do so, is proof-positive of another dual standard of justice at play in this country," Howell said. "You have a weaponized actor who's going after the former president on a loony theory about his document retention, whereas the DA can't even keep his own documents and it's in violation of the information laws he is bound by," he continued.
The lawsuit further alleges that Bragg hasn't responded to requests for communication between Bragg or his office and other parties. Heritage stated that it has the right to see those communications under New York's Freedom of Information Law.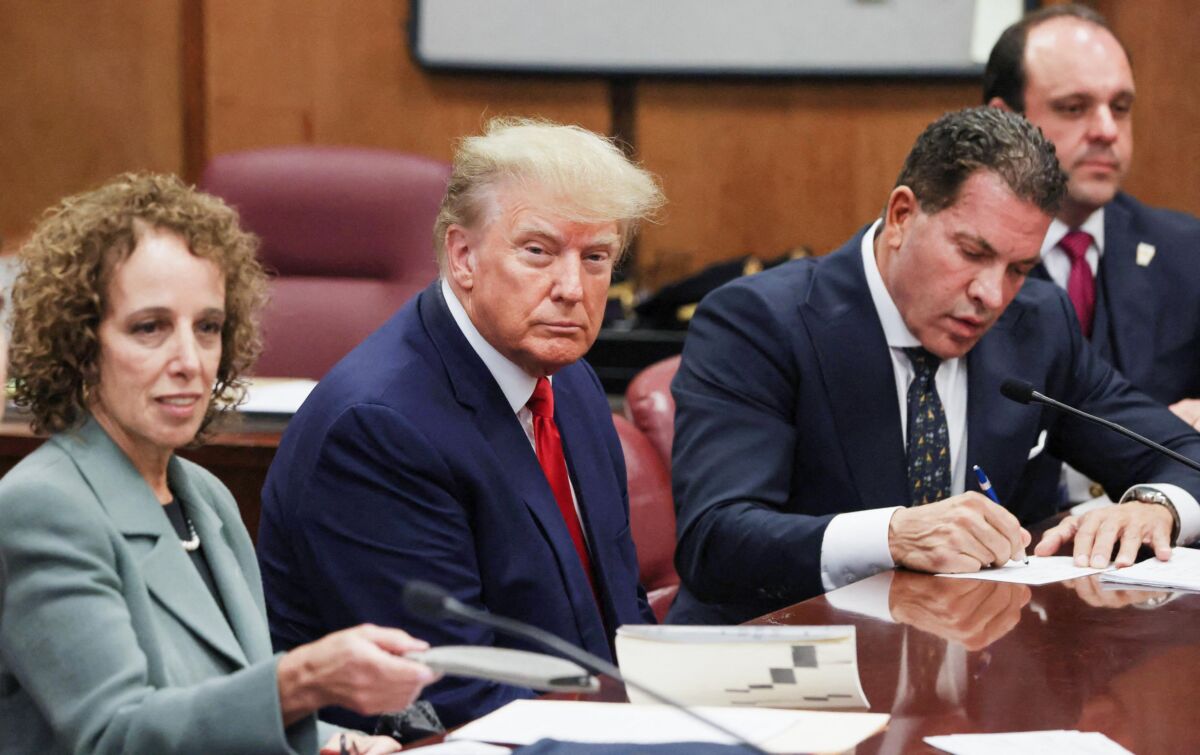 Neither Trump nor his lawyers have yet to respond to the lawsuit. Bragg's office also has not made any public remarks.
Responding to the Heritage lawsuits, a spokesperson for Bragg's office told the New York Post on Friday: "We'll decline to comment and respond in court papers."
In the meantime, Trump's lawyers are trying to move the case to a federal court or demanding that New York Supreme Court Justice Juan Merchan recuse himself. Lawyers for the former president on Friday filed a motion asking the case to be transferred to the federal level, saying that the alleged crimes—relating to the 2016 election and his campaign—"took place while the president was in office."
"According to [Bragg's office], the crux of its case was a purportedly 'illegal scheme that was largely perpetrated before defendant became [P]resident.' Such an alleged scheme, albeit nonexistent, could only violate federal, not state, campaign finance laws, as made clear by both the federal jurisprudence and the New York State election board,'" Trump's recent filing said.
Merchan, who has been often criticized by Trump, has stated that the case will head to trial on March 25, 2024, which would be in the middle of the 2024 GOP primary campaign. A hearing in the case was scheduled for June 27.
In the case, Trump was charged with 34 counts of allegedly falsifying business records to reportedly hide payments made during the 2016 campaign via former lawyer Michael Cohen. The now-disbarred lawyer, who served time in federal prison, was allegedly reimbursed $130,000 for his payments to Stormy Daniels to prevent her from going public with claims made about Trump.
The former president has denied any affair with Daniels, an adult film actress whose real name is Stephanie Clifford. In a court appearance earlier this year, Trump pleaded not guilty to the charges.
In a separate case, brought by federal special counsel Jack Smith, Trump was arrested in a Miami court last week over charges stemming from whether he allegedly mishandled classified documents. Trump also pleaded not guilty to those counts, arguing that Bragg's and Justice Department's cases are designed to politically wound him before the 2024 election.
On Monday, Trump wrote on Truth Social that the cases against him "will go down as the biggest disgrace in American history, even bigger than the RUSSIA, RUSSIA, RUSSIA HOAX." He added, "If you don't have honest Elections (and strong Borders!), YOU DON'T HAVE A COUNTRY!!!"
From The Epoch Times