Cargo processing operations at an El Paso port of entry had to be temporarily suspended earlier this week, impacting trade across one of the busiest border ports due to the influx of illegal immigrants at Eagle Pass.
According to the U.S. Customs and Border Protection (CBP), personnel had to be diverted from processing cargo due to a need to assist in "processing noncitizens," following a recent heavy influx of illegal immigrants from across the border.
The announcement by the CBP's El Paso Office of Field Operations came on Sept. 15, announcing that manpower for cargo processing would be suspended at the busy Bridge of the Americas (BOTA) port.
"Beginning Monday, Sept. 18, U.S. Customs and Border Protection's El Paso Office of Field Operations will temporarily suspend cargo processing at the Bridge of the Americas (BOTA) port of entry," the CBP said at the time.
"The temporary suspension at BOTA will allow CBP's Office of Field Operations officers to assist the U.S. Border Patrol in processing noncitizens who have arrived between the ports of entry including vulnerable populations like families and unaccompanied children," the statement went on to say.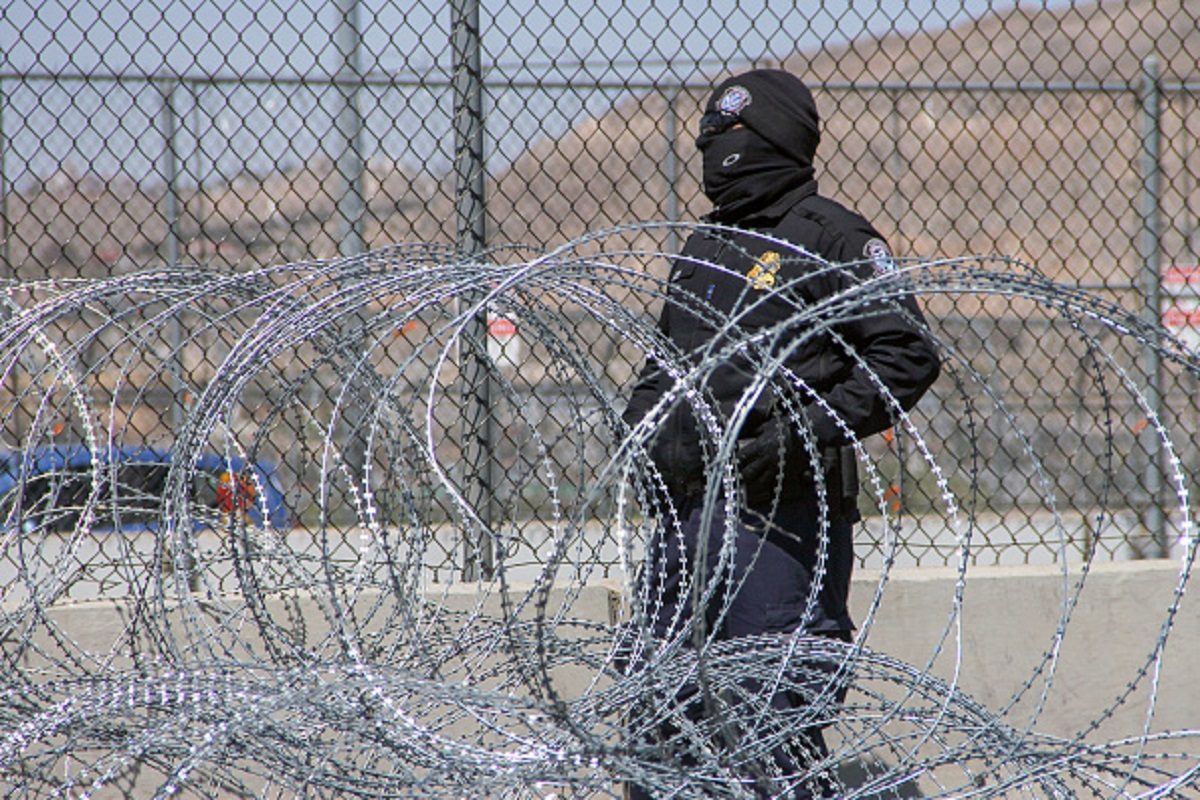 The CBP added that it regularly applies contingency measures to ensure the safety and wellbeing of those in the agency's custody.
Members of the trade community were advised to use alternative cargo facilities, such as Yselta, Santa Teresa, or Marcelino Serna (Tornillo), as entry points for the duration of the suspension.
Stakeholders were informed of the temporary suspension shortly before the statement was released.
"CBP will remain in communication with stakeholders and provide updates related to these contingency plans as they become available," the release said.
Cargo processing at the port usually operates between 6 a.m. and 2 p.m. Monday to Friday.
The suspension, which began on Monday, has yet to have a resume date announced. But operations will resume as quickly as feasible, the agency said.
As of Wednesday night, cargo processing lanes at the port were still closed.
According to state Rep. Mary Gonzalez (D-El Paso), at 2 p.m. on Wednesday, wait times for truck crossings at Yselta Bridge was more than 19 hours, she said on X, blaming "enhanced commercial vehicle safety inspections."
"This hurts our economy," she said.
The Biden administration employed a similar approach in April, when a previous mass wave of illegal immigrants arrived at the border before the end of pandemic-era Title 42.
At that time, the head of a truckers' association in Juarez, Mexico, told media outlets that delays to cargo processing could cost the industry $10 million per day.
The BOTA land port of entry separates El Paso, Texas, from Ciudad Juarez, Chihuahua, Mexico, and is one of four crossings in El Paso. It connects with the Mexican land port of "Cordova" in Juarez. The lack of a toll charge requirement for passengers contributes to the port's high volume of traffic, which has seen a rapid increase in recent years.
"Most of the buildings and infrastructure are operating at or beyond capacity," according to the U.S. General Services Administration, as reported by Fox News, adding that the dated buildings also no longer meet CBP standards.
Last week's statement by the CBP coincided with around 2,000 illegal immigrants crossing into the United States at Eagle Pass, Texas, which is several hundred miles away. The wave of illegal entries happened on Sunday night into Monday morning.
According to Maverick County Sheriff Tom Schmerber, another 2,700 migrants crossed at Eagle Pass on Tuesday and 3,000 more on Wednesday.
The Texas city has since announced a state of emergency due to a "severe undocumented immigrant surge."
Since taking office, President Joe Biden has pledged to crack down on illegal crossings at the southern border. The recently introduced CBP One app, however, which Biden hailed as a solution to the problem, has done little to decrease the amount of illegal immigrants crossing the border.
The app requires immigrants to apply for asylum via the app and await an interview appointment with border agents for legal entry into the United States. But thousands who apply and don't get an appointment have still chosen to enter the United States illegally, despite the risk of deportation.
The DHS said in August that the app had facilitated 170,000 appointments over the last six months, which would be approximately 1,000 appointments across all southern border ports per day.
"CBP has increased the number of available appointments to 1,450 per day, up nearly 50 percent from the 1,000 appointments per day on May 12, when the process started," it said in an August fact sheet.
"Each day, CBP One allocates the majority of appointments randomly; the remainder are allocated to the requestors who have been waiting the longest for an appointment. Appointments do not guarantee admission or parole. CBP Officers determine on a case-by-case basis whether each applicant may be paroled into the United States including while they go through immigration proceedings," the fact sheet added.
Law enforcement officials told The New York Post this week that Mexican drug and human trafficking cartels have been purposefully directing masses of illegal immigrants to inundate CBP operations at the U.S. border, which in term, helps them carry out their illegal operations with less oversight.
El Paso is currently seeing a spike in illegal entries, with officials reporting an average of 1,200 such illegal entries per day, El Paso Strategic Communications Director Laura Cruz-Acosta told media outlets. The city is then releasing over 1,100 people into the local community per day, she said.
In the last week alone, El Paso has provided shelter "for more than 4,200 migrants," Cruz-Acosta added.
Southern California has also seen an influx of migrants in recent days. El Cajon Mayor Bill Wells, a Republican, said the situation is "a disaster."
"Every emergency room is at capacity in SD County. Our homeless shelters are full. Resources are stretched thin," he said in a post on X. "The Biden Administration allowed this to happen. People must pay attention and vote to fix this problem!"
NTD has contacted CBP's El Paso office for comment but did not immediately receive a reply.
The Associated Press contributed to this report.