DENVER—A body found in the Colorado woods near an abandoned car was that of a 17-year-old student accused of wounding two administrators in a shooting at his Denver high school, a coroner's office said.
Park County Sheriff Tom McGraw said the body was discovered Wednesday not far from the student's car in a remote mountain area about 50 miles (80 kilometers) southwest of Denver, near the small town of Bailey, in Park County. The town had been ordered to shelter in place while officers from a number of agencies including the FBI combed the forest.
Earlier in the day, Denver police identified the suspect as Austin Lyle. The Park County coroner's office confirmed in a Facebook post that the body was that of Lyle's. The cause of death wasn't released, pending the completion of an autopsy.
The shooting occurred at East High School in Denver, not far from downtown, while two administrators searched Lyle for weapons, a daily requirement because of the boy's behavioral issues, authorities said. Lyle fled after the shooting.
Amid the flurry of criticism over lax security, Denver school officials said after the shooting that they would once again put armed officers into the city's public high schools.
There were no school resource officers on campus at the time of Wednesday's shooting, said Denver Police Chief Ron Thomas.
The shooting happened just before 10 a.m. in an office area as Lyle was undergoing a search as part of a "safety plan" that required him to be patted down daily, officials said.
The gun used in the shooting was not immediately recovered, Thomas said.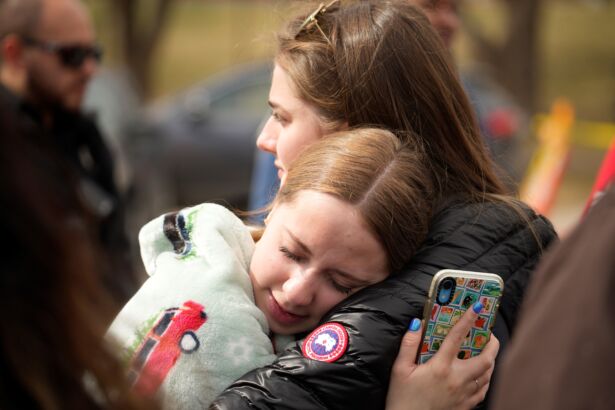 One of the wounded administrators was released from the hospital Wednesday afternoon and the second was in serious condition, said Heather Burke, a spokesperson for Denver Health hospital.
After Wednesday's shooting, two armed officers will be posted at East High School through the end of the school year, and other city high schools also will each get an officer, said Denver Public Schools Superintendent Alex Marrero.
Lyle transferred to East High School after being disciplined and removed from a high school in nearby Aurora last school year because of unspecified violations of school policies, said Cherry Creek School District spokesperson Lauren Snell.
Marrero said safety plans for students are enacted in response to "past educational and also behavioral experiences," adding that it's a common practice throughout Colorado's public schools. Officials did not give further details on why Lyle was searched daily.
But daily pat downs are rare, said Franci Crepeau-Hobson, a University of Colorado Denver professor specializing in school violence prevention.
"Clearly they were concerned," said Crepeau-Hobson. "I can't imagine they'd do that if there wasn't a history of the kid carrying a weapon."
Safety plans often follow threatening or suicidal behavior from a student, said Christine Harms with the Colorado School Safety Resource Center.