Florida Gov. Ron DeSantis is using his sizeable platform to help raise funds for the legal costs of Marine veteran Daniel Penny, who faces criminal charges over the death of a homeless man on a New York subway who lawyers say was "aggressively threatening" other passengers.
DeSantis took to Twitter to bring to the attention of his 1.7 million followers that a legal defense fund has been set up on GiveSendGo for Penny, who faces criminal charges in the chokehold death of Jordan Neely, who witnesses said was acting erratically and threatening passengers before Penny intervened.
"We must defeat the Soros-Funded DAs, stop the Left's pro-criminal agenda, and take back the streets for law abiding citizens. We stand with Good Samaritans like Daniel Penny. Let's show this Marine… America's got his back," DeSantis said in the post, which had over 5.5 million views at the time of reporting.
We must defeat the Soros-Funded DAs, stop the Left's pro-criminal agenda, and take back the streets for law abiding citizens. We stand with Good Samaritans like Daniel Penny. Let's show this Marine… America's got his back.
https://t.co/uQXZuT19Mo

— Ron DeSantis (@RonDeSantisFL) May 13, 2023
The 24-year-old former Marine was arraigned in Manhattan Criminal Court on May 12 on charges of second-degree manslaughter.
The city medical examiner ruled the death of Neely, who had a long history of mental illness and several prior arrests, a homicide due to "compression of neck (chokehold)."
Penny's lawyers have said he was acting in self-defense. His attorney, Thomas Kenniff, told the New York Post that he's "confident" that Penny "will be absolved of any wrong doing."
The campaign, called Daniel Penny's Legal Defense Fund, had already raised nearly $700,000 at the time of reporting, with over 14,600 donors.
Money raised in excess of what's needed to cover Penny's legal defense will be donated to a mental health advocacy program, per the campaign.
Penny Freed on Bail
Penny on Friday appeared in Manhattan Criminal Court, where a judge set bail at $100,000.
Manhattan District Attorney Alvin Bragg said in a statement released after Penny's arraignment that after evaluating "the available facts and evidence," his office concluded that there was probable cause to arrest and charge the ex-Marine.
"Jordan Neely should still be alive today, and my thoughts continue to be with his family and loved ones as they mourn his loss during this extremely painful time," Bragg said.
If convicted of manslaughter in the second degree, Penny could face as much as 15 years in prison. He is due back in court for another hearing on July 17.
Neely's family released a statement saying they believe he should have faced a more serious charge of murder.
"Daniel Penny chose, intentionally chose, a technique to use that is designed to cut off air—that's what he chose—and he chose to continue to hold that chokehold minute after minute, second after second, until there was no life left in Jordan Neely," Neely family attorney Lennon Edwards told reporters Friday.
Prosecutors said in Penny's bail application that, on the day of Neely's death on May 1, he was threatening subway passengers and frightening them.
Penny approached Neely from behind, placing him in a chokehold and taking him to the floor, according to prosecutors.
While Penny held Neely for several minutes, several other men helped Penny by restraining Neely's arms.
Penny's attorneys said Friday that he "stepped in to protect himself and his fellow New Yorkers."
More Details
Juan Alberto Vazquez, a freelance journalist who recorded a clip of the incident, told the New York Post that Neely had been threatening and screaming at other passengers "in an aggressive manner" though he had not physically attacked anyone.
Vazquez told the paper that the Marine veteran approached Neely after he threw his jacket to the ground. In the video, two other riders are also seen restraining Neely's arms.
After they let go of Neely, he is seen lying motionless on the floor.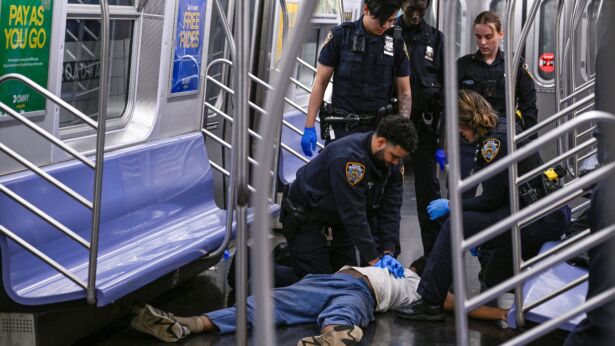 Friends of the 30-year-old homeless man said he suffered from worsening mental health and had a lengthy criminal record, including more than 40 prior arrests ranging from disorderly conduct to assault. Neely also had an active warrant out for his arrest from a felony assault.
Most recently, he was charged with assaulting a 67-year-old woman leaving a subway station. After pleading guilty, he missed a court date, leading to the warrant for his arrest that was still active at the time of his death.
"Neely had a documented history of violent and erratic behavior, the apparent result of ongoing and untreated mental illness," Penny's lawyers said earlier, blaming elected officials for turning a blind eye to mental illness in the state.
"We hope that out of this awful tragedy will come a new commitment by our elected officials to address the mental health crisis on our streets and subways," they said.
Mark Bederow, a former assistant district attorney in Manhattan, said that the argument of self-defense would likely brush up against a "tricky" legal requirement for a person who used deadly force to prove that they feared for their own life or someone else's—and that any reasonable person would have felt the same way.
Lorenz Duchamps and The Associated Press contributed to this report.
From The Epoch Times