Florida Gov. Ron DeSantis was far away from home last night when he appeared at a New Hampshire dinner event, but that didn't stop the potential presidential candidate from setting fundraising records for the New England state's GOP.
Before introducing DeSantis, Christopher Ager, chairman of the New Hampshire Republican Committee, announced that the longstanding Amos Tuck annual dinner fundraiser raised a historic $328,000.
DeSantis drew about 500 Republicans to hear him speak for the first time in New Hampshire, along with a couple of hecklers who managed to get on stage with DeSantis long being ushered away by security.
There were many in the crowd that told The Epoch Times they remain staunch Trump supporters, even before the Florida governor spoke, and that they only came to hear DeSantis speak "out of curiosity."
"I'm Trump all the way," said Dublin resident Augusta Petrone.
Just outside the DoubleTree Hotel in Manchester where DeSantis appears, a lively group of Trump supporters held signs to make it clear they were standing by the MAGA former president.
Paula Johnson of Nashua, who has been involved in state Republican politics for decades, told The Epoch Times that every Republican candidate is just a copycat of Trump.
"Everybody who's running on Trump's platform—America first. Trump is the one who brought it to the forefront," she said.
DeSantis, however, did not fail to win himself some heavy rounds of applause and even some approving whistles, especially when he touched on such key issues for conservatives as a growing push in public schools to transgender young children.
"It is wrong to tell a second grader that they were born in the wrong body," said DeSantis, who called Diversity, Equity, and Inclusion (DEI) programs "a Trojan horse for leftist ideology to be imposed on the student body through the guise of the administration."
"I think DEI, as it's practiced more properly, stands for discrimination, exclusion, and indoctrination," he added.
Border Wall
In sounding a bit Trumpesque, DeSantis called for completing the wall along the Mexico border to stop the flow of illegal immigrants and drugs like fentanyl across the border.
Deemed by some GOPers as having the potential to upset a Trump victory in the crowding ticket for the party nomination, DeSantis, who still hasn't officially declared his presidential candidacy, said nothing about Trump.
While not directly mentioning the recent indictment of Trump, DeSantis zeroed in on the controversy, implicating George Soros for the indictment while peppering New York lawmakers with indirect criticism for allowing Manhattan District Attorney Alvin Braggs to use his office for political purposes.
"And when we had an attorney like that, a district attorney in Tampa that had been funded by Soros and said he would not uphold the laws of the state. I removed him," DeSantis said, drawing yet another round of cheers and heavy applause.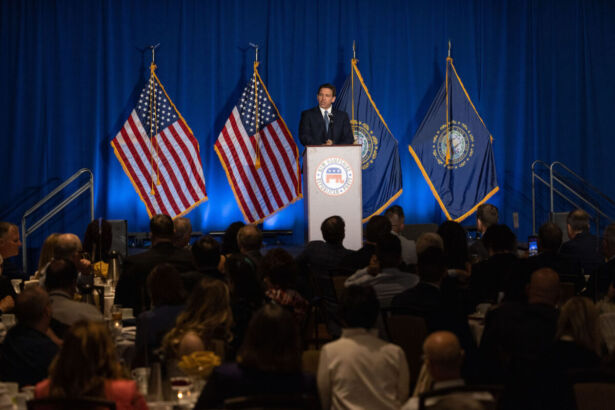 The Florida governor also called for unity within the Republican party and a call for it to return to its root as a party that protects constitutional rights against a corrupt government.
"President Reagan used to say the most terrifying words in the English language are "I'm from the government and I'm here to help you.' DeSantis said in one of his many citations of the late Republican president throughout the speech.
If there was an overall theme to his speech, it seemed to be a call for the restoration of a country run by the people.
DeSantis recalled past factional controversies, including an alleged call to the IRS to target conservatives under the Obama administration, and compared to what he characterized as a still ongoing targeting of Americans who elected not to take the COVID vaccine.
"People are with us," he said. "They want to see constitutional government upheld as the Founders intended, they do not want to see a weaponized unaccountable bureaucracy."
He finished his speech with another familiar-sounding quote. "I can tell you this: I have only begun to fight," —a promise similar to the one made by American Revolutionary hero John Paul Jones when he declared: "I have not yet begun to fight" when his ship was badly damaged by the British.
DeSantis may have to do his share of fighting to win over the First In the Nation-state of New Hampshire.
Trump was hugely popular among voters in the Live Free or Die State in both his successful 2016 bid and unsuccessful 2020 bid for the White House.
While others in the crowd said, they would support DeSantis if he won the primary, others like Johnson vowed she would not and would just write in Trump's name.
New Hampshirite Sturdy Thomas told The Epoch Times that he favored former Vice President Mike Pence, who like DeSantis, has not officially declared his candidacy. He also said he was impressed by former South Carolina Gov. Nikki Haley, who has officially declared a run for the president.
"Trump is just too divisive for this country," he said.
The annual Republican fundraiser is named after a popular New Hampshire politician and lawyer from the 19th century. After Amos Tuck served in the New Hampshire House, he was elected to U.S. Congress and was a member of the White Party. He also served as a delegate to the Republican National Convention in 1866 and 1860. He died in 1879 and is buried in Exeter.
From The Epoch Times