Florida Gov. Ron DeSantis has penned a fiery letter to President Joe Biden, criticizing the administration's "misguided and unscientific" COVID-19 vaccine mandate for foreign travelers and asking the president to grant an exemption that would let unvaccinated tennis player Novak Djokovic compete in a Miami tournament.
DeSantis made the request in a March 7 letter to Biden, in which the Florida Republican said Djokovic had applied for the waiver—and been rejected.
"This denial is unfair, unscientific, and unacceptable," DeSantis wrote of the tennis star's vaccine drama.
Djokovic is one of the most high-profile athletes to remain unvaccinated against COVID-19.
The top-ranked tennis player asked U.S. authorities last month for special permission to play at several tournaments in the United States—the BNP Paribas Open in Indian Wells, California, scheduled to begin on Mar. 8, and the Miami Open, set for March 19–April 2.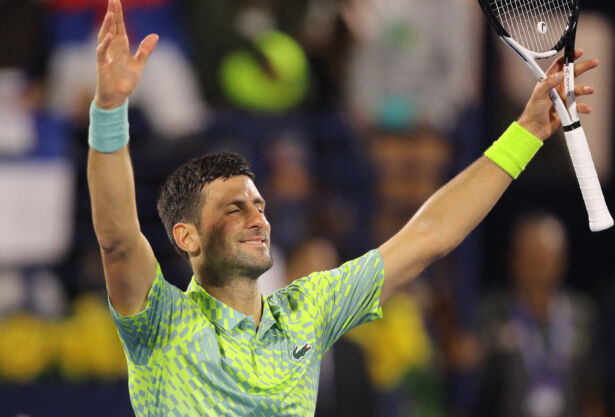 Florida Sen. Rick Scott, a Republican, said that U.S. officials had rejected Djokovic's waiver application.
Djokovic formally withdrew from the Indian Wells tournament on Sunday, while his participation in the Miami Open remains unsettled.
"I urge you to reconsider. It's time to put pandemic politics aside and give the American people what they want—let him play," DeSantis urged Biden.
The White House did not immediately respond to a request for comment.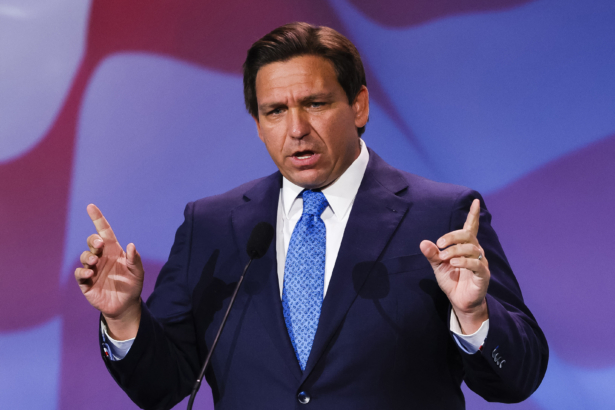 'Misguided, Unscientific, and Out-of-Date' Mandate
Biden administration rules currently bar unvaccinated foreigners from entering the country, a policy that is expected to be lifted when the government ends its COVID-19 emergency declarations on May 11.
DeSantis criticized the policy, raising such arguments as a study suggesting natural immunity being at least as effective as vaccines and other research identifying serious potential health risks from the shot.
"The only thing keeping Mr. Djokovic from participating in this tournament is your administration's continued enforcement of a misguided, unscientific, and out-of-date COVID-19 vaccination requirement for foreign guests," DeSantis said.
The governor also pointed to Biden's declaration in September 2022 that the "pandemic is over" and the administration's intent to formally end the COVID-19 emergency in May of this year.
"The time has come to give up the fiction that COVID vaccines remain a necessary tool to promote public health," he said.
Possible Entry By Boat
DeSantis also raised a technical point about the Biden administration's rules prohibiting the entry of unvaccinated foreigners, suggesting that Djokovic might be able to get around the restrictions by entering the country by boat.
He referenced an October 2021 proclamation by Biden that barred unvaccinated non-U.S. citizens from traveling to the United States by air. DeSantis also noted Department of Homeland Security restrictions prohibiting such individuals from entry via land ports of entry and ferry terminals at the U.S.-Mexico and U.S.-Canada borders.
"But your administration does not appear to have issued analogous restrictions for non-U.S. individuals seeking to enter our country by boat," DeSantis wrote, adding that the rules suggest Djokovic could "enter this country via boat."
DeSantis asked Biden to confirm by March 10 whether Djokovic could travel into Florida by boat and remain compliant with the restrictions.
"In sum, the current 'travel ban' as applied to Mr. Djokovic—and presumably millions of other potential unvaccinated foreign visitors—seems completely ungrounded in logic, common sense, or any genuine concern for the health and welfare of the American people," DeSantis wrote.
While it's unclear whether Djokovic will try to enter Florida by sea or get help to do so from DeSantis, a spokesperson for the governor told the Washington Times that "we hope to be able to assist Mr. Djokovic in his participation in the Miami Open in any way possible."
Besides DeSantis and several other Republican lawmakers, Indian Wells tournament director Tommy Haas, the United States Tennis Association, and the U.S. Open have also expressed support for Djokovic to be able to enter the United States and take part in the tournaments.
From The Epoch Times