Florida Gov. Ron DeSantis has proposed a $114.8 billion state budget for 2023-24. Calling it the Framework for Freedom Budget, DeSantis, who spoke at the state Capitol on Feb. 1, used it to showcase the state's strengths under his leadership.
"Florida's focus on freedom has led us to outpace the nation on all fronts," DeSantis said in a statement released simultaneously by his office.
"Through the Framework for Freedom Budget, we are establishing freedom-first policies to benefit Florida workers and families and to provide a framework for future prosperity," DeSantis said.
"Florida will fight against federal headwinds by putting forth sound fiscal policies that keep more money in the pockets of Floridians," he said. "Our budget proposal not only builds on the successes of the past four years, but ensures that Florida will continue to thrive."
A strong state economy, he said, allows his administration to offer a budget that increases spending in areas ranging from education and law enforcement to water restoration and highways.
At the same time, he said, the state can increase its financial reserves, offer permanent or temporary tax cuts, and raise state employees' pay and pension benefits. The budget also allows for the raising of teachers' salaries and holds tuition steady at state universities and colleges.
Sales Tax Exemptions
The budget calls for permanent sales tax exemptions for baby and toddler necessities, cribs and strollers, and over-the-counter pet medications.
In a pointed rebuttal of a national proposal floated by the U.S. Consumer Product Safety Commission to ban gas stoves, there's a permanent sales tax exemption on gas stoves and a temporary sales tax exemption on natural gas itself.
Other temporary sales tax exemptions called for include children's books, toys, and athletic equipment, and a one-year sales tax exemption for household items under $25. "That'll be everything from detergent to trash bags," DeSantis said at the press conference.
Other temporary sales tax exemptions apply to disaster preparedness items, outdoor recreation items, dental and oral hygiene products, pet food, hand and power tools, and energy star appliances.
Along with a 50 percent rebate on commuter tolls, he said, "if you do all this stuff, and if a family commutes, if they have young kids, I mean you're talking potentially thousands of dollars in savings," helping families combat inflation.
The state will continue to pay $5,000 recruiting bonuses to law-enforcement officers coming from other states and young Floridians entering the field, he said. And it includes $100 million for universities and colleges to use recruiting highly qualified faculty.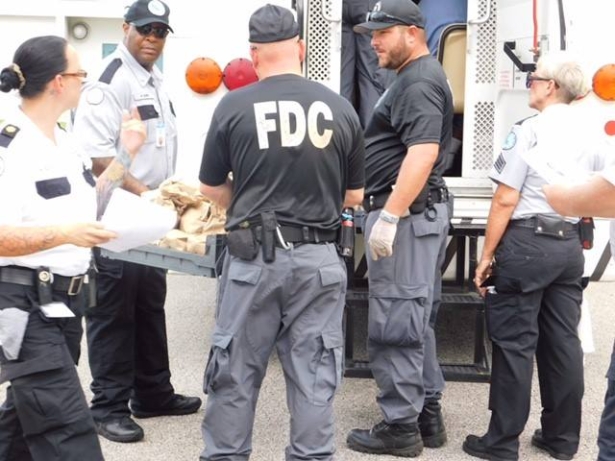 Much of what DeSantis talked about on Feb. 1 recapped points he's made as he spoke around the state during January in a series of press conferences, each highlighting a different aspect of state spending and his plans for the upcoming year.
He had spoken in Fort Myers about water restoration and hurricane recovery, in Jacksonville about teachers' pay, in Daytona Beach Shores about restoring hurricane-damaged beaches, in Miami about crime, and at an Auburndale Department of Transportation test site about highway spending.
DeSantis, a potential presidential candidate in 2024, has stayed on message in these speeches as he rolled out his administration's priorities.
He has underscored that the work of his first term—stabilizing the economy with a quick reopening during the pandemic, population growth as people move to Florida from other states, and a low unemployment rate—is paying for a wide variety of measures in his second term.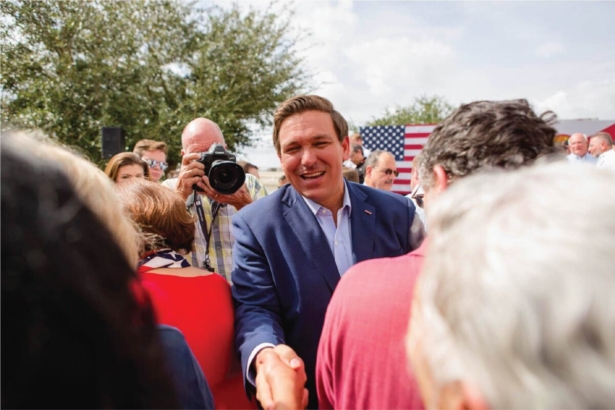 Where the Money is Going
Here's how state money is being budgeted in different areas, according to DeSantis and budget details released by his office:
The budget will increase state budgetary reserves to $15.7 billion, triple what it was in DeSantis' first budget ($5.2 billion) for 2019. Unallocated general revenue has increased from $1.4 billion then to $6.9 billion in the proposed budget.
The budget stabilization fund, which DeSantis called a "rainy day fund," has grown from $1.6 billion to $3.4 billion. The state will invest that money, with the first 3 percent of income returned to the fund and the next 2.5 percent used to retire state debt.
And the new budget offers $2 billion in tax relief, compared with $334 million in his first.
"That is strong performance that shows you that the state is going in the right direction," he said.
The reserves may grow even more, based on the state's experience over the last year. He noted that revenue estimates kept being revised each month upward but outpaced even the new estimates.
To keep economic growth going, the state is earmarking $100 million for the Florida Job Growth Grant Fund, which supports local governments with public infrastructure and workforce training, and $100 million to promote tourism to Florida.
Another $100 million is earmarked to expand high-speed internet to give more communities access.
DeSantis said state employees would get an across-the-board 5 percent pay hike, with an additional 10 percent for specific "hard to hire" positions. He said that the state's employer contribution to employees' pensions would go up by 3 percent, and pension benefits would go up 4 percent to help retirees combat inflation.
DeSantis said how much of the pension program is funded has grown from 82.4 percent four years ago to 83.9 percent. As the state estimates future rates of return very conservatively, that number may be closer to 87 percent, he said.
In law enforcement, corrections officers will see their pay go up to $23 an hour, as the budget includes $111.5 million to address prison staffing issues. State law enforcement officials such as the highway patrol and fish and wildlife officers will receive $124 million in salary increases.
The state is earmarking $20 million to help local communities combat the fentanyl epidemic. More than $17 million is designated for raises for the Florida Department of Law Enforcement, state attorneys, and state court employees.
In health care, the state is earmarking $166 million for cancer research and adding $76 million in money spent supporting acutely ill newborns and child patients, as well as $143 million for enhanced services for pregnant and postpartum women and children.
To better support senior health issues, $15 million are earmarked for services and research related to memory care and Alzheimer's Disease. Behavioral health will receive $531 million.
In education, $1 billion, an increase of $200 million, will fund teachers' raises. Early childhood education will get $1.6 billion, $26 billion for primary and secondary education, $1.5 billion for the state's colleges, and $3.1 billion for its universities. New College will get $15 million for its institutional overhaul and restructuring. Civics education in public schools is getting $7.5 million to improve civics literacy, education, and debate activities.
The state proposes $624 million to train workers for high-demand, high-wage jobs and $125 million for nursing education initiatives.
For natural resources, DeSantis has called for $3.5 billion in water quality programs, such as the Everglades restoration project, over the next four years, and $1.1 billion of that is included in this budget. The money will go for various measures such as reducing harmful discharges to the water, combating blue-green algae blooms, reservoir projects, and spring restoration. It contains $3.4 million to remove pythons, an invasive species, from the Everglades.
For transportation, $4 billion in general revenues and $3 billion in borrowed money will accelerate 20 major highway projects from a 20-year schedule to completion in four years.
From The Epoch Times