Florida Gov. Ron DeSantis called IRS a "corrupt organization" and said he would welcome a bill abolishing the agency if elected president in 2024.
DeSantis made the comments during an interview with conservative radio host Dana Loesch on May 25, a day after the governor announced his White House bid on Twitter.
"If Congress defunded the IRS and sent such a bill like that to your desk, number one, would you sign it?" Loesch asked. "And then what would you replace the system with? Are you for like a fair tax? A flat tax? Where do you stand on that?"
"So, the answer's yes," DeSantis said in response. "I think the IRS is a corrupt organization and I think it's not a friend to the average citizen or taxpayer. And so we need something totally different."
"I've supported all of the single rate proposals, I think they would be a huge improvement over the current system," the governor added. "And I would be welcoming to take this tax system, chunk it out the window, and do something that's more favorable to the average folks."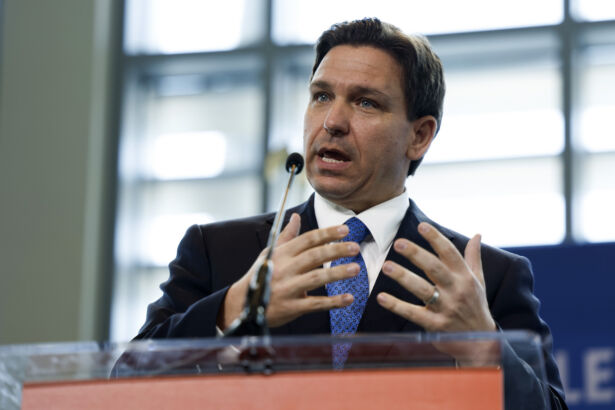 DeSantis
The governor has long spoken favorably of a flat tax system. In a Q&A published by Palm Coast Observer in 2012, months before DeSantis won his first term as a House lawmaker from Florida, DeSantis said he believed the federal tax code should be overhauled.
"I think the federal tax code is an affront to a free society in the sense that it's 70,000 pages," DeSantis stated. "I am in favor of a complete overhaul; my principle is that consumed income should be taxed one time at a low, single, flat rate.
He added, "Now whether that's at the point of after savings and investment income on a flat tax, or on the point of consumption which people talked about a fair tax, I think you need to repeal the 16th Amendment for that because I don't think you want a sales and an income tax."
Last year, DeSantis criticized the Biden administration's nearly $80 billion in funding for the IRS, which Republicans argue would pave the way for the hiring of 87,000 tax agents, as giving  a "middle finger to the American public." The funding to the IRS was part of the Inflation Reduction Act that President Joe Biden signed into law in August 2022.
"I think of all the things that have come out of Washington that have been outrageous, this has got to be pretty close to the top," DeSantis said at the time. "I think it was basically just a middle finger to the American public that this is what they think of you."
He continued, "All these problems we have to deal with, and they think the way is to do 87,000 IRS agents. There's going to be more people in the IRS than in a lot of these other agencies combined now."
"They are going to go after independent contractors. They're going to go after small-business people. They're going to go after someone that may be driving an Uber or a handyman or all these things," DeSantis added. "Why would they do that? Because you're not going to be able to contend with the audit—so they're going to crush a lot of people by doing that."
In January, the House passed the Family and Small Business Taxpayer Protection Act (H.R.23) on party lines with a 221–210 vote, with the aim to rescind the administration's new funding for the IRS. The legislation is unlikely to advance in the Democrat-controlled Senate.
2024 Race
The 2024 race for the Republican presidential nomination now includes former President Donald Trump, former South Carolina Gov. Nikki Haley, former Arkansas Gov. Asa Hutchinson, biotechnology entrepreneur Vivek Ramaswamy, conservative radio host Larry Elder, Sen. Tim Scott (R-S.C.), and DeSantis.
Trump currently holds a sizable lead over other GOP presidential hopefuls, according to poll results.
According to a new survey by Echelon Insights that queried 390 likely GOP primary voters between May 22 and May 25, Trump garnered 49 percent support, leading DeSantis by 30 percentage points.
Former Vice President Mike Pence finished third with nine percent support, followed by Ramaswamy (eight percent), Haley (five percent), Scott (2 percent), former New Jersey governor Chris Christie (one percent), and Elder (one percent).
In a hypothetical two-way matchup, Trump picked up 59 percent of support, with DeSantis trailing with 34 percent of support.
From The Epoch Times